Weekly Preview: FOMC Minutes in Focus, Earnings Season Wanes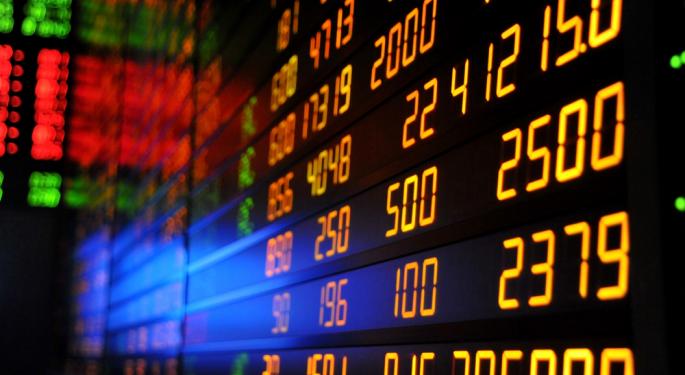 In the upcoming week, market focus shifts back to the Fed as the FOMC minutes of the latest meeting are released. Also, Fed Chairman Ben Bernanke is set to speak as earnings season slows down, although there are still some key earnings set to be released.
Key Earnings
This week, the earnings calendar is light in volume but still has some big reports due out. Earnings from Salesforce.com (NYSE: CRM), Pandora Media (NASDAQ: P), and the Gap (NYSE: GPS) are expected.
Salesforce.com
Customer-relationship management software company Salesforce.com is set to report first quarter operations for its 2014 fiscal year on Thursday, May 23. Analysts are expecting EPS of $0.10 vs. $0.09 a year ago on revenue of $887.1 million vs. $695.47 million a year ago.
Analysts at Oppenheimer are bullish on the stock ahead of the report. "We view CRM as the best long-term growth investment in our coverage universe, and we anticipate positive 1Q results for Salesforce.com despite facing tough y/y comparables, seasonal headwinds, and more adverse FX effects since guidance. We estimate PF revenue of $887M (+28% y/y) and PF EPS of $0.10, which is in line with consensus."
"Our recent checks suggest CRM is not experiencing any slowing in its business and rather point to increases in average deal sizes. We are bullish on CRM's many growth opportunities in 2013 as the secular trends around enterprise- wide SaaS adoption continue to strengthen."
Analysts at Goldman Sachs are also bullish on the stock ahead of earnings. "We think there is upside risk to the Street's revenue and non-GAAP EPS estimates of $887mn and $0.10 (GSe: $887mn/ $0.11). Guidance is for revenue of $882- 887mn and non-GAAP EPS of $0.10-0.11 ($0.40-0.42 pre the 4 for 1 split)."
"We expect CRM to raise its FY14 revenue outlook off of a strong F1Q14. Also, we expect cash flow guidance to remain at low 20% growth (consensus 23%) while we expect Street bookings growth of 21% yoy to remain relatively the same despite a bigger FX headwind. We think M&A continues to be an overhang for the shares post the company's $1bn convertible issuance. In our view CRM remains a key beneficiary in the movement to the cloud and it continues to be a top long-term pick."
Wedbush analysts jump into the bullish bandwagon on Salesforce.com, noting that it is also one of their top picks. "For 1Q, we expect revenue over $5M above consensus, and we are a penny above EPS consensus. Our revenue estimate reflects 28% Y/Y growth in total revenue and subscription revenue, and is over $5M above the consensus estimate."
"Looking forward to 2Q, we believe the company has plenty of room to guide ahead of consensus revenue of $935M. Our revenue estimate of $950M is predicated on 27% Y/Y organic subscription growth, which looks achievable given CRM's deferred commissions growth of 34%+ in each of the last four quarters. On the EPS line, we expect guidance will include consensus (and our estimate) of $0.12."
"We reiterate our OUTPERFORM rating and 12-month target price of $51. Our target price is based on a combination of our P/E, EV/FCF, and DCF approaches. Our estimates are unchanged; our target price is adjusted for a 4:1 stock split on April 18th."
The Gap
The Gap Inc. is expected to report first quarter results on Thursday as well. Last week, the company raised guidance for the quarter for EPS to $0.68-0.69 per share vs. the consensus estimate at the time of $0.56 as well as a rise of 7% in same store sales in April. Now, analysts are still expecting EPS of $0.58 vs. $0.47 a year ago on revenue of $3.68 billion vs. $3.49 billion a year ago.
Analysts at Goldman Sachs commented on the guidance raise ahead of earnings. "EPS include $0.04 of tax benefits, so on an operating basis the $0.64 adjusted number is still nicely ahead of expectations. We estimate margins expanded +260 bps on the back of cost deflation and fixed cost leverage."
"We are nudging up FY13/14 EPS to $2.83/$3.34 from $2.81/$3.30to reflect the 1Q upside with some back half reinvestment, and are about 10% above consensus. We raise our 6-month P/E-based target $5 to $46 as we roll EPS forward and revise our target multiple to 14.5x from 14.0x given improved sentiment." They have a buy rating on the stock.
Analysts at Piper Jaffray also chimed in ahead of earnings. "For trading oriented investors, we are mindful that shares post-market [May 10] approached our revised price objective and given strong outperformance over the last year, expectations are starting to extend beyond levels that are typical at this point in the demand cycle. For investors with longer-term (12 months & beyond) time horizons, we continue to favor GPS as a solid core holding given stability in the profitability model, strong brand equity, cash generation, commitment to share repurchases, and attractive dividend yield. We are raising our price target from $42 to $43 on a similar 14x FY15E EPS multiple."
"We are raising our estimates, allowing a large portion of the 17 cents of upside from FQ1 (vs. our model) to pass through, including 2 of the 4 cents of items benefiting EPS in Q1 (net beat of 13 cents; 2 cents carries forward). We expect sustained low double digit to low- teens EPS growth on an annual basis, based on a low-single digit long range fashion industry average comp rate."
Pandora Media
Thursday is set to be a big day for earnings as Pandora Media is also set to report earnings. Pandora is expected to report a loss of $0.10 per share vs. a loss of $0.09 per share a year ago on revenue of $124.03 million vs. $80.78 million. It will also be seen if Pandora comments on increasing competition from services such as Spotify and recent announcements of products from competitors such as Google (NASDAQ: GOOG).
Analysts at J.P. Morgan voiced their opinions ahead of the report. "Pandora's April listener metrics reported this morning show continued user growth while the mobile cap implemented in March is curbing total listener hours and radio share. Total hours increased 24% Y/Y, but were down 12% M/M, and Pandora's radio share fell to 7.33% in April from 8.05% in March. Pandora's hours have typically been flat to slightly down from March to April due to seasonality, but we believe the decline this April suggests the mobile hours cap is having the desired effect on total usage."
"We expect Pandora to report its 1QFY14 earnings on May 23rd, and we are modeling revenue of $122.5M (+51.6% Y/Y), EBITDA losses of ($16.8M) and PF EPS of ($0.11). Pandora remains our top small-cap pick as we look for stronger mobile monetization in FY2014."
Analysts at Canaccord Genuity agree and view the stock positively ahead of earnings. "While competitive developments continue, we believe fundamentals at Pandora remain strong heading into Q1 earnings next week. We believe Google's newly announced $10/month "All Access" subscription service should have only a moderate competitive impact on Pandora's listener base, which clearly likes free stuff."
"We also believe subscription revenue and content costs could both show improvement in Q1 from the 40-hour mobile cap, with more impact in Q2 and beyond. Our $18 target is unchanged and is based on 32x our F2017 EPS estimate of $0.90, discounted to present at 12.1%." The analysts have a buy rating on the stock.
Lastly, the analysts at Piper Jaffray commented on overweight-rated Pandora ahead of the announcement. "We are reiterating our OW rating on Pandora and raising our F14 estimates and PT to $20 from $17. Our increased bullishness on P shares is largely driven by our expectation of improving mobile monetization (helped out by mobile caps, better local sales, and increased ad loads). Recall poor monetization of listenership had been the single biggest concern of investors throughout 2012."
"We now expect mobile RPMs to accelerate at a more rapid pace, increasing 22% in F14 compared to our previous estimate of +12%. We expect management to continue to invest in Sales and R&D in F14, as Pandora builds out its local sales effort and the necessary infrastructure to continue to take share in the local radio ad market. While risks still exist related to the entrance of new competitors, we remain less concerned about subscription models (Spotify, Google Play)."
"We expect revenues to come at $118M (just short of consensus of $124M) as a shortfall in listenership related to mobile caps should impact top line in the quarter. However, we are maintaining our Q1 EBITDA of ($21M) vs. consensus of ($17M) as we expect the bottom line to be impacted by a royalty step-up increase to $20 per thousand listener hours from $18 last year, as well as substantial 43% growth in Sales and Marketing expense, as Pandora continues to expand its sales force in 27 of top 40 local radio ad markets."
"We are raising our price target from $17 to $20. Our new price target is based on a 5-Yr DCF using a 7.6% WACC (up from 6.3% as a result of increased market risk premium) and a 12.5x terminal EBITDA multiple."
Key Economics Releases
Next week, the economics calendar heats up once again with many integral reports set to be released. On Monday, the Chicago Fed National Activity Index is set to be released alongside Treasury auctions of 3- and 6-month bill auctions.
Tuesday, the Bank of Japan meets overnight followed by the release of the weekly Redbook and on Wednesday, MBA Purchase Applications and Existing Home Sales will be released. However, Wednesday's headlines should be dominated by a morning speech from Fed Chairman Ben Bernanke and the FOMC minutes to be released later in the day.
On Thursday, eyes will turn to foreign data as the Chinese Flash HSBC Manufacturing PMI for May is due out followed by the manufacturing and services PMIs for the eurozone. Also, British GDP and retail sales will be released.
In the U.S. session on Thursday, weekly jobless claims, the manufacturing PMI, and the FHFA House Price Index are due out. Later, new home sales data and the Kansas City Fed Manufacturing Index are set to be released.
</p>
Friday brings more key data, led off with Germany's GDP report overnight and the IFO Business Climate Survey. In the U.S., durable goods orders are the only data point on the economic calendar.
Daily Schedule
Monday>
Earnings Expected From: Big Lots (NYSE: BIG), Campbell Soup (NYSE: CPB), Guess (NYSE: GES), HHGregg (NYSE: HGG), JA Solar (NASDAQ: JASO), PVH Corp. (NYSE: PVH), Qihoo 360 (NYSE: QIHU), Tivo (NASDAQ: TIVO), and Urban Outfitters (NASDAQ: URBN).

Economic Releases Expected: Italian Industrial New Orders, Russian GDP, Chicago Fed National Activity Index, and 3- and 6-month Treasury Bill auctions.
Tuesday
Earnings Expected From: Best Buy (NYSE: BBY), Charm Communications (NASDAQ: CHRM), Dick's Sporting Goods (NYSE: DKS), Home Depot (NYSE: HD), Intuit (NASDAQ: INTU), Medtronic (NYSE: MDT), Netapp (NASDAQ: NTAP), Red Robin Gourmet Burgers (NASDAQ: RRGB), Saks Inc. (NYSE: SKS), Tidewater (NYSE: TDW), TJX Companies (NYSE: TJX).

Economic Releases Expected: German PPI, British CPI and PPI, U.S. Redbook, and the Bank of Japan Interest Rate Decision.
Wednesday
Earnings Expected From: American Eagle Outfitters (NYSE: AEO), Booz Allen Hamilton (NYSE: BAH), Diana Shipping (NYSE: DSX), Hewlett Packard (NYSE: HPQ), Lowe's (NYSE: LOW), Petsmart (NYSE: PETM), Staples (NASDAQ: SPLS), Target (NYSE: TGT), Toll Brothers (NYSE: TOL), and Zale Corp. (NYSE: ZLC).

Economic Releases Expected: Eurozone Current Account, Canadian retail sales, U.S. Existing Home Sales, a speech by Fed Chairman Ben Bernanke, and the FOMC Minutes.
Thursday
Earnings Expected From: Advance Auto Parts (NYSE: AAP), Aeropostale (NYSE: ARO), Buckle (NYSE: BKE), Dollar Tree (NASDAQ: DLTR), Gamestop (NYSE: GME), Gap (NYSE: GPS), Marvell Technology (NASDAQ: MRVL), Pandora Media (NASDAQ: P), Ralph Lauren (NYSE: RL), Ross Stores (NASDAQ: ROST), Salesforce.com (NYSE: CRM), Sears Holdings (NYSE: SHLD), Stein Mart (NASDAQ: SMRT), TD Bank (NYSE: TD), and Zumiez (NASDAQ: ZUMZ).

Economic Releases Expected: Chinese HSBC Flash Manufacturing PMI, Eurozone, French, and German Manufacturing and Service PMI's, Italian retail sales, British GDP and retail sales, U.S. Manufacturing PMI, U.S. new home sales, and the Kansas City Manufacturing Index.
Friday
Economic Releases Expected: German GDP, French Business Climate, German IFO Business Climate Index, Italian Consumer Confidence, and U.S. Durable Goods Orders.
View Comments and Join the Discussion!
Posted-In: Analyst Color Earnings News Guidance Dividends Price Target Previews Events Best of Benzinga