Will the Rainy Spring Lower Corn Yields?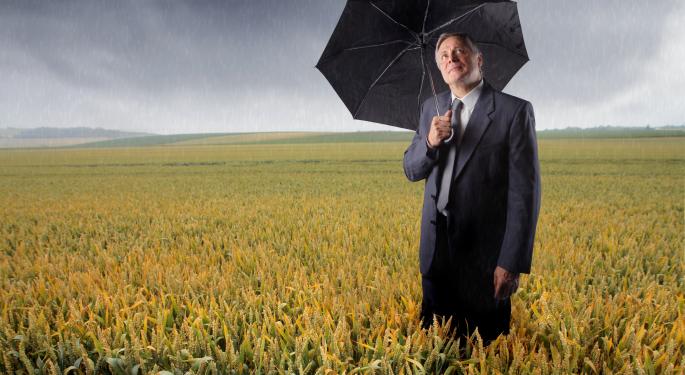 With only five percent of the corn crop planted so far this year, compared with a trailing five-year average of 31 percent, prices rose the most in 10 months Monday, according to Bloomberg.
Tuesday, however, paints a different picture, as the market erased yesterday's gain on speculation that supplies will be ample despite the wet weather.
So it goes with corn. It's always about the weather and how the weather will affect the plans of farmers. Those plans, according to U.S. Department of Agriculture estimates, included planting 97.282 million acres, the most in 77 years.
Of course, with too much rain, plans can change and if they do, the number of acres planted goes down and the price of corn goes up. On the other hand, if the weather improves and farmers get back in the fields, planted acreage goes up and the price per bushel goes down.
Credit Suisse Group AG analyst Tobias Merath in Zurich took the "better weather/more corn" side of the argument, saying that the reduced planting progress "is not enough to compensate for the longer-term outlook of rising production and lackluster demand." He added, "We expect lower prices for corn, both near- and long-term."
As for the weather prognosticators, T-Storm Weather LLC called for prime corn growing states like Illinois, Iowa and Indiana to have the wettest April ever. So far, the rain dance crowd is spot on. The National Weather Service reported that much of the upper Midwest, from Missouri to Michigan, has already had more than twice the normal rainfall over the past two weeks.
So, to recap: Too much rain equals later planting, less corn, and higher prices, right? Not necessarily.
Emerson Nafziger, crop sciences professor at the University of Illinois told Agweb.com, "It's still pretty clear that yield losses don't take a large, sudden drop just because the calendar turns from April to May before we finish planting." In general, Nafziger said, yield losses accelerate as planting is delayed. This translates to about 15 percent lower yields if planting is completed by May 20 and about 25 percent loss by June 1.
In addition, planting date data are notoriously variable, with some years showing little loss for late May planting and others showing large losses. This only emphasizes the fact that actual loss from late planting is tied to conditions during the rest of the season more than to planting date.
The USDA predicted, in February, that U.S. corn production might rise to a record 14.53 billion bushels this year.
Corn for delivery in May stood at $6.8375 a bushel on the CBOT Tuesday at noon, down slightly. July corn was down 0.87 percent at $6.5400 and the Teucrium Corn ETF (NYSE: CORN) was trading at $41.99, up 0.15.
As of this writing, Jim Probasco had no position in any mentioned securities.
View Comments and Join the Discussion!
Posted-In: Analyst Color News Sector ETFs Commodities Topics Events Markets Analyst Ratings Best of Benzinga