Verizon Rumored Ready to Offer $100 Billion to Vodafone for Verizon Wireless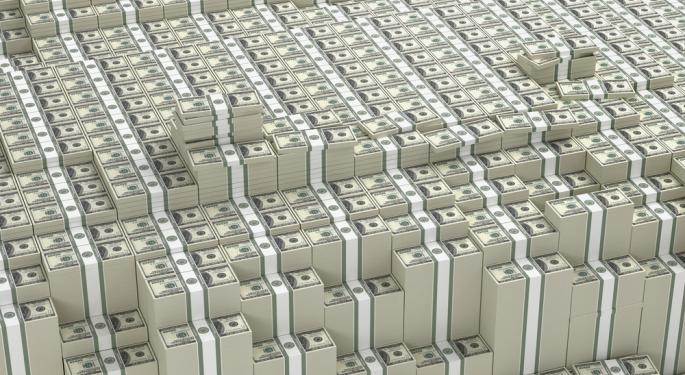 When it looks like someone is about to spend $100 billion on something, heads turn. When the someone is Verizon Communications (NYSE: VZ) and the something is Vodafone (NASDAQ: VOD), heads practically turn full circle, a la Linda Blair in The Exorcist.
Hollywood, however, plays no part in a Reuters exclusive report that Verizon Communications is preparing a possible $100 billion bid to take full control of Verizon Wireless from Vodafone, according to two unnamed sources.
The sources told Reuters that Verizon was considering a 50:50 cash and stock bid for the 45 percent stake it does not already own. Vodafone, however, is not expected to accept the offer without some persuading.
Vodafone investors and analysts have already declared the $100 billion figure too low and consider it more of an opening bid than a final offer.
A Verizon representative, who would not comment, pointed to an April 2 statement from the company in which Verizon said it would like to buy Vodafone's Verizon Wireless stake but wasn't interested in buying Vodafone itself.
One anonymous Vodafone investor told Reuters, "I'd be delighted with $135 billion, but there's absolutely no way it will be $100 billion. The guidance I have had from someone close to the company is that they are looking at $125-130 billion."
One important factor is the matter of avoiding a possible $20 billion capital gains tax for Vodafone. Coincidentally, the two sources who spoke to Reuters said a deal could be structured that would result in a tax bill of $5 billion or less.
Vodafone CEO Vittorio Colao has said he is keeping an open mind on whether to sell the group's 45 percent stake. Some analysts believe Colao may want to try to hold on to the asset a little longer. Others believe competition, driven by consolidation in the U.S. market may inspire a deal sooner rather than later.
Verizon's board is expected to discuss details of a potential Verizon Wireless buyout next week ahead of the company's annual shareholder meeting, according to one of the Reuters sources.
Analyst Jonathan Chaplin at New Street Research, said a deal at $100 billion would boost Verizon's earnings per share in 2014 by 33 percent.
Any deal now would add to a flurry of consolidation activity in the telecommunications industry. MetroPCS Communications Inc. (NYSE: PCS) shareholders Wednesday approved a merger with T-Mobile USA, a subsidiary of Deutsche Telekom AG. And, Dish Network Corp (NASDAQ: DISH) offered, last week, to buy Sprint Nextel Corp for $25.5 billion in cash and stock in a deal that challenges an offer from Japan's SoftBank Corp.
Vodafone shares are up nearly three percent in early trading at $30.48, Thursday and Verizon is up almost 2 percent at $52.79 on the day so far.
As of this writing, Jim Probasco has no position in any mentioned securities.
Posted-In: Dish Network Corp. MetroPCSAnalyst Color News Rumors Topics M&A General Best of Benzinga
View Comments and Join the Discussion!