Boeing Dreamliner May Fly Soon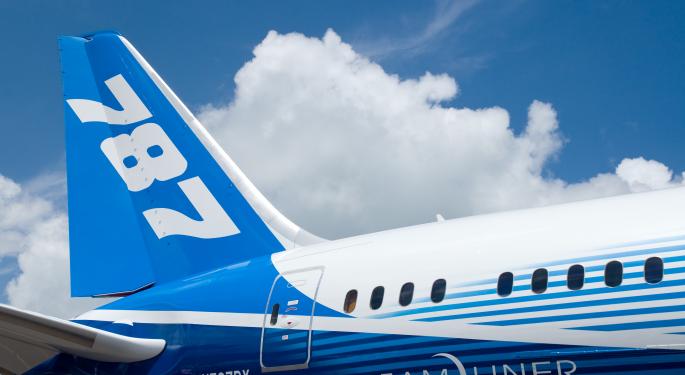 The Boeing Company's (NYSE: BA) three-month old Dreamliner nightmare might soon be over.
According to Reuters, the Federal Aviation Administration is close to approving a document, known as a Project Statement of Compliance, as early as next week.
Approval of the document would officially set into motion procedures designed to allow Boeing's 787 airliners to fly for the first time since January. The FAA declined to confirm whether Boeing had submitted the document for approval yet.
The recent development followed another Reuters report Wednesday, which stated that the head of the Federal Aviation Administration said Tuesday that Boeing "has completed all required tests and analysis" as part of the company's obligation to demonstrate the safety of battery fixes on its 787 jets.
FAA Chief Michael Huerta, in a status report prepared for a Senate Commerce Committee hearing on air safety, said the agency is reviewing tests and analysis performed by Boeing and will give final approval to put the planes back into service "once we are satisfied Boeing has shown the redesigned battery system meets FAA requirements."
Without providing a specific timetable, Huerta said he expects the battery decision to be made "very soon."
Huerta also told the Senate committee that the FAA was working closely with the National Transportation Safety Board in its investigation of battery issues on two separate 787s in January. Huerta, however, did not link a potential FAA decision to the NTSB investigation.
"We're on our own timetable in terms of completing the analysis," Huerta told reporters. "Once we're ready to move and make a determination, we will."
The FAA, according to Huerta, is considering separately whether to certify Boeing's 787 for extended-range operations, known as ETOPS. The agency approved the plane for flights over remote areas of up to 180 minutes when it was grounded for two battery meltdowns in January.
Huerta's testimony provides some real "light at the end of the tunnel" news for Boeing and the best indication yet that the FAA and the plane maker are finally making real progress toward ending the worldwide grounding of the 787 Dreamliners. Absent any additional problems, some airlines with 787s anticipate a return to passenger service as soon as May.
The process, however, continues to frustrate senior Boeing officials who contend that the FAA's drawn-out decision-making process has caused unnecessary delays according to Fox Business News.
After completing an FAA-required test flight on April 5, Boeing had hoped for a mid-April go-ahead to start helping carriers install the new battery systems. Boeing and airline industry officials now anticipate a delay until the end of the month, or longer.
Meanwhile, orders continue to pile up at Boeing. Reuters reports that South Korea plans to buy $1.6 billion worth of attack helicopters from the company. As a result, analysts at Jeffries Tuesday raised their price target for Boeing shares from $87 to $115, citing among other things, the company's huge backlog of orders. The firm continues to maintain a "Buy" rating on Boeing stock.
As of this writing, Jim Probasco had no position in Boeing.
View Comments and Join the Discussion!
Posted-In: 787Analyst Color News Upgrades Rumors Legal Events Analyst Ratings Best of Benzinga