Weekly Preview: Earnings Season Kicks Into High Gear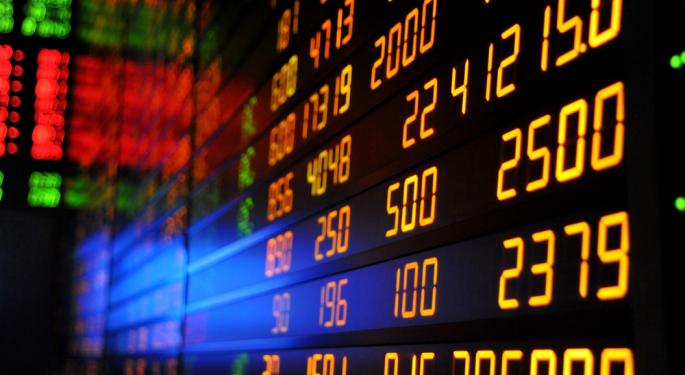 In the upcoming week, earnings season kicks into high gear as over 100 companies are expected to report quarterly updates. Key earnings from large companies across industries will set the tone for the market.
In the previous week, stocks set new highs before selling off sharply Friday on global growth fears, fears over Europe's debt crisis, and on weakness in commodity markets. Specifically, oil dropped over two percent Friday while gold fell over four percent and silver fell as much as six percent before recouping some losses.
Earnings the Analysts are Talking About
Next week, bank earnings continue but the focus will most likely shift to technology earnings following the reports from both J.P. Morgan Chase (NYSE: JPM) and Wells Fargo (NYSE: WFC).
Intel (NASDAQ: INTC) is set to kick off semiconductor earnings on Tuesday, April 16 after the close. Intel is expected to report first quarter EPS of $0.41 vs. $0.53 a year ago. On the top line, analysts are expecting $12.61 billion in revenue compared to $12.91 billion in the same period a year ago.
Sumit Dhanda, analyst at ISI Group, wrote, "we peg [gross margins] at 58% and sales at ~$12.5B ‐ slightly below the Street ($12.6B) and Intel's own outlook ($12.7B). As it relates to 2Q, we think an easy notebook production comp, improving consumption trends, and a possible [gross margin] bump from sale of written off Haswell parts, could support a flattish sales outlook and modestly higher [gross margins]."
Analysts at Wedbush had a similar view: "IDC released its Q1 data for PC shipments which pointed to a fraught PC market with PC shipments of about 76.3MM units, down roughly -14% Y/Y. We don't view IDC's data as a big surprise and not new news as M/M data out of Taiwan's leading ODMs from Dec to Feb showed on average M/M declines of greater than 15%. We believe muted PC demand was further hampered by cannibalization of tablets, lackluster uptake of Windows 8, and just too many choices of form factors (i.e., Ultrabooks, ultrathins, Touch, Windows RT, laptops) for the consumer."
They continued: "While we expect a tough 1H, we think investors are prepared and we see a couple of potential positive catalysts for the stock next week: (1) naming of CEO and (2) cut to CapEx. We maintain our NEUTRAL rating, but with investors expectations fairly low, we wouldn't be surprised to see upward movement in the stock. Our PT of $23 is based upon about a 10x multiple of our 2014 GAAP EPS estimate of $1.95 (from $1.96) plus $3.56 of cash per share."
Internet giant Google (NASDAQ: GOOG) is expected to report first quarter results Thursday, April 18 also. Google is expected to report first quarter EPS of $10.69 vs. $10.08 a year ago. Revenue is expected to have grown to $14.22 billion from $8.14 billion in the same period a year ago.
Analysts at Goldman Sachs published their view on the company ahead of the report. "We are modeling consolidated revenue and non-GAAP EPS of $14.58bn and $10.69. We are forecasting Google standalone revenue of $13.29bn vs. consensus of $12.95bn. For Motorola we are modeling $1.29bn vs. consensus of $1.39bn. We are modeling non-GAAP operating margin of 30.2% vs. consensus of 30.3%."
"Overall, we expect Google standalone revenues roughly in line with consensus if not slightly ahead, as our checks indicate ad spend came in largely as expected for the quarter. That said, we continue to view Motorola as a potential downside risk as Google works off the legacy Motorola product pipeline."
"We continue to expect gross and operating margins to face ongoing pressure due to the increasing portion of mobile queries along with investment in smartphone and tablet offerings. Our 12-month price target remains $760 (DCF, P/E, EV/sales). At around $790 Google trades at 18X our 2013E non-GAAP EPS of $43.35 (consensus: $45.51)."
Wrapping up the large technology earnings next week, eBay (NASDAQ: EBAY) is expected to report first quarter results after the close on Wednesday, April 17. Analysts are expecting eBay to report EPS of $0.62 vs. $0.55 a year ago. Revenue is expected to rise to $3.76 billion from $3.28 billion in the same period a year ago.
"With the bullish, long-term-focused analyst day close behind us, we expect eBay's Q1 report to focus mostly on near-term trends," said analysts at Canacord Genuity. "We note that the setup for this quarter continues the trend of consensus at the upper end or above guidance. In general, we believe estimates are reasonable for Q1 and Q2."
"We believe expectations for Q1 are reasonable as we model y/y revenue growth deceleration to 14% from 18% in Q4. We note that from the analyst day, the outlook for Payments volumes and revenue was ahead of our model and seemed to be among the more optimistic of management's projections. Our price target is unchanged at $67 and is based on 20x our 2014 EPS estimate of $3.34."
Also on deck next week are earnings from restaurants McDonald's (NYSE: MCD) and Chipotle Mexican Grill (NYSE: CMG). McDonald's is expected to report first quarter results pre-market Friday, April 19. McDonald's is expected to report EPS of $1.27 vs. $1.23 a year ago on revenue of $6.59 billion vs. $6.55 billion a year ago.
Analysts at Morgan Stanley commented on the results, noting currencies could pose a risk to results. "Recent weakening of currencies (esp GBP, JPY) compel us to modestly lower FY13e to $5.75 from $5.78."
"Our $1.28 EPS est is roughly in line with consensus ($1.27) but is still just +3-4% Y/Y, in line w last Qs growth. Our estimate reflects margin pressures from delevering (EBIT margins down 60 bp on a global comps down 1%, the first neg Q since '03). Japan, which is a JV and only 2% of op inc., nonetheless also had a poor 1Q, further exacerbated by a 12% Y/Y decline in the Yen. We'd note that both sales comparisons as well as EPS growth compares ease substantially in the coming quarters, and we'd expect commensurate EPS growth acceleration."
"In Europe, we expect Mar comps to be flattish, but the Q will be down ~1%, and margins will likely be under pressure form that plus higher commodity costs. With Japan comps down ~10%, APMEA is likely to see -4-5% comps for the Q though March did improve. Lowering FY13e to $5.75 from $5.78, but just on currencies; similarly FY14e to $6.29 vs $6.33 prior. Rolling base case over to 16x '14e, or $101."
Lastly, Chipotle Mexican Grill is expected to report first quarter EPS of $2.14 vs. $1.97 a year ago on Thursday, April 18 after the close of trading. Revenue is expected to grow to $724.87 million from $640.6 million a year ago.
Analysts at Morgan Stanley expect modest results for the quarter but see future guidance as key. "We like CMG's set up into the 2H13 as pricing is added, catering layers in and comparisons ease. Comp momentum exiting Q & related commentary likely more relevant to shares than headline 1Q numbers, which could be skewed. We estimate ~0% comps for the Q."
Economics
On the economic calendar next week, the German ZEW Economic Sentiment Index is expected to be released as well as U.S. CPI inflation and the British employment change report. In addition, British retail sales data is expected as well as the Philly Fed Index, Conference Board Leading Indicators, and Canadian CPI.
Also next week, many Fed officials are set to speak. Governors Elizabeth Duke, Janet Yellen, Jeremy Stein, and Sarah Bloom Raskin are set to speak. In addition, regional Fed Presidents Naryana Kocherlakota, James Bullard and Eric Rosengren are expected to speak.
Monday
Earnings Expected From: American Electric Power (NYSE: AEP), Charles Schwab (NYSE: SCHW), Citigroup (NYSE: C), and Heartland Express (NASDAQ: HTLD).

Economic Releases Expected: Empire State Manufacturing Index, TIC Flows, NAHB Home Price Index, 3-month bill auction, and a 6-month bill auction.
Tuesday
Earnings Expected From: Blackrock (NYSE: BLK), Coca-Cola (NYSE: KO), Goldman Sachs (NYSE: GS), Intel (NASDAQ: INTC), Johnson and Johnson (NYSE: JNJ), and Yahoo! (NASDAQ: YHOO).

Economic Releases Expected: CPI Inflation, Housing Starts, the Redbook, Industrial Production, a 4-week bill auction, and speeches from the Fed's Duke, Kocherlakota, and Yellen.
Wednesday
Earnings Expected From: Abbott Labs (NYSE: ABT), American Express (NYSE: AXP), eBay (NASDAQ: EBAY), Kinder Morgan (NYSE: KMI), Sandisk (NASDAQ: SNDK), and St. Jude Medical (NYSE: STJ).

Economic Releases Expected: MBA Purchase Applications, EIA Petroleum Status Report, the Beige Book, and speeches from Fed members Stein, Bullard, and Rosengren.
Thursday
Earnings Expected From: Advanced Micro Devices (NYSE: AMD), Blackstone Group (NYSE: BX), Capital One Financial (NYSE: COF), Chipotle Mexican Grill (NASDAQ: CMG), Etrade Financial (NASDAQ: ETFC), Freeport-McMoRan Copper and Gold (NYSE: FCX), Google (NASDAQ: GOOG), International Business Machines (NYSE: IBM), Microsoft (NASDAQ: MSFT), PepsiCo (NYSE: PEP), UnitedHealth Group (NYSE: UNH), and Verizon Communications (NYSE: VZ).

Economic Releases Expected: Weekly jobless claims, the Philly Fed Survey, Conference Board Leading Indicators, the EIA Natural Gas Report, speeches from Fed members Kocherlakota and Raskin, and a 5-year TIPS auction.
Friday
Earnings Expected From: Baker Hughes (NYSE: BHI), General Electric (NYSE: GE), Honeywell (NYSE: HON), McDonald's (NYSE: MCD), Schlumberger (NYSE: SLB), State Street (NYSE: STT), and Under Armor (NYSE: UA).

Economic Releases Expected: Canadian CPI and wholesale sales.
Good luck and good trading.
View Comments and Join the Discussion!
Posted-In: Analyst Color Earnings News Guidance Dividends Price Target Previews Reiteration Best of Benzinga