Tesla's Fundamental Flaw That No One Is Talking About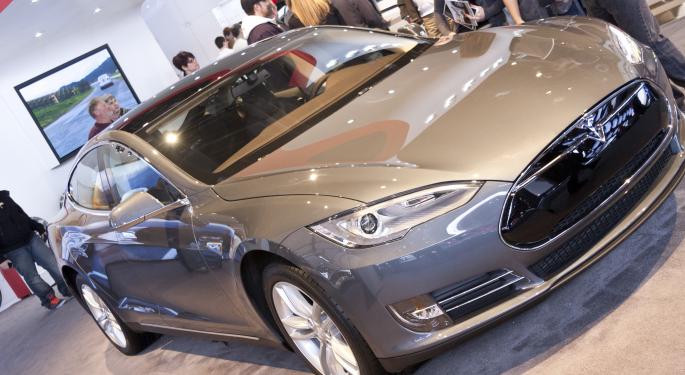 Earlier this week, electric car maker Tesla (NASDAQ: TSLA) had analysts and investors on the edges of their seats in anticipation of a Steve Jobs-esque announcement from the automaker's CEO Elon Musk.
Musk unveiled a partnership between Tesla, US Bancorp (NYSE: USB) and Wells Fargo (NYSE: WFC) where the two banks will provide the 10 percent down payment for customers looking to buy a Tesla Model S.
"The 10% down payment is covered or more than covered by US Federal and state tax credits ranging from $7,500 to $15,000. New Jersey, Washington and DC also have no sales tax for electric vehicles. These advantages are not available when leasing," said Tesla in a statement released Wednesday.
After three years, the buyer/lessee can sell his or her Model S to Tesla for the same residual value percentage as the iconic Mercedes S Class, one of the finest premium sedans in the world, according to the statement. And, to his credit, Musk is basically guaranteeing the resale value of the Model S while, potentially, allowing for some folks to get the pricey sedan at a payment of just $500 a month.
Analyst reaction to the news was mixed. For example, Goldman Sachs has Tesla on its Americas Buy List. JP Morgan rates the shares Neutral. Prior to Wednesday's announcement, Bank of America Merrill Lynch raised its estimates on Tesla, but reiterated an Underperform rating on the stock. JP Morgan did a fine job of outlining the advantages held and the risks faced by Tesla.
"Tesla is attractively saddled with none of the pension, OPEB, and other legacy costs which frequently burden large entrenched automakers. Its products are bold, distinctive, elegant, and highly entertaining to drive. The company is led by visionary leadership, backed by a management team with solid functional strength. Technology risk seems substantially less than was once feared.
Execution risk, however, seems high: Tesla simply has yet to demonstrate it can produce Model S vehicles at the combination of volume and margin assumed in its business plan. Furthermore, expansion into higher volume segments with lower price points seems fraught with greater risk relative to demand, execution, and competition," the bank said in its note.
The impact of Tesla's new financing program, which is arguably revolutionary by the standards of the auto financing universe, remains to be seen. Indeed, it has the potential to be a game-changer for the company, but there are other issues to consider. For better or worse, the real risk to Tesla is something that does not crop up in analyst reports or in the mainstream media. At least not often.
Tesla's own Website indicates the Model S is no Honda Civic when it comes to price. New buyers with the benefit of the financing program could be paying almost $1,200 a month for a $100,000 car, according to Wired. Wired also astutely points out that Tesla claims the time folks spend every month filling up their tanks is worth $100.
An odd claim to be sure, particularly for those drivers with 15-25 gallon tanks, which only take a matter of minutes to fill. However, that is not the issue at hand. Here is the deal when it comes to Tesla, its ability to justify its rich valuation and deliver returns for shareholders going forward. The audience for its car is limited. Of course, everyone that knows cars knows that. The price tag on the Model S confirms as much.
Unfortunately for Telsa, the potential audience for its car is limited within the already minute number of folks that can even afford a car priced at $80,000 to $100,000 or more. In fact, Tesla indirectly hints at this scenario by mentioning the Mercedes S Class in its Wednesday statement.
The cold, harsh reality facing Tesla is that many of the folks that can afford cars at these price points simply do not want a car with no brand recognition. Forgive any appearances of chauvinism because that is not what we are trying to do here, but it is probably pretty safe to say that most buyers of expensive luxury cars, sedans or sports cars, are men. It is also not a stretch to say that many of these men purchase cars as much for what is on the hood as what is under it.
Said another way, the BMW, Jaguar and Mercedes hood emblems are almost as iconic in the luxury car world as the Apple (NASDAQ: AAPL) logo is to gadget lovers. It is the same principle that helps Ralph Lauren (NYSE: RL) thrive. Many guys will pay more to get the horse on their polo shirts as a status symbol rather than save a few bucks by buying the same shirt, sans horse, at the Gap (NYSE: GPS).
Right now, Tesla has nothing to offer the male buyer who wants to use his car to show off to his friends, pick up women or any other shallow reason why men buy expensive cars. Here is just one example of the battle the Model S must fight. A 2013 BMW M5, a legendary sports sedan in its own right, costs about $92,000. An Audi S7 can be had for about $80,000. Those cars come with status, logos, hood emblems that people recognize. Again, shallow factors to be sure, but legitimate factors auto buyers care about and ones that Tesla cannot yet compete with.
On a related note to the limited audience, another issue for Tesla investors to consider is where, geographically speaking, are new Model S buyers going to come from? Sure, most folks know that Northern Californians love electric cars. And with Silicon Valley home to scores of rich guys (and women), young and old, that is fertile ground for potential Tesla customers.
Problem is, few other places in America are comparable to Northern California. Yes, there are plenty of places that are just as politically liberal and environmentally-friendly as Northern California is. However, there are few places that share theose traits along with the level affluence seen in the Silicon Valley.
Even Southern California, despite being home to plenty of affluence, is far different than Northern California. On an anecdotal level, Tesla once had a showroom in Newport Beach on Pacific Coast Highway. This dealer was a stone's throw from a Porsche/Bentley dealer, almost right next door to a Ferrari/Maserati dealer and just south of a BMW dealer and a McLaren showroom.
Tesla has been cast-off to Fashion Island, a tony outdoor mall that people mostly go to shop for fashion and eat out, not to buy cars. Here is the thing. Whether one likes California or not is not the point. It is the most important auto market in the U.S. There are more cars than people in the largest U.S. state and if Tesla's success is confined to just Northern California, that could be a problem.
Taking things a step further, in politics, analysts love to note the dichotomy between how millionaires vote. A frequent example is that the millionaire movie producer is probably a Democrat while the millionaire oil executive is probably a Republican. Translation: For Tesla, it is not just about finding people that can afford Tesla cars, it is about finding the right type of people.
Sure, the guy (or woman) that just cashed in $1,000,000 in Google stock options living in Northern California sounds like a credible Tesla buyer. However, his or her equivalent that just got a $1,000,000 bonus trading oil futures at Houston hedge fund probably is not a likely Tesla buyer. And that is a problem.
View Comments and Join the Discussion!
Posted-In: Analyst Color Long Ideas News Short Ideas Events Hot Intraday Update Markets Best of Benzinga