Deere Drops After Analyst Tries to Predict the Weather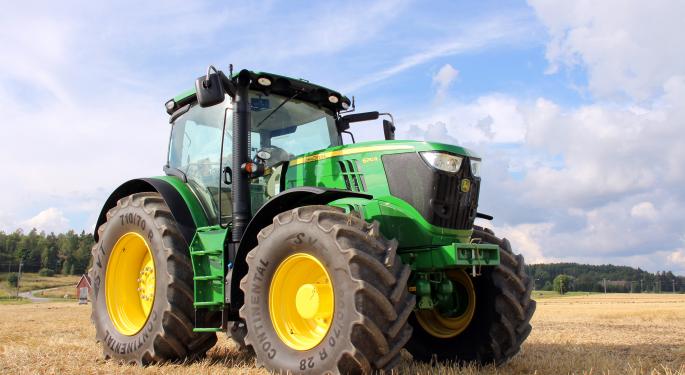 Shares of agricultural equipment manufacturer, John Deere & Co. (NYSE: DE)fell $2.83 (3.12 percent) to $87.74, Wednesday, after Wells Fargo analyst, Andrew Casey, downgraded the stock to Underperform from Market Perform.
According to Barron's, Casey lowered his price target range for Deere from $90-93 to $72-75, and in a note to investors, said he lowered his outlook for fiscal 2014 and 2015 demand as commodity prices return to normal as a result of improved growing conditions, and because of moderating corn-based ethanol consumption in the U.S. 
Casey said that the price of Deere's stock could be influenced by corn prices, which he expects to decline. He indicated that dealer channel checks suggest concerns that price per bushel could go below $5.50.
The problem, is this: Relying on anyone's predictions about the price of corn is something of a fool's errand.
Monday, for example, The Wall Street Journal seemed to support Casey's line of thinking by reporting that U.S. corn futures traded lower. The WSJ blamed this, in part, on a bumper corn crop in 2013, thanks to recent rain and snowfall across the Midwest, which has improved soil conditions ahead of spring planting.
Fast forward to Tuesday. The Wall Street Journal this time reported that U.S. corn futures closed mostly higher on that day, due to tight domestic supplies of the grain.
What? Monday we were expecting a bumper crop. Tuesday supplies are tight? Which is it? Both, actually – and therein lies the problem.
First, thanks to last year's drought, stockpiles are lower than usual. In addition, demand from ethanol producers is up, according to John Kleist, senior analyst with brokerage Ebottrading.com in Lakemoor, Ill.
Valero Energy Corp.(NYSE: VLO), for example, said Monday it had resumed operations at a previously idled ethanol plant in Ohio, and it plans to restart a plant in Indiana in about a week.
Second, many in the agricultural community believe the 2013 corn crop could be a record. Mostly, this belief is based on recent rain and snowfall amounts and predictions for a record planting season.
However, all of this depends on a number of factors, of which the weather is probably the most important. The weather, of course, is unpredictable.
So, Andrew Casey could be right. There could be a bumper corn crop, prices could fall, and farmers' ability to buy new John Deere tractors and combines could be compromised.
Alternatively, prices could stay the same or even rise – along with the value of Deere stock. Analysts calls are based on a series of "ifs" so this is nothing new but owners of Deere might have a good old fashioned buying opportunity on their hands if the stock continues to react negatively to one person who thinks they can predict the weather.
Posted-In: Analyst Color Earnings News Guidance Wall Street Journal Downgrades Events Global Best of Benzinga
View Comments and Join the Discussion!