The Fundamental Case for Owning Drone Stocks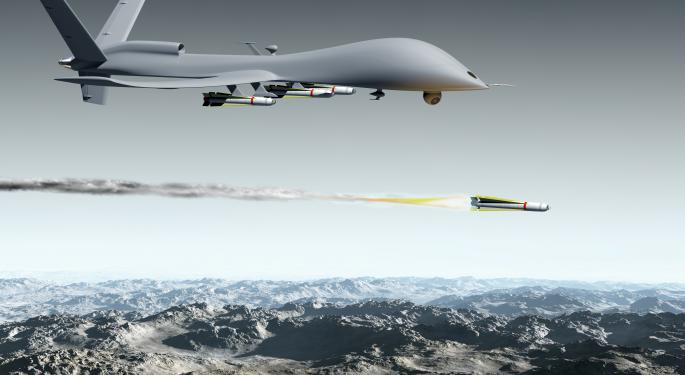 When EasleyPatch reported Thursday that Sen. Lindsey Graham (R-S.C.) estimated the United States has killed 4,700 people in drone strikes, news of the senator's remarks spread quickly.
The mere mention of drones for most people conjures up images of missile-firing Predators hunting down and killing al-Qaeda terrorists.
According to The Wall Street Journal, with a declining defense budget expected to limit spending on military drones, manufacturers are also seeking opportunities on the domestic front, where universities, police departments and border patrol agencies—as well as commercial enterprises— could use the unmanned aircraft.
While it is clear that non-military drones could be extremely useful in communities all over the country, their potential use has given rise to fears of unwanted government surveillance, prompting local and state lawmakers in several cities to suggest restrictions or an outright ban on their use altogether.
"To me, it's Big Brother in the sky," Dave Norris, a city council member in Charlottesville, Va., told the New York Times after his city became the first in the country to restrict the use of drones.
Despite concerns, a federal law passed last year has paved the way for commercial use of drones and made it easier for government agencies to obtain them.
As a result, drone manufacturers have begun to market small, lightweight devices specifically for policing. Drones already monitor movement on the United States' borders and provide assistance to a handful of police departments, and emergency services agencies around the country.
Manufacturers say they expect demand for drones to grow and they are positioning themselves for a sharp rise in domestic uses.
The WSJ report quotes Steven Gitlin, vice president of investor relations for AeroVironment, Inc. (NASDAQ: AVAV), a California company that makes a variety of drones, including one designed to look like a small bird, who said, "The U.S. is a very large and extremely fragmented market opportunity."
AeroVironment's primary focus lies with a surveillance drone called the Qube, which weighs about five pounds, costs about $50,000 and is designed to help assess dangerous situations.
"There's clearly a role for large systems," Mr. Gitlin said. "But there's also a very valuable role for the back-packable systems."
"Use on the commercial side could be astronomical," said Michael Toscano, president of the Association for Unmanned Vehicle Systems International, a Virginia-based trade group representing the industry.
How astronomical? The FAA estimates that the worldwide drone market could grow to $90 billion in the next decade.
No wonder companies that produce drones are interested in potential domestic applications. Other companies that stand to benefit include Northrop Grumman (NYSE: NOC), Martin (NYSE: LMT), Boeing (NYSE: BA), Israel Aerospace, and Textron (NYSE: TXT).
Posted-In: Analyst Color Long Ideas News Guidance Wall Street Journal Rumors Events Global Best of Benzinga
View Comments and Join the Discussion!