Continued Drought in the West and Rain in the East Could Keep Corn Prices High in 2013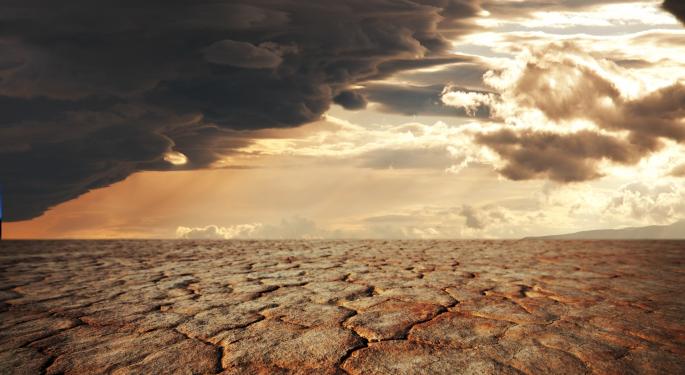 With winter snow still flying in the nation's heartland, farmers are hard at work repairing corn planters, upgrading and modifying, even adding electronics -- anything that will give them an edge as they try to recover from the drought of 2012.
Plans are already in place to plant the most corn in almost eight decades according to Bloomberg. "Farmers are looking for every acre possible to plant this year," said Bill Bayliss, who is expanding acreage by 10 percent on land he farms in West Mansfield, Ohio. "The price is attractive, and we have seen an improvement in soil moisture."
That's in the East. In the Great Plains and Midwest, however, drought conditions linger. "Rainfall would need to be 16 inches above normal in the west to recharge soil moisture depleted by roots that went as deep as 8 feet to survive the drought," Randall Miles, a soil scientist at the University of Missouri said.
Still, a Bloomberg survey based on the average of 17 analysts' estimates shows that overall corn acreage in the U.S., the world's top grower and exporter, will be the largest since 1936 and expected to yield an all-time high of 13.8 billion bushels at harvest.
"We are in a major transition to a more-abundant supply situation," said Don Roose, president of U.S. Commodities Inc. in West Des Moines, Iowa, who grows corn and soybeans on his farm. "We have sent a clear price signal to the rest of the world to produce more corn." Prices may drop below $4 a bushel in Chicago this year, he said.
If there is no improvement in soil conditions in the west, however, there's a chance prices will remain high which would be good news for Eastern farmers should they get the bumper crops analysts are predicting.
When it comes to farming, it's all about being in the right place at the right time.
Goldman Sachs Group, Inc. (NYSE: GS), in a Feb. 10 report, said it expects lower overall yields from dry soil in the west will leave prices in 12 months at $6. Standard Chartered Bank said in a Feb. 14 report that corn will average $6.80 in the fourth quarter, 21 percent more than the December futures.
Corn yields in the U.S. will jump 31 percent to 161.5 bushels an acre this year from a 17-year low of 123.4 bushels in 2012, Deere & Co. (NYSE: DE), the world's largest farm-equipment seller, said on Feb. 13.
Archer-Daniels-Midland Co. (NYSE: ADM), the largest U.S. ethanol refiner, has been paying an average premium of 34.6 cents a bushel over futures for delivery this month in Decatur, Illinois, where the company is based, up from 27 cents a year earlier, data compiled by Bloomberg show.
View Comments and Join the Discussion!
Posted-In: archer daniels midland cornAnalyst Color News Guidance Commodities Markets Analyst Ratings Best of Benzinga