Currency Wars? No Problem, Just Be Long These Stocks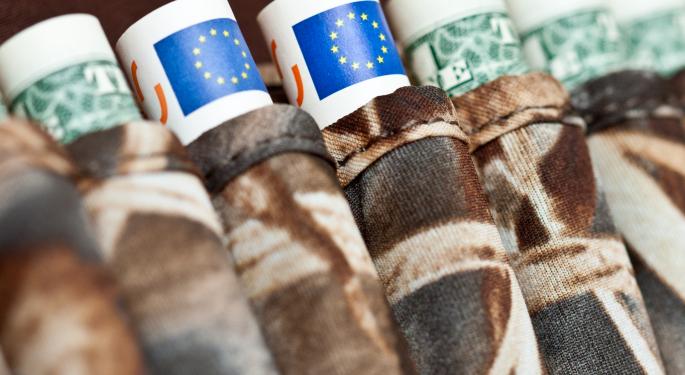 Global currency wars brewing causing exports around the world to see seismic shifts? Central banks printing money until their eyes bleed? A global race to devalue? No problem!!! Just long these stocks, say analysts at Credit Suisse (NYSE: CS).
The bank issued a note Thursday highlighting several stocks that they see gaining from the global currency wars, specifically from a stronger euro and a weaker yen. These two currencies have seen some of the largest moves since mid-December when the currency wars truly broke out and thus the analysts focused on them.
As the chart below shows, the bank highlighted 15 stocks that are currently rated outperform by the bank. Of these, they further highlight three stocks that look undervalued on their proprietary quantitative screen, the three stocks being Priceline.com (NASDAQ: PCLN), Lear Corporation (NYSE: LEA), and Thermo Fisher Scientific (NYSE: TMO).
Also, the bank noted 7 stocks that could benefit from stronger emerging markets currencies. When other countries' currencies appreciate relative to the dollar, it boosts sales in that country, all else equal. The bank highlights seven stocks to play stronger emerging markets currencies. They are:


Mead Johnson Nutritional (NYSE: MJN)

Phillip Morris (NYSE: PM)

Colgate-Palmolive (NYSE: CL)

Yum Brands (NYSE: YUM)

Proctor and Gamble (NYSE: PG)

Kraft Foods (NASDAQ: KRFT)

Nike (NYSE: NKE)
Lastly, the bank noted six stocks that are underperform rated by the bank that have significant exposure to Japan. Having large Japanese exposure with a declining yen relative to the dollar means that for every yen of sales, the company gets fewer and fewer dollars. Thus, having exposure to the yen in a bearish-yen market can be a negative for the company. The bank highlights Abercrombie and Fitch (NYSE: ANF) and Ford (NYSE: F) as potential big losers if the yen continues to weaken over the next few months.
The banks notes that "each 10 percent on the euro takes 4 percent off Euro-area EPS growth (by itself) but other factors lead us only to downgrade EPS growth to 0.6 percent in 2013 (from 2 percent). Japanese consensus EPS forecasts are up only 1 percent in yen terms since the most recent peak in the yen and their historical correlation with the dollar/yen suggests another circa 5 percent upgrade."
The bank sees the euro weakening to 1.40 against the dollar and the yen declining to 100 against the dollar. Currently, the EUR/USD is 1.3622 and the USD/JPY is 91.90.
Stock chart: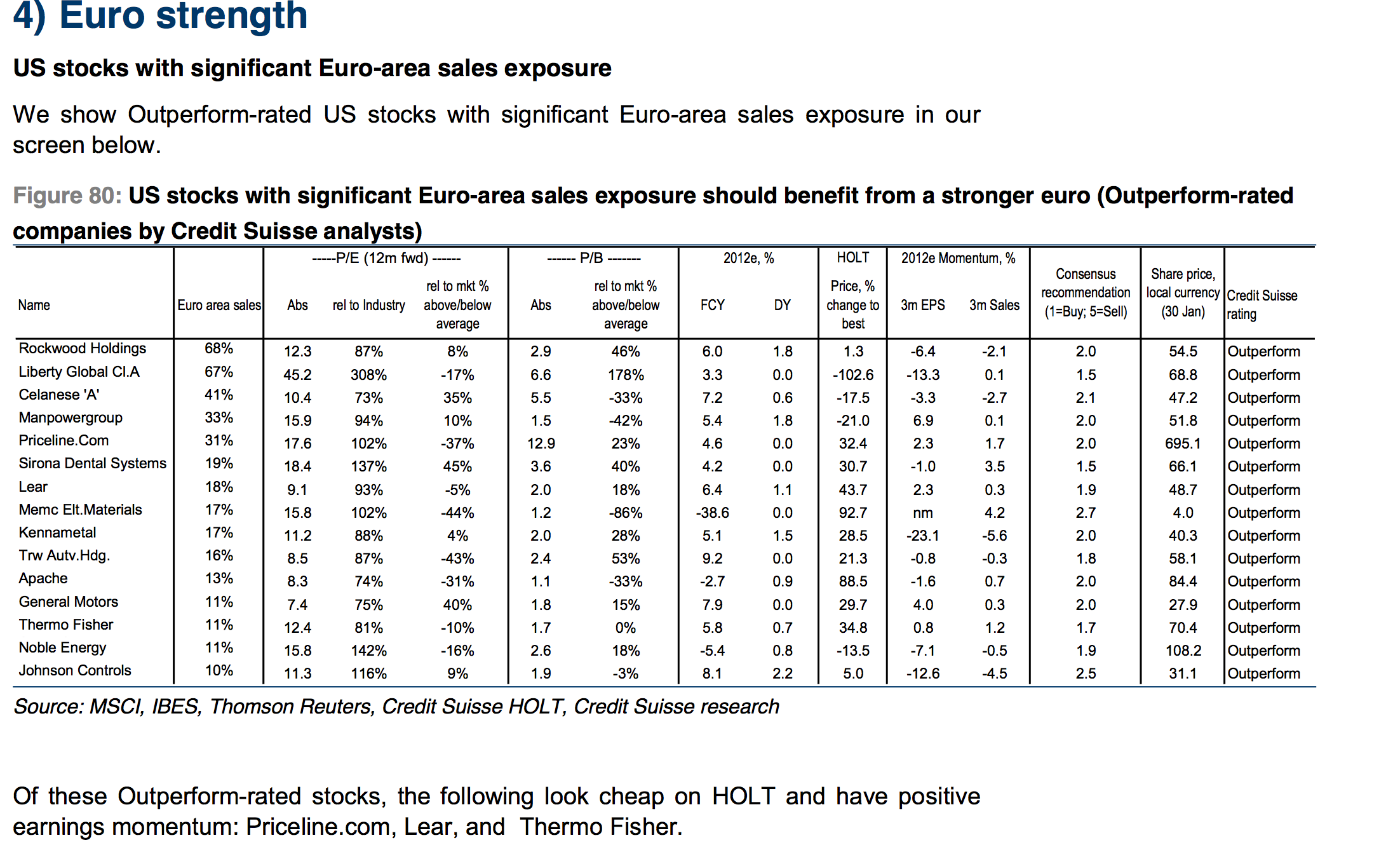 Posted-In: Analyst Color News Upgrades Downgrades Price Target Previews Forex Global Best of Benzinga
View Comments and Join the Discussion!