76% of Investors Are Not Interested in BlackBerry 10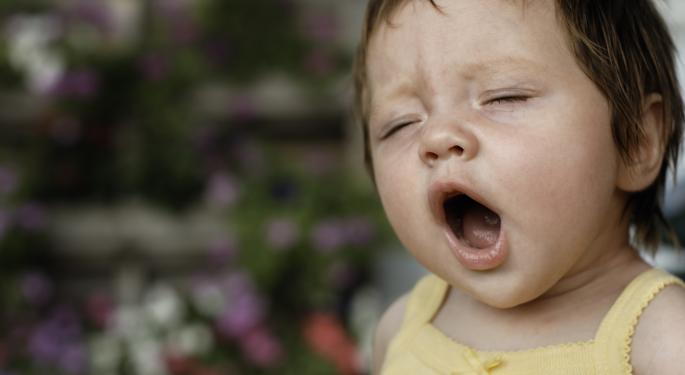 It was supposed to be the mobile OS that would change everything, but the only thing that has changed is Research In Motion's (NASDAQ: RIMM) share price.
The stock is down another six percent Thursday, signaling a potential end to RIM's golden child status on Wall Street. The company will officially change its name and its ticker to BlackBerry (NASDAQ: BBRY) on Monday, February 4, but that is unlikely to reinvigorate the struggling brand.
"A lot of [investors] hoped that the launch would be really great and that it would really foster positive sentiment among investors and then it would really boost the share price," Jan Dawson, Ovum's Chief Telecoms Analyst, told Benzinga.
"That didn't happen in practice. The launch was good [but] it's not obvious that it's going to do super well. I think that's why you've seen the sell-off -- a lot of people were buying on the potential, and the potential wasn't really realized in practice."
This week Yahoo Finance (NASDAQ: YHOO) conducted a poll on the matter, asking traders, "How interested are you in buying a BlackBerry 10?"
Very interested, I think they're on to something big (8,584 votes) -- 11 percent
Somewhat interested, I'm waiting on the reviews (9,908 votes) -- 13 percent
Not interested, I'm sticking with what I have (57,305 votes) -- 76 percent
Between the poll results, the stock decline and the analyst reaction to BlackBerry 10, the company may not have much hope.
According to Mashable, the company's primary chance to "reclaim relevance" may occur overseas in nations where smartphone adoption is low.
In other words, BlackBerry might not have any hope of persuading Americans to drop their existing devices.
"Right now, the default is to go with Android or iPhone if you need a new device," said Dawson. "There's no big reason here why you'd go with something different."
Dawson commends BlackBerry for building a "great new operating system [with] two new great devices" that are "the best they've ever produced."
"They've solved some big problems they've had with previous devices like the browser, the quality of the apps -- even the hardware design is better, sleeker, nicer to look at than what they've had before," he added. "In many respects I think what they've produced is really good, I'm just not convinced that there's anything there that puts it ahead of any other platform in any meaningful way."
Dawson believes that the "most likely scenario" is that BlackBerry will become a niche player within the industry.
"Rather than getting back to the kind of scale they were at before, I think they're more likely to end up being a supplier to a fairly small segment of the market for the people who love BlackBerrys and the things that BlackBerrys are good at," such as multi-tasking, productivity and e-mail, Dawson explained.
"I think there is business to be made serving that segment, but it's nowhere near as big as the installed base they had in the past."
Follow me @LouisBedigianBZ
View Comments and Join the Discussion!
Posted-In: BlackberryAnalyst Color Long Ideas News Short Ideas Analyst Ratings Tech Trading Ideas Best of Benzinga