Research in Motion is Now BlackBerry; Do Investors Care?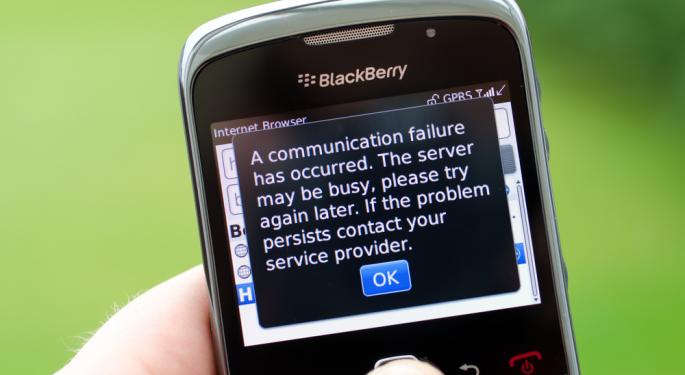 "A rose by any other name would smell as sweet," says Shakespeare's Juliet, affirming her contention that names are less important than substance.
A number of firms have changed their names – some of them quite well known.
Before it was Xerox (NYSE: XRX), it was Haloid. Would sales have plummeted if office managers had tried to install Haloid copy machines?
Target (NYSE: TGT) began as the Dayton Dry Goods Company. Everybody knows the target red dot but what would the logo have looked like under the original name?
Speaking of rolling off the tongue, would investors have shown as much interest in Jerry and David's Guide to the World Wide Web as they have to what is now Yahoo! (NASDAQ: YHOO)?
With Research in Motion (NASDAQ: RIMM), now BlackBerry (NASDAQ: BBRY), maybe it will be a story like Target or Yahoo, but Wall Street didn't watch Wednesday's unveiling looking for a name change. They wanted to see a product that changed the smartphone landscape.
As Breakout suggests, Research in Motion needs more than a name change. What it needs is for at least a third of its existing 80 million user base to migrate to the new BlackBerry 10 platform, according to Eric Jackson of Ironfire Capital. If it happens, the company could earn $4 to $5 per share next year. It also needs to bring users that migrated to an IPhone or Android back to its ecosystem.
The problem emerging from early reviews of Wednesday's event is that CEO Thorsten Heins called it an "entirely new mobile experience" but it's far from that. CNET called the new OS "pretty good" but in a market where huge innovation is the only way to get consumers' attention, "pretty good" often equals failure. Even Apple (NASDAQ: AAPL) is under scrutiny for its lack of giant-sized innovation with its IPhone 5.
As for the new Blackbery Z10 and new OS, Walt Mossberg, of All Things D tested the new BlackBerry Z10 and says he decided to approach it, not as another BlackBerry, but as a new product from a new company.
Mossberg found it a work in progress, saying he likes the way BlackBerry has designed its new virtual keyboard and camera, and the way it gathers all your messages into a single Hub.
He says, however, that it will have a fraction of the apps available from its iPhone and Android competitors, and is missing some very popular titles. Mossberg also bemoans the lack of a cloud-based ecosystem for storing and sharing files, like Apple's iCloud or Google Drive.
Name change or new product, so far the street's reaction has been less than enthusiastic, to say the least. Research In Motion, now BlackBerry, closed the day Wednesday at $13.78, down $1.88 or 12 percent. To be fair Apple often experiences "sell the news" price action after a big announcement but not 12 percent. Investors clearly wanted more than a new ticker symbol.
View Comments and Join the Discussion!
Posted-In: Apple Blackberry CNET Research in MotionAnalyst Color News Events Analyst Ratings Best of Benzinga