Benzinga's M&A Chatter for Friday November 30, 2012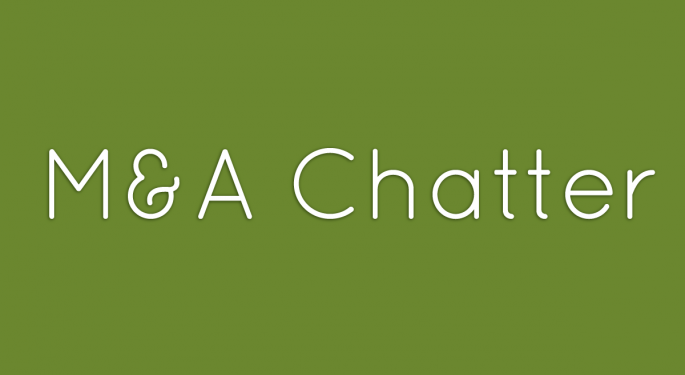 The following are the M&A deals, rumors and chatter circulating on Wall Street for Friday November 30, 2012:
Walter Energy Shares Rally on Unconfirmed Chatter of Offer from BHP
The Rumor:
Shares of Walter Energy (NYSE: WLT) rose almost 6% on Friday following unconfirmed market chatter of a $50 per share offer from BHP Billiton (NYSE: BHP). Walter Energy is a frequent takeover name and BHP has been mentioned before as a potential buyer.
A Walter Energy spokesperson declined comment on the rumor. A BHP spokesperson was not available for comment.
Walter Energy closed at $30.20 Friday on 3 times average volume.
Sprint Could Offer $13/Share to Acquire MetroPCS
The Note:
Sprint (NYSE: S) could offer $12 to $13 per share to acquire MetroPCS (NYSE: PCS), according to a note from Guggenheim Securities analyst Shing Yin. The note cited Sprint's extension of its deadline for a proxy statement relating to its October 15 deal with Softbank.
Deutsche Telekom (OTC: DTEGY) and MetroPCS announced on October 3 that they had signed a definitive agreement to combine T-Mobile USA and MetroPCS in a $1.5 billion cash and stock deal.
A Sprint spokesperson declined comment on the note. A MetroPCS spokesperson reiterated they have a deal with T-Mobile and declined comment on a possible Sprint bid.
MetroPCS closed at $10.65 Friday, a gain of 5% on 1.5 times average volume.
UTStarcom Launches Tender Offer to Purchase up to 25M Shares at $1.20/Share
The Tender Offer:
UTStarcom Holdings (NASDAQ: UTSI) announced Friday the commencement of a tender offer to purchase up to 25,000,000 of its ordinary shares at a price of $1.20 per share, representing a 30.4% premium to the November 29, 2012 closing price on the NASDAQ Global Select Market of $0.92 per share. The tender offer is expected to expire at 5:00 P.M., New York City time, on Thursday, January 3, 2013, unless extended.
UTStarcom Holdings closed at $1.01 Friday, a gain of 7.5% on 3 times average volume.
Google Buys Parcel Shipping Company Buffer Box
The Deal:
Google (NASDAQ: GOOG) has acquired parcel shipping company Buffer Box. Terms were not disclosed.
Buffer Box provides shipping locations where users can pick up parcels from lockers, with an emailed a pin number. The service is currently available only in Toronto.
Google closed at $698.37 on Friday.
Tempur-Pedic and Sealy Receive Request for Additional Information from FTC
The Request:
Tempur-Pedic International (NYSE: TPX) and Sealy Corporation (NYSE: ZZ) announced Friday they received a request for additional information and documentary materials from the Federal Trade Commission regarding Tempur-Pedic's proposed acquisition of Sealy. The information request was issued under notification requirements of the Hart-Scott-Rodino Antitrust Improvements Act of 1976.
The effect of the Second Request is to extend the waiting period imposed by the Act until 30 days after each Company has substantially complied with the Second Request, unless that period is extended voluntarily by the companies or terminated sooner by the FTC. The companies noted that they intend to respond to the information request and to continue to work cooperatively with the FTC in connection with this review.
Tempur-Pedic and Sealy announced on September 27 that Tempur-Pedic would acquire all of the outstanding common stock of Sealy for $2.20 per share. The deal is expected to close during the first half of 2013.
Sealy closed at $2.17 Friday, a loss of $0.03 on higher than average volume.
Posted-In: Analyst Color Long Ideas M&A News Rumors Global After-Hours Center Movers
View Comments and Join the Discussion!