Has Western Union Bottomed?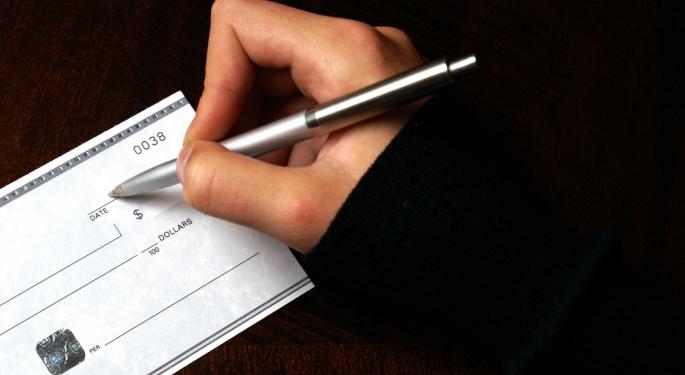 One look at a chart of Western Union (NYSE: WU), the dominant provider of payment transfer and non-banking money movement services, and it is easy to understand why many investors would be skittish about the stock. In late October, the shares were flirting with $18. Today, it appears likely the stock will close below $13.
That is a precipitous slide to say the least and one brought about by a rash of analyst downgrades. For example, earlier this month Standard & Poor's lowered its long-term issuer credit rating on Western Union to 'BBB+' from 'A-,' citing increased competition in the money transfer space. Fitch Ratings followed that up by lowering all of Western Union's senior unsecured ratings to 'BBB+' from 'A-'. Fitch has a negative outlook on Western Union.
After all that, investors are left to ponder the fate of Western Union and if there is any upside here. Or maybe the stock is just another falling knife. There is compelling, fundamental evidence to suggest it is more a case of the former than the latter. Here is why:
The Dividend Western Union is not a bank stock, but it is fair to call this a financial services name. A dividend yield of 3.9 percent is quite spectacular among U.S.-based financials. So is Western Union's dividend growth. Six years ago, the company paid its first dividend of a penny per share. Earlier this year, the company boosted the payout by 25 percent to 10 cents a share. Good luck finding a large-cap bank whose dividend has risen tenfold in the past six years.
Western Union's payout ratio is just 19 percent, indicating there is more upside potential for the dividend in the years ahead.
Favorable Environment Although it did them little good, a favorite battle cry of Republicans during the just completed election season was that number of Americans on welfare has risen dramatically since President Obama took office. That may not be the President's fault, but there is not getting around the fact that more Americans receive some form of government assistance today than in 2008.
Unfortunately, that means there are more folks that can be classified as "poor." Something that often goes unnoticed about a rising number number of people with financial struggles is that number of Americans living outside the traditional banking system rises. The number of U.S. households without bank accounts was 10 million as of mid-September compared with 9 million in 2009, according to the L.A. Times.
Said another way, nearly three in 10 households and one of every 10 Americans does NOT have a checking account. That does not mean these folks do not have a need to write checks. Since many of them are banished from traditional banks, they have to rely on a company like Western Union to provide money transfer services, money orders and pre-paid debit cards to help pay their bills.
It is a sad commentary that the richest nation in the world has 10 percent of its citizens lacking a checking account, but that commentary bolsters the bull case for Western Union.
Wide Moat
Warren Buffett is famous for saying he likes to invest in businesses with a "wide moat" or significant barriers to entry for competitors. Combine that with the dividend and Western Union would appear to be a stock that Buffett would like.
Yes, the company faces increased competition, but on a global basis, Western Union is the Coca-Cola (NYSE: KO) of money transfer services; Western Union is the most recognizable brand in this market segment. The company has 17 percent global market share and its number of agents has surged to 500,000 from just 120,000 in 2001, according to one analyst.
What is interesting about Western Union and its competitors is that the company is the low-cost leader in the money transfer business. It could charge more for its services, but opts not to, thereby using its brand to squeeze competitors. The reality is Western Union's rivals would have to sacrifice their own profitability to compete with the company on price.
Investors with long-term time horizons can embrace Western Union at current levels, particularly if they plan to use a dividend reinvestment strategy. Short-term traders should put a stop in the $11 area.
Posted-In: Analyst Color Long Ideas News Short Ideas Dividends Dividends Downgrades Technicals Best of Benzinga
View Comments and Join the Discussion!