David Einhorn is Shorting Iron Ore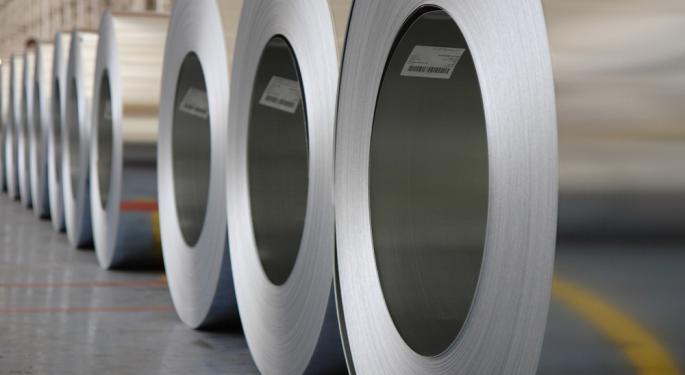 Hedge fund whiz David Einhorn gave a presentation at the Great Investor's Best Ideas investment symposium in Dallas on Tuesday. While the media was not allowed at the event, portfolio manager Leo Isaak reported on Einhorn's investment ideas via his Twitter feed. Other investment heavyweights that attended the conference included T. Boone Pickens, Leon Cooperman and Kyle Bass, among others. Even in this company, Einhorn was likely the most highly anticipated speaker.
A noted value investor and short-seller, David Einhorn, 43, is the founder and managing partner of New York-based hedge fund Greenlight Capital. Founded in 1996 with just $900,000, Greenlight has produced 22 percent annualized returns for its investors and made Einhorn a billionaire.
More than almost any other money manager, with the possible exception of Warren Buffett, Einhorn has the power and influence to dramatically move the markets when he makes his views public. His reputation has been built up over the years primarily as a result of a number of extremely prescient short calls. These include Lehman Brothers, which he began shorting in July 2007, and Green Mountain Coffee Roasters (NASDAQ: GMCR).
The latter stock has fallen dramatically since Einhorn publicly revealed his short position, and the former declared bankruptcy in September 2008, making Einhorn and his investors a ton of money in the process. While Einhorn is best known for some of his successful short positions, he is primarily a value investor who often prefers cheap, unloved, stocks.
Although his fund's largest position in recent months has been Apple (NASDAQ: AAPL), which is hardly unloved and not exactly "cheap," Greenlight owns a host of other stocks that would rightly fit that definition. Examples include Seagate Technology (NASDAQ: STX), Marvell Technology (NASDAQ: MRVL) and Sprint Nextel (NYSE: S), to name a few.
Einhorn is also a big believer in gold and a sometimes vocal critic of Ben Bernanke and the Federal Reserve. In his second-quarter letter to Greenlight Capital investors, Einhorn cited two "undisclosed short positions" that made "material contributions" to his fund's performance in the period. Einhorn's presentation at the Dallas investment conference may have offered some clues on what he has been shorting.
Specifically, he told the audience that he was currently shorting iron ore. Despite the lack of media at the event, Leo Isaak used his Twitter feed to basically share Einhorn's thesis with the world. According to Isaak's reiteration of Einhorn's comments via Twitter, the hedge fund manager thinks that iron ore prices could fall to $100 next year and $80 or lower soon after.
Einhorn said that he thought the equilibrium price for iron ore was around $80 but that the commodity could be in the $60 range by 2014. The reasoning behind his bearish stance on iron ore, which has fallen sharply in recent months, is that he believes China is headed for a slowdown. According to Isaak, Einhorn said that Chinese industrial growth has been far overestimated and that the country is spending billions on "useless projects" to prop up its GDP. This trend cannot continue on forever.
According to the hedge fund manager, Chinese growth rates have very likely peaked and this fact suggests that iron ore is currently in a "bubble." In fact, it was largely Chinese demand that drove the price of iron ore from $20 in 2003 to over $160 in 2011. Any slackening of this demand could trigger more steep declines in ore prices according to Einhorn.
Furthermore, more and more supply has been coming online, which is bearish for prices. Isaak quoted Einhorn as saying that iron ore is very plentiful and new supply is coming on from Africa and Canada. He also added that iron ore supply is expected to grow in the mid teens over the next few years as miners expand projects.
According to Isaak's Twitter reporting, Einhorn said that U.S. Steel (NYSE: X) would be adversely effected if iron ore prices go to $80. Furthermore, an analyst at Longbow Research told Benzinga that Einhorn has been short U.S. Steel "off and on in the last year."
Although Einhorn's comments on iron ore generally, and U.S. Steel in particular, have not been widely reported, they clearly effected the stock on Wednesday. U.S. Steel opened the day slightly higher, but ended up down 3.60 percent to $20.39 on heavier than usual volume. In after hours trading, the stock has fallen another 0.71 percent.
While it is unclear if Greenlight Capital currently has a short position in U.S. Steel, investors should not be surprised if the stock remains weak on Thursday and Friday. Einhorn's reputation for uncovering profitable short ideas is such that the stock could fall substantially in the coming days as more investors become aware of his comments on iron ore prices.
Posted-In: Analyst Color Long Ideas News Short Ideas Rumors Hedge Funds Commodities Movers & Shakers Best of Benzinga
View Comments and Join the Discussion!