Greece's Days as a Developed Market Could be Numbered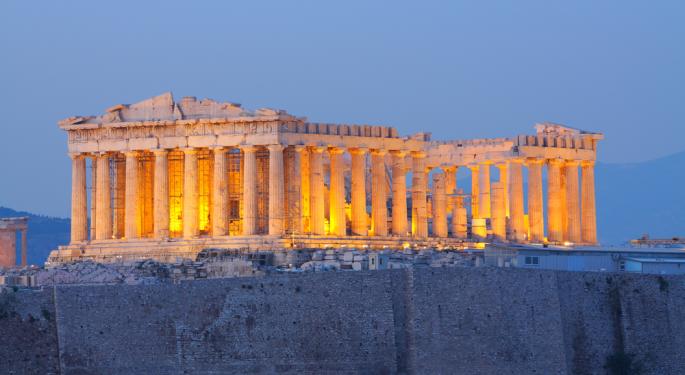 Many traders and investors view the performance as stunning, but there is no denying the fact the Global X FTSE Greece 20 ETF (NYSE: GREK) has surged 72.4 percent in the past three months. GREK, the lone ETF exclusively devoted to the controversial PIIGS nation, debuted in December 2011 and now has nearly $30 million in assets under management.
The good times for GREK have come even following reports earlier this year Greece could lose its developed market status. In June, index provider MSCI (NYSE: MSCI) warned of the possibility.
With the decision of Coca-Cola Hellenic Bottling, GREK's largest holding with a weight of over 15 percent, to leave Athens in favor of a London listing, the chances of Greece being demoted to emerging markets have risen, Bloomberg reported, citing MSCI.
The MSCI Greece Index consists of just two companies, with Coca-Cola Hellenic garnering a weight of 75 percent, according to Bloomberg. In other words, even though Greek equities have surged over the past several months, a significant blow to that accrued market value will be dealt with the departure of Coca-Cola Hellenic, the world's second-largest bottler of the popular soda.
"In addition, the Greek equity market is the only Developed Market in which in‐kind transfers and off‐exchange transactions are prohibited and stock lending as well as short selling practices are not well established. This has created significant concerns for market participants and in particular for passive portfolio managers. The Greek authorities have not been receptive to repeated complaints from the international investment community and did not manage to bring equity market regulations and practices in line with the evolving standards of Developed Markets," MSCI said in June.
As it pertains to GREK, the ETF tracks the FTSE/ATHEX 20 Capped Index, and it is not yet clear if the FTSE Group will follow MSCI's lead and consider a demotion for Greece. It is worth noting that the two index providers do not classify all markets the same way. For example, MSCI considers South Korea to be a developing nation, but FTSE does not.
Another potential problem for Greece, and by virtue GREK, is the size Greece would have in various emerging markets indexes should it be demoted. Even at its peak in 2007, the total market capitalization of the Greek equity market was just $273 billion. The number is nowhere close to that today and even Greek equities regained peak market values, the group would still trail major members of the MSCI Emerging Markets Index such as Brazil, China and South Korea by enormous margins. In other words, Greece would be an inconsequential part of many emerging markets indexes.
Traders and investors that find GREK appealing can find some comfort in knowing that just because MSCI says a country is on review for reclassification does not mean said nation will actually be reclassified. Just ask Qatar, South Korea and Taiwan.
On the other hand, the index firm does not take possible demotions lightly. That much is highlighted by the fact that Greece is joined by Argentina on the list for potential negative reclassification. South America's third-largest economy is in such bad shape MSCI could revoke its frontier market status.
For more on market classifications, click here.
View Comments and Join the Discussion!
Posted-In: Analyst Color Long Ideas News Short Ideas Specialty ETFs Emerging Market ETFs Events Global Best of Benzinga