GM and Ford Brace for Potential Strikes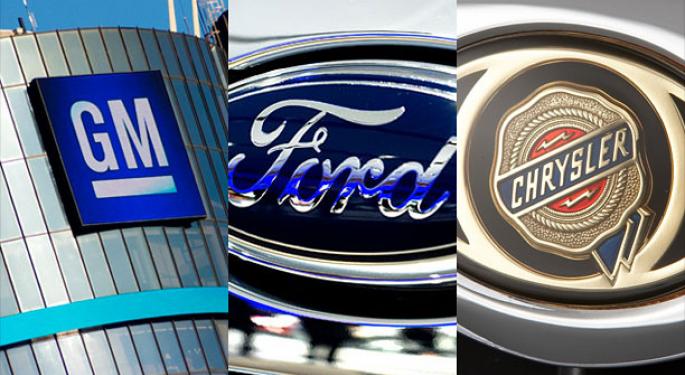 After a summer of repeated recalls and increased sales, Ford (NYSE: F), General Motors (NYSE: GM) and Chrysler have been able to stand strong and pull out decent quarters. However, the automakers may have bigger issues in the autumn months, as strike preparations are underway in Canada that threaten to stop production on more than a dozen popular models.
According to The Detroit News, a lengthy strike by the Canadian Auto Workers (CAW) union could, "ripple and hinder production by Detroit's Big Three in the U.S.," as the 1996 CAW strike lasted more than three weeks' worth of production to GM.
Vehicles that could eventually be impacted by such a strike include Chrysler's Town & Country minivan, General Motors' Chevrolet Equinox/GMC Terrain SUV and even the highly popularized Ford Edge and Lincoln MKX. The CAW is set to begin striking sometime after 11:59 p.m. on Monday if a contract agreement is not reached between the union and the Detroit automakers before then.
With such a risk at stake, the Detroit automakers have remained mute on production plans, should a strike occur.
"Ford, GM and Chrysler have remained silent on contingency plans should more than 18,000 CAW members strike; all three have options should a strike drag out, although those options are limited," The Detroit News reported early Thursday morning.
Although not union-related, another foreign country has become a problem child in Ford's multi-cultural family as well. In fact, Ford may be closing a factory in Belgium to address near-term European challenges.
While valid concerns remain prominent in struggling Europe, the company has already begun crafting plans to fix what could be another recession disaster. Ford introduced 15 new models overseas last week in order to increase consumer demand. The restyled vehicles will make their debut over the course of the next five years, with the company noting that they are investing in the future, despite the current economic crisis.
"Ford [management] downplayed the likelihood of a European downturn as deep as the U.S.'s during the financial crisis," analysts at Jefferies said following a meeting with Ford executives. "There does seem to be at least some variable capacity that Ford can take out. We got the sense that Ford is targeting a restructuring plan that will result in break-even operations at current industry production volumes."
With revamped models and plant closings on Ford's To-Do list in Europe, it appears that the restructuring plan is well underway.
While things slowly get under control in one foreign country, Ford and its competitors will have to explore other options to combat what might be an ugly fight in neighboring Canada, if the strike occurs.
Ford is up .20 percent at $10.23 in pre-market trading, while General Motors is up .13 percent at $23.16.
Posted-In: CBS NewsAnalyst Color News Events Global Analyst Ratings Media General Best of Benzinga
View Comments and Join the Discussion!