Stock Spotlight: A Financial Growth Name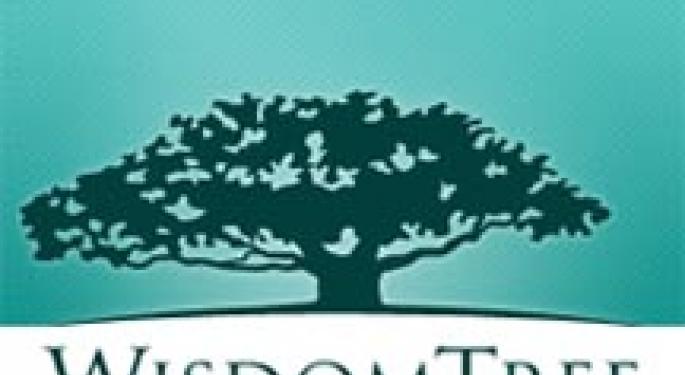 The iShares Russell 2000 Index Fund (NYSE: IWM) is up 4.5 percent in the past month, but if September lives up to historical billing as a sour month for equities, it would not be surprising to see traders hammer ETFs such as IWM and select small-cap names.
There is a bright side to this scenario. Some compelling stocks with current market values south of $1 billion could wind up trading at discount prices, making these issues attractive buys for astute investors. Or, some of these stocks could hold up well in the event of a market decline, in turn showing investors strength in the face of broader market adversity.
Regardless of which way the broader market's near-term winds blow, this sub-$1 billion market cap company has the potential to deliver above-average returns for patient investors.
WisdomTree Investments (NASDAQ: WETF) WisdomTree Investments is the only pure-play publicly traded ETF issuer, but even though the ETF industry continues to experience exponential growth, WisdomTree shares have stalled recently. The stock is down five percent in the past month and is now trading below the psychologically $7 level.
There are a few of gray areas that need clearing up. First, the company's second-quarter results were impacted by patent infringement litigation brought against the firm by Research Affiliates. While this is not the most positive of headlines for any company to be associated with, it can be argued the market has been too harsh in pricing this risk into WisdomTree's stock.
Second, critics assert that WisdomTree is not a wide-moat business, meaning any other ETF issuer could copy a WisdomTree fund and put another label on it. This is true, but the assertion understates the importance of first mover advantage in the ETF industry. A "me too" fund can come to market, but it does not mean it will be worthy competitor to a previously existing product.
Third, any dramatic change at the top of WisdomTree could be near-term disruptive to the stock. Led by former hedge fund manager Michael Steinhardt and CEO Jonathan Steinberg, WisdomTree's management team is viewed as one of the company's best assets. As an aside, Steinberg is married to CNBC's Maria Bartiromo.
There is a valid bull case with WisdomTree, even if it involves a forward P/E north of 30 and price/book ratio of almost 21. The ETF business is growing, but how that growth will impact WisdomTree is not priced into the stock. Goldman Sachs sees a $9 stock and possible takeover target here.
In a research note published earlier this year, Goldman Sachs said the following of WisdomTree: "We view WETF as a rarity in financials: A growth stock with ample runway for 30%+ revenue and EBIT growth amid 20% annual industry growth in ETF assets. We believe investors underappreciate and undervalue: (1) the firm's sector-leading organic growth profile, driven by differentiated "nontraditional" ETFs; (2) the scalability of WETF's model and powerful margin expansion potential; and (3) the scarcity value in owning the only public pure-play ETF manager ($15bn in AuM), with a valuable asset in exemptive relief for active ETFs."
If the $9 price target proves accurate, paying $6.70-$7 for WisdomTree means a bargain for savvy investors.
Posted-In: Analyst Color CNBC Long Ideas News Short Ideas Small Cap Analysis Small Cap Management Best of Benzinga
View Comments and Join the Discussion!