ETFs: What Happens if Apple Splits and Enters the Dow?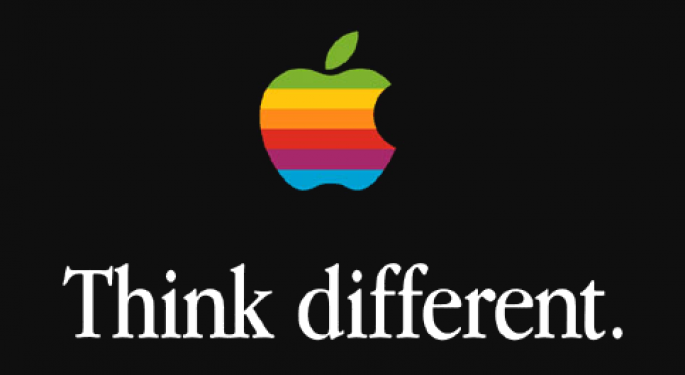 One of this week's big rumors involves none other than the largest U.S. company by market value: Apple (NASDAQ: AAPL). On Tuesday, Sanford C. Bernstein & Co. published a research note saying the iPhone maker is mulling a stock split that could lead to it being added to the venerable Dow Jones Industrial Average.
Bernstein said Apple's decision to initiate a dividend earlier this year makes it more likely the stock could be added to the blue chip index.
"Apple's initiation of a dividend brings the company in line with all other Dow components. We note that Apple is currently the only company above $215 billion in market cap that pays a dividend and is not included in the Dow," Bernstein analyst Toni Sacconaghi said in the note, according to Bloomberg.
How an Apple split, if the event comes to pass, would impact ETFs remains to be seen. For starters, one ETF that could immediately be impacted by the split and ensuing speculation that Apple is headed for the Dow is the SPDR Dow Jones Industrial Average (NYSE: DIA).
Currently trading just over $600 a share, Apple is a tough addition for the Dow, a price weighted index. IBM (NYSE: IBM), which trades for just under $200, is DIA's top holding at 11.4 percent. In theory, if Apple went into the Dow today it would account for over a third of the index's weight based on its lofty price tag.
"Apple, with a $600 handle, would have undue pressure on the DJIA index itself on a daily and intraday basis," said Paul Weisbruch of Street One Financial.
The last time the Dow added new constituents was in 2009 when Citigroup (NYSE: C) and General Motors (NYSE: GM) were booted during the financial crisis. Cisco Systems (NASDAQ: CSCO) and Travelers (NYSE: TRV) replaced Citi and GM.
The Bloomberg piece notes Apple declined to comment on the split, so there is no way knowing what the company's plans are at this point. On the other hand, it is not unreasonable to speculate that if Apple engineers a 10-for-1 split of its shares at $600, thereby reducing the price to $60, retail investors that have been kept at bay by the stock's huge price tag would flood into the stock.
Since most passively managed ETFs use a weighted methodology based on the market capitalization of the funds' holdings, Apple would still be the largest holding in marquee ETFs such as the PowerShares QQQ (NASDAQ: QQQ) and the Technology Select Sector SPDR (NYSE: XLK).
Taking things a step further, it is important to note that those ETFs and others have been used as proxies on Apple because the funds have large weights to the stock and reasonable price tags.
To that end, a possible argument is that QQQ, XLK and the iShares Dow Jones US Technology Index Fund (NYSE: IYW), the ETF with the largest weight to Apple, would initially suffer as investors depart the ETFs in favor of direct ownership of Apple shares. Not so fast. It is demand for or selling pressure on an ETF's underlying components that drives the fund's price action. Assuming Apple splits 10-for-1 and the retail crowd comes running into the stock, IYW, QQQ, XLK and other ETFs are apt to benefit, not suffer.
At the very least, these ETFs might be a little more active than usual as the Apple split rumor floats around.
"It is also fair to say that as AAPL goes, the entire Tech sector goes as AAPL has a 19.63% weighting in XLK for instance, with the next highest weighted stock, IBM, coming in at only 8.14 percent," Weisbruch said in a research note published today. "ETFs that have significant exposure to Apple that may be very active in the short term and are certainly worth monitoring include, IYW, the Focus Morningstar Technology ETF (NYSE: FTQ), the Vanguard Information Technology ETF (NYSE: VGT) and the iShares S&P Global Technology Index Fund (NYSE: IXN)."
For more on Apple and ETFs, click here.
Posted-In: Analyst Color Long Ideas News Sector ETFs Broad U.S. Equity ETFs Short Ideas Dividends Dividends Best of Benzinga
View Comments and Join the Discussion!