Sprint Nextel Earnings Preview: 'Sprint Ahead' on Vision Network?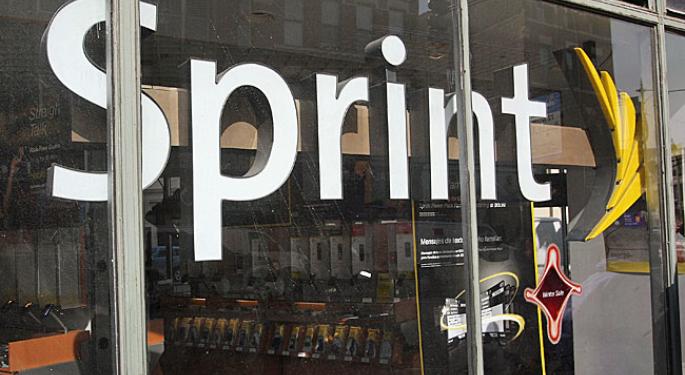 Wireless and communications network holding company Sprint Nextel (NYSE: S) announces second-quarter earnings on Thursday, July 26 before market open.
Analysts expect earnings per share (EPS) of $-0.38 on revenues of $8.73 billion.
Sprint Nextel beat analyst estimates the past four quarters, notably in its first-quarter 2012 announcement as the company reported a net loss of $863 million and diluted EPS loss of $-0.29 versus consensus of $-0.42, earning an over 30 percent earnings surprise.
According to the company release, 44 percent of Sprint's 1.5 million iPhone (NASDAQ: AAPL) sales went to new customers.
(See Also: Earnings Expectations for the Week of July 23)
The Company
What sets Sprint Nextel apart from competitor wireless communications companies Verizon Wireless (NYSE: VZ) and AT&T (NYSE: T) is Sprint's historically positive stance toward mobile virtual network operators (MVNO) as a third-party services provider that - as a third party - does not itself own the wireless network or radio frequency provided. All three providers do operate MVNOs to some extent, including Verizon and AT&T's agreement with TracFone.
Sprint Nextel's network of wireless cellular providers include Assurance Wireless, Liberty Wireless, Cricket Wireless - a subsidiary of Leap Wireless (NASDAQ: LEAP), Virgin Mobile, Sierra Wireless (NASDAQ: SWIR) and Boost Mobile, among others. Prepaid phones under the Sprint network are sold at Best Buy (NYSE: BBY), Walmart (NYSE: WMT) and Target (NYSE: TGT), among other retail outlets.
Shares of Sprint Nextel are down more than 30 percent in the past year, but more than 52 percent year-to-date as of Monday's market close. With a beta of 1.06, shares are fairly reciprocal to market levels. The 52-week trading range for shares of the stock is $2.10 to $5.27.
Recent News
Sprint Nextel announced in June that the company no longer held a majority stake in subsidiary Clearwire (NASDAQ: CLWR) following Clearwire's recent stock issuance. Although Clearwire has been working with Sprint Nextel in 4G network development and Sprint remains Clearwire's largest shareholder, Sprint Nextel did not buy into the latest round according to Marketwatch.
Sprint reduced its voting shares in Clearwire below 50 percent in 2011 to avoid "any risk of a default trigger" on Sprint's own debt according to Reuters:
"Because of recent equity that Clearwire issued, Sprint said its economic interest has declined to below 50 percent, giving it leeway to make its voting interest in-line with its economic interest in Clearwire: 'Now that our economic interest has fallen below 50 percent, we are reclaiming our full voting rights so that our voting rights and economic rights are once again aligned,' a Sprint spokesman, Scott Sloat, said."
Sprint Nextel stated plans to launch 4G LTE in six major cities by mid-2012 including San Antonio, Atlanta, Baltimore, Dallas, Kansas City and Houston in the company's first-quarter earnings release. Sprint's recent release of 4G LTE included 15 cities and five of the above six according to a company statement July 16.
Sprint Nextel walked away from a proposed $8 billion acquisition of Metro PCS (NYSE: PCS), which reportedly included a 30 percent premium, in February 2012.
Metro PCS' current network coverage agreements include both Sprint and Verizon; the company additionally signed a 10-year spectrum exchange agreement with Leap Wireless in 2008.
Most recently, Sprint Nextel annnounced in July its Single Source Enablement program, allowing any company or entity "from entrepreneurs to entreprises" to "access Sprint's products, receive help enabling the service and get ongoing support to become a winning wireless Mobile Virtual Network Operator (MVNO)."
Analyst Recommendations
J.P. Morgan upgraded Sprint Nextel to Overweight from Neutral in a report published June 1, based on the company's Network Vision Project and "potential industry M&A," even if Sprint itself is not directly involved.
In a company report published July 19, J.P. Morgan stated that it sees upside potential for ARPU, EBITDA and sub-losses, although the company "expects management to remain cautious."
Bank of America Merrill Lynch updated its Sprint Nextel estimates in a report published July 12. Bank of America has a Neutral rating and $4.50 price target on Sprint.
Although the analyst firm lowered its fourth-quarter 2012 through second-quarter 2013 estimates, it stated that it believes that the company will beat its second quarter analyst consensus:
We expect Sprint to recast guidance and its discussion of Network Vision expectations at 2Q results. Up until this point, Sprint has been highly confident with regard to projected expense savings and timing associated with the project as has set 2Q as the time when it will be a 'marathon pace' and able to better judge forward results. Our estimates compile to the best of our ability all of Sprint's statements about Vision and assume a 4Q iPhone refresh.
Citi "remains a Buyer" of Sprint Nextel - with a $6 price target - in a research report published July 20.
In the report, Citi stated that its key areas of interest include the company's Vision network build-outs and Nextel site disconnections, management's view of the competitive cellular and network provider environment including AT&T and Verizon, as well as a company update on its relationship with Clearwire.
" We expect 2Q results to show solid core wireless performance, with the postpaid segment showing sequentially better net adds, lower churn and an improvement in ARPU, and positive traction for the retirement of iDEN sites & deployment of Network Vision (NV)."
Conversely, BMO Capital Markets retained a Market Perform rating on Sprint Nextel in a report published July 17:
Our Market Perform rating reflects our concerns over the outlook for the company and high execution risk from the accelerated deployment schedule of Network Vision. The iPhone is a positive long-term development but is expected to add further pressure to near-term margins and free cash flow.
Seven analysts polled recommend shares of Sprint Nextel as a Strong Buy or Buy; 15 analysts give the stock a Hold rating, and four analyst firms maintain an Underperform or Sell rating.
View Comments and Join the Discussion!
Posted-In: Analyst Color Earnings Long Ideas M&A News Guidance Short Ideas Price Target Best of Benzinga