What a Spanish Bailout Would Look Like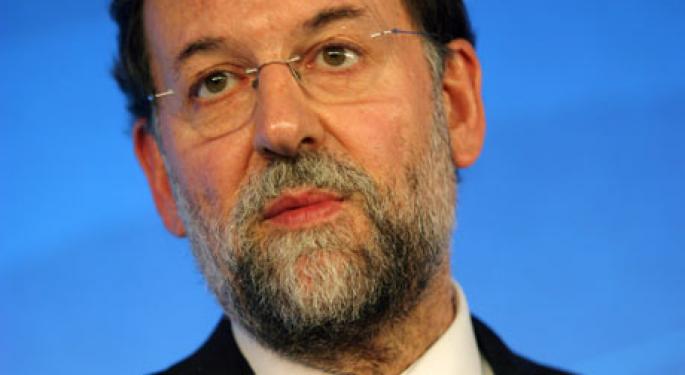 Talk of a full-scale sovereign bailout of Spain, along the lines of those received by Greece, Ireland, and Portugal, has increased over the last few days. On Friday, Spain announced a plan to bailout its ailing regional finances, effectively nationalizing regional debts. Also, Spain agreed a new set of deficit fighting measures and finalized its bank bailout agreement with the Troika. However, this may not be enough.
The bailout of the regional governments is an interesting step for Spain. Investors and analysts had for some time known that Spain's true problems were its banking sector and its regional governments' debts, and Friday's announced programs attempt to tackle these problems. Spain's regional debts amount to approximately 14 percent of GDP, boosting Spain's total debt-to-GDP to near 82 percent. As economists Kenneth Rogoff and Carmen Reinhart prove in their paper titled This Time Is Different, when debt-to-GDP reaches 90 percent, further debt starts to become a hindrance to growth, not a stimulant.
This new plan is set to be funded by further spending cuts and tax hikes. While these may not be politically viable, they may be necessary. Spain is planning on increasing the Value-Added Tax (VAT) on the top and reduced VAT rates. These measures will be inflationary, as was the case in England in 2011. Economists at Credit Suisse predict that these tax increases will artificially increase inflation by approximately 2 percentage points in September. In all, the cuts amount to approximately $16.34 billion in cuts in 2012, $27.71 billion in cuts in 2013, and $24.32 billion in cuts in 2014.
The second set of announcements last week was the finalization of the timetable of the bank bailout. First, Spain awaits the results of the private audit of the banking sector. Based on the results of the audits, banks will be classified into one of four groups:


Group 0: those banks requiring no assistance from the government by showing no capital shortfalls in the audit.

Group 1: those banks already owned by the FROB (the bailout fund), similar to when the FDIC takes over banks.

Group 2: those banks with capital shortfalls identified by the audits and are unable to fill the shortfall in the public markets.

Group 3: those banks with capital shortfalls that can fill them in the public markets.
Lastly, Spain has announced a bad bank to buy back all of the bad debts and hold them in a fund until they mature. By getting rid of the bad assets and recapitalizing the banks, the downside for banks should be limited. However, all of these programs are set to increase debt-to-GDP further. The $121 billion bank bailout comes in the form of a loan from the Troika, which further increases debt-to-GDP to 91 percent, into the danger zone identified by Rogoff and Reinhart. This number also assumes that Spain issues no more debt and that GDP does not fall further, both of which are unlikely, so debt-to-GDP will likely miss to the upside.
The economists at Credit Suisse do note that Spain looks less like Greece and more like Ireland or Portugal. Greece's problem was the over-extension of a welfare state, falsified finances, and too much debt. Ireland had a banking bust and Portugal's regional finances ran out of control. Spain resembles a combination of both Ireland and Portugal. Greece's total bailout, including the debt restructuring savings, amounts to about 121 percent of GDP, whereas the average of Portugal and Ireland's bailouts was nearly one-third of that at 43.54 percent of GDP. Should Spain require a bailout of this magnitude, it would equate to approximately $565 billion.
The joint bailout funds, the European Financial Stability Facility (EFSF) and European Stability Mechanism (ESM) do not have this much capital left for bailouts. They could issue debt to try to raise the shortfall, however this seems unlikely as demand at previous EFSF auctions has been dismal. Also, investors have seemingly placed the idea that Greece may need a third bailout on the proverbial back burner. All in all, it seems that more money needs to come from the healthier nations and the IMF, even as the German parliament has ruled out any future bailouts.
Many realize that Spain needs money. The real question now is where does that money come from?
Posted-In: Analyst Color News Bonds Forex Global Econ #s Economics Hot Best of Benzinga
View Comments and Join the Discussion!