Google: A Technical Analysis Perspective Before Earnings

A longer term look at Google. On the left, you can see a cup and handle bullish formation that failed to complete. This was followed by a 4th quarter earnings miss in January that was not up to par with investors as the stock had a massive one day, -8.5% gap down (black arrow). The stock has yet to recover from that earnings miss as the stock still trades under the gap down price of $585. The purple arrows show where Google found support on the coveted 200 day moving average. However, at the end of May, Google's stock price fell below the 200 day moving average and into bear market territory technically. Just 3 days ago, GOOG's price retested the underside of the 200 day level, now acting as resistance, and failed (far right downward pointing purple arrow).

Earnings announcements seem to be big news as the stock typically gaps up or down the next trading day, depending on the earnings report. The far left green circle indicates where Google gapped up on a terrific earnings report. The very next quarter, GOOG gapped up again, but the previous gap up's bottom seemed to act as resistance until investors had a chance to digest the news before advancing higher. The next earnings report in January 2012, third green circle from the left, brought a gap down to Google. Look where the stock stopped on the gap down! The previous gap up/down resistance is currently where Google is having trouble advancing (far right purple arrow).
What is interesting on both gaps higher, Google declined in price about 2-4 weeks later after favorable announcements. On the last gap down, the stock took 5 days to bounce and move higher after the poor earnings announcement. So if Google's earnings are good, look to take profits on the way up, and if they report unfavorable figures, give investors a week or two to digest the news and then accumulate some shares to the long side.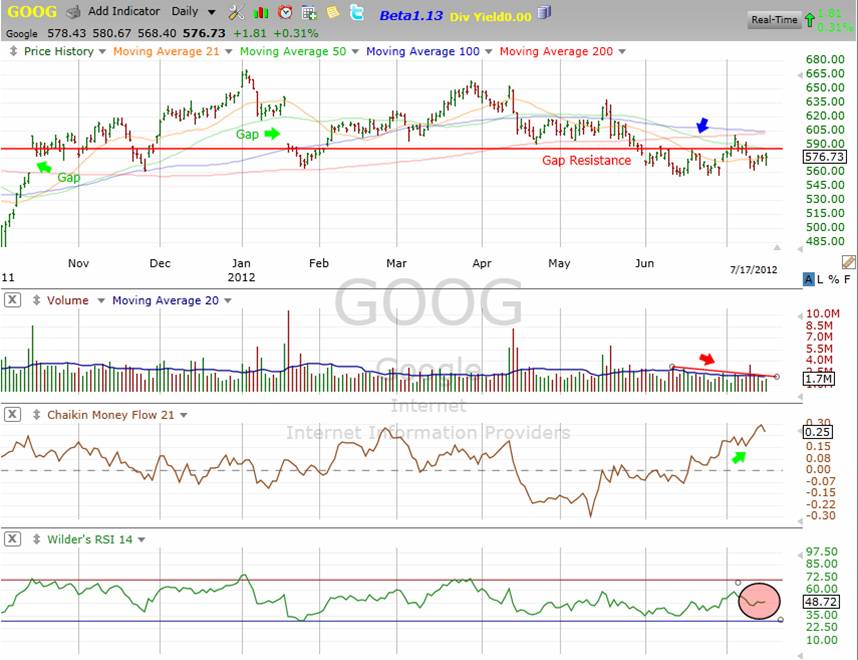 Google on the short term seems to be carving out a bearish descending triangle. Buyers seem to build positions near the $565 price level (bottom horizontal line). However, sellers seem to dump their shares at lower and lower prices, etching the upper downward sloping trendline from its late March highs. Lately, Google has advanced in price on lower and lower volume meaning buying interest among investors is waning. RSI has migrated back toward a neutral reading of near 50. Money flow remains positive which is bullish near term. The blue arrow indicates where the 50 day moving average crossed below the 200 day offering a "death cross" signal. It appears this earnings report on Thursday has investors sitting on the fence.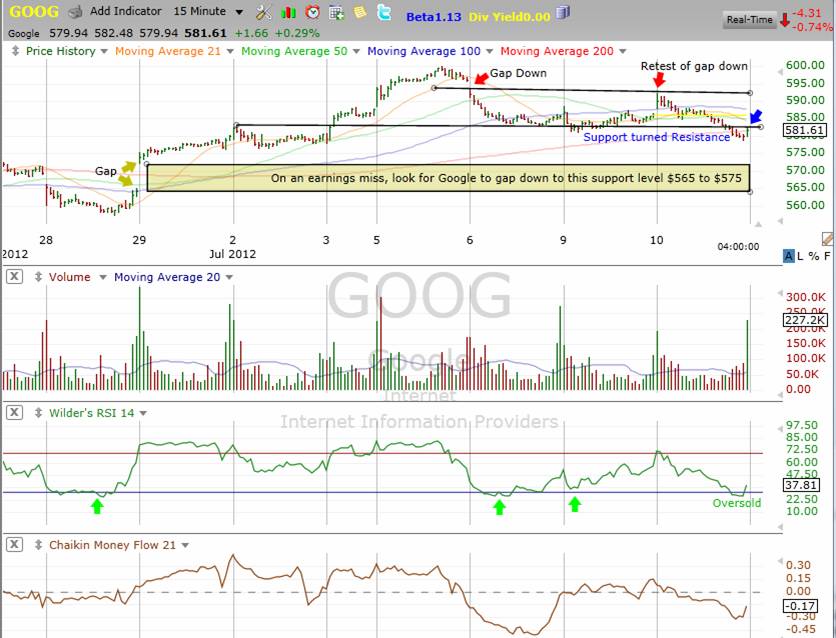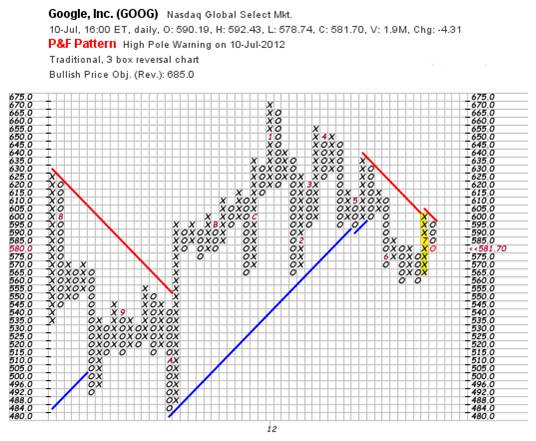 A point & figure chart of Google. A high pole warning was issued today, July 10th. These warnings carry bearish tones. The high pole is highlighted in yellow. A high pole warning is given when the chart rises above a previous high by at least 3 boxes, but then reverses course to retrace at least 50% of the rise. Technically, it means demand has dried up or given way to selling pressure. This pattern is probably anticipating GOOG's earnings report Thursday. A break above $600 would be bullish on a point and figure chart. A break below $560 would be bearish.
By: Mike Dalman, CMT
Founder / Chief Technical Market Analyst
Mike Dalman Investment Research
Posted-In: Analyst Color Earnings Financial Advisors News Hedge Funds Technicals Analyst Ratings Media
View Comments and Join the Discussion!