U.S. December Auto Numbers Expecting Large Increase (F, GM, TM, NSANY, HMC)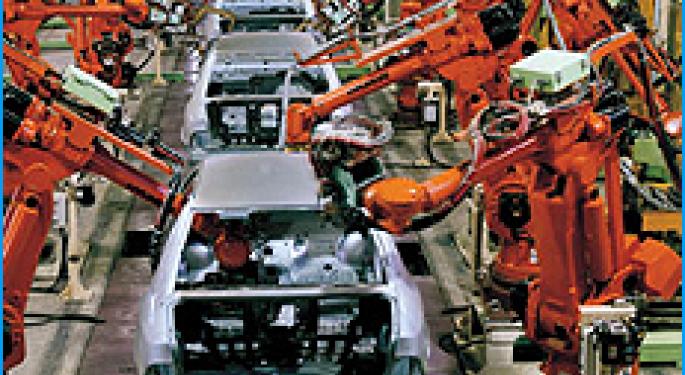 Harsh winter weather and a still-dicey economy did not stop those in December to pursue buying a new car. Auto analysts predict December's auto industry to be the strongest month of 2010.
The final December U.S. tallies arrive Tuesday and are expected to show sales of about 1.13 million vehicles, or a seasonally-adjusted annual rate of sales of 12.34 million, according to Edmunds.com.

By both measures, December led the way in a year of recovery for the industry, though there is still a long way to go from recent depths.
"While we're far better off than a year ago and the trajectory is trending upward for a much brighter 2011, 2010 goes into the history books as the second-worst year for car sales since 1982, second only to 2009," said Edmunds.com analyst Michelle Krebs.
Nissan Motors (PINK: NSANY) is seen as the big gainer with sales forecast to surge 25.9% from a year ago. General Motors (NYSE: GM) and Chrysler are also expected to report double-digit percentage gains and mirror the industry's projected average.
GM shares are up about 14% from their $33 a share IPO price, gaining momentum in recent sessions thanks to a slew of upbeat analyst notes. Some positive news flow from the upcoming Detroit auto show in mid-January could also provide a lift to GM and the rest of the group.
Ford Motor (NYSE: F) and Honda Motor (NYSE: HMC) are expected to report improvements of 5.1% and 6.5%, respectively.
However, Toyota Motor (NYSE: TM) is again poised to be the laggard, down 5.5% year-to-date, as the auto maker continues to try to pick itself up off the mat after its recall fiasco tarnished its quality image.
"The positive results should set the stage for another year of healing," said TrueCar.com analyst Jesse Toprak, pointing out that Korean juggernaut Hyundai could see a jump in excess of 60%.
Mr. Toprak said, "Consumer confidence is rising and there is a lot of pent-up demand in the market." Toprak further noted, "The retail market continues to improve which bodies well for the automotive industry heading into 2011."
Posted-In: Analyst Color Long Ideas Short Ideas Global Markets Trading Ideas
View Comments and Join the Discussion!