TODAY ONLY! For only $7, you can get 2 winning options trade alerts every month! Click Here to See Trade Ideas! (Risk-free with a 14 day refund guarantee)
Within the last quarter, Alibaba Group Holding BABA has observed the following analyst ratings:
| | Bullish | Somewhat Bullish | Indifferent | Somewhat Bearish | Bearish |
| --- | --- | --- | --- | --- | --- |
| Total Ratings | 3 | 3 | 0 | 0 | 0 |
| Last 30D | 0 | 0 | 0 | 0 | 0 |
| 1M Ago | 3 | 1 | 0 | 0 | 0 |
| 2M Ago | 0 | 0 | 0 | 0 | 0 |
| 3M Ago | 0 | 2 | 0 | 0 | 0 |
According to 6 analyst offering 12-month price targets in the last 3 months, Alibaba Group Holding has an average price target of $235.0 with a high of $275.00 and a low of $200.00.
Below is a summary of how these 6 analysts rated Alibaba Group Holding over the past 3 months. The greater the number of bullish ratings, the more positive analysts are on the stock and the greater the number of bearish ratings, the move negative analysts are on the stock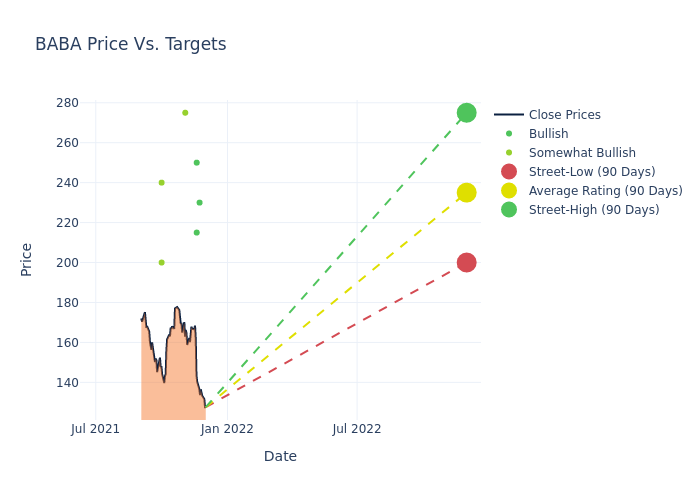 This current average has decreased by 15.95% from the previous average price target of $279.60.
What Are Analyst Ratings?
Ratings come from analysts, or specialists within banking and financial systems that report for specific stocks or defined sectors (typically once per quarter for each stock). Analysts usually derive their information from company conference calls and meetings, financial statements, and conversations with important insiders to reach their decisions.
Some analysts publish their predictions for metrics such as growth estimates, earnings, and revenue to provide additional guidance with their ratings. When using analyst ratings, it is important to keep in mind that stock and sector analysts are also human and are only offering their opinions to investors.
This article was generated by Benzinga's automated content engine and reviewed by an editor.
If you are not using this trading strategy, you are leaving money on the table...
If you are blindly looking up and trading stocks the way 99% of traders are, you are missing on HUGE potential returns. Even new traders who started following this option trading strategy instantly began seeing returns they wouldn't have had otherwise. With even two trades per month with this strategy, you will start seeing the difference in your trading account. Don't waste any more time "guessing" and "getting lucky". Click Here to See if you Qualify for Benzinga Options!
---


For today only, we are gifting away our Benzinga Options Starter newsletter for only $7. This includes two heavily researched trades per month from lead trader, Nic Chahine. For the same cost of a cup of coffee, less than the cost of a Netflix subscription and less than the average order at McDonalds you will receive top tier education and winning trade alerts to maximize your portfolio returns. This also includes a 14 day full money-back guarantee if you cancel. There is absolutely no risk! Click Here Now to Get Started!
---
Earnings
Analyst Ratings
Options
Dividends
Get Alerts to Your Inbox
Create a Benzinga.com account for news on the stocks and cryptocurrencies you care about!