New Luxury Cars Trend: Going Electric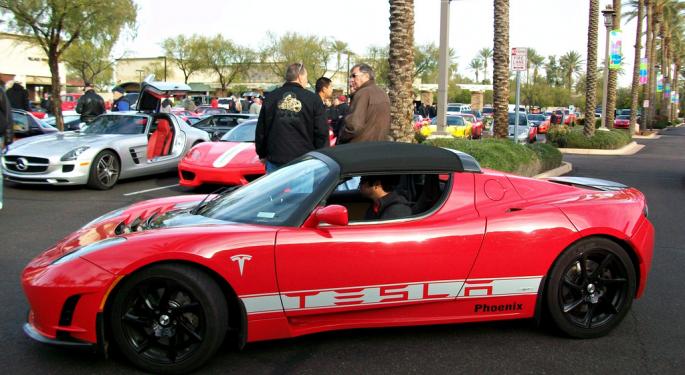 Tesla's Model S made a splash several years ago – but nothing changed much since then in the world of electric cars. The rechargable batteries' cost is too high and most people are not especially enthusiastic about protecting ecology at their own expense. However, the recent Frankfurt Auto Show definitely showed that the auto industry trends are from now on tightly connected with EV.
According to USA Today, such automakers as Porsche and Audi finally got to the ecological track: "The Porsche Mission E channels the brand's sports car aesthetic and may inspire a production model within three years. The Audi e-tron quattro concept suggests the German luxury brand is prepping a luxury crossover to compete with Tesla's Model X, which is being released this month." Both models they presented on the Frankfurt show belong to the category of luxury cars – quite a smart move, actually, because people that prefer econoboxes simply are not able to afford themselves electric vehicles – not for the prices, offered at the market nowadays. Still, there is one major question – why going electric now? What is the catch?
Apparently, producing electric vehicles is a gold mine. All-electric luxury market has been owned by Tesla so far, and, what is interesting, the success of the company was reached mostly due to the governmental subsidies in different countries.
For example, CBC Newsreports: "U.S. subsidies for EVs probably helped drive the new luxury electric car programs. There's a federal tax credit of $7,500 for battery-only EVs, plus the possibility of state and other subsidies. In California, which accounts for nearly half the country's EV sales, there's another $2,500 rebate available for electric cars. But for low-income buyers, that subsidy rises to $4,000."
Governments try to promote the cars, safe for environment, and it just happened so that Tesla managed to fill in the niche. But the appearance of such competitors as Porsche and Audi in the segment is a serious challenge. Tesla might have been the leader because this company managed to produce something innovative till now. However, Tesla cannot boast of especially effective selling tactics, unlike its new rivals.
According to BGR, if one wants to buy an electric vehicle from this company, he or she needs to have a lot of patience: "Tesla also has big problems with how they sell cars. Thankfully they don't require a $5,000 refundable deposit to test drive one, because that was just insane. But you can't just go to a dealership and buy a car. You have to order it. Sometimes Tesla can find you a car in production that someone might have cancelled, or something like that, but for the most part, you order the car and in 2 to 8 months, you get it."
And that is definitely a significant flaw. Luxury electric cars are not just about new way of charging and eco-friendliness. They are about luxury and comfort in every way possible. The newly presented Porsche and Audi models are not inferior to Model S by their EV qualities, however, they exceed Tesla's product by their general car qualities: they are comfortable, stylish, effectively soundproof and have soft surfaces. And we all know how good these companies are at selling what they produce.
So, despite certain issues with the price, electric cars seem to become a trend on the auto market. It might mean that EV buyers are about to get a wide range of electric cars to choose from – and Tesla is going to have hard times trying to remain competitive in conditions of the expansion of luxury electric cars segment.
View Comments and Join the Discussion!