Strike While the Iron is Hot: Stryker (SYK)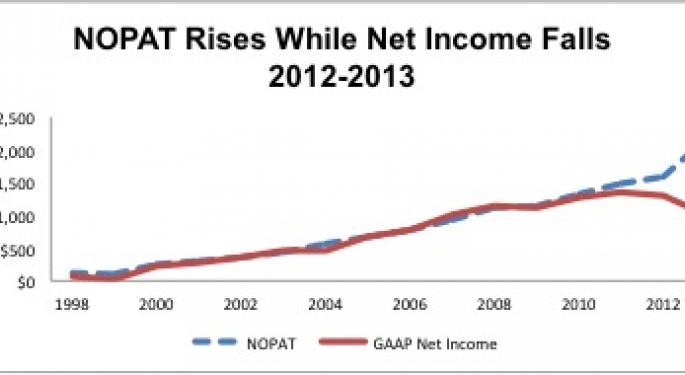 Stryker (NYSE: SYK) is a rarity in the current market: a strong business with a stock that is still attractively valued. A leading supplier of medical implants, surgical tools, and neurosurgical equipment in 100 countries, Stryker has grown revenue and profits every single year since 2000 and earns a top-quintile return on invested capital (ROIC). Based on Stryker's long history of strong profit growth and key tailwinds in the medical device industry, I think the stock is undervalued at ~$84/share.
Profits Are Better Than You Think
Stryker's operating profit (NOPAT) rose while GAAP net income declined in 2012 and 2013. In 2013, Stryker's NOPAT exceeded its GAAP net income by over $1 billion.
Investors should focus on NOPAT rather than net income. Last year, Stryker incurred over $1 billion in non-recurring charges related to increased liability reserves and voluntary recall costs for the company's Rejuvenate hip replacements and Neptune waste management systems. NOPAT excludes these unusual costs.
We expect these charges to be much lower in the future as the company has already taken large reserves for the hip replacement recall and has resolved the issues with its Neptune systems. As a result, Stryker's rising NOPAT provides a more accurate picture of the cash flows investors can expect from the company going forward.
Stryker increased its return on invested capital (ROIC) from 5% in 1999 to a top-quintile 30% in 2013. Even more impressively, the company has grown NOPAT every single year since 2000 at a rate of 18% compounded annually. Stryker has shown the ability to grow profits and sales in any economic climate.
Consistent cash flow growth has kept Stryker's balance sheet in good shape. Stryker has $3.8 billion inexcess cash, more than enough to cover the company's $3 billion in total debt.
Intelligent Acquisitions Are Creating Value
We don't usually like to see acquisition-driven growth as it tends to be a value destroyer. However, Stryker has done an excellent job of making smart acquisitions. From 2011 to 2013, management improved ROIC from 24% to 30% while completing eight acquisitions and doubling invested capital. Just as impressive, the company has kept free cash flow positive, at $1.4 billion in 2012 and $205 million in 2013. Stryker's management has an eye for value-creating acquisitions.
Here are a few of the smaller competitors the company gobbled up recently: Small Bone Innovations on Aug. 1, 2014 for $375 million; Patient Safety Technologies (OTC: PSTX) in Dec. 2013 for $120 million; MAKO Surgical Group (NASDAQ: MAKO) in Dec. 2013 for $1.65 billion; and Trauson Holdings Company in March 2013 for $764 million.
Organic sales growth has been good too. Revenue growth, excluding growth from acquisitions, was 4.8% in the most recent quarter and Stryker expects it to be in the range of 4.5-6.0% for 2014.
David Beats Goliaths
Stryker is not the largest player in the medical device industry — but it is the most competitive. Its closest competitors are Zimmer Holdings (NYSE: ZMH), Medtronic (NYSE: MDT), giant Johnson & Johnson's DePuy division (NYSE: JNJ), and Abbott Laboratories (NYSE: ABT). With the exception of Zimmer, all of these competitors are significantly larger than Stryker.
Stryker has the highest ROIC of its competitors, the highest operating profit margins, the highest capital efficiency, and the best revenue growth since 2009.
There are only a few things that could slow Stryker's excellent profit growth: the recent 2.3% medical device excise tax, and risks of future device recalls. The first issue affects the entire industry and does not affect relative competiveness. The second is not large enough to damage the case for this stock. Even if we include the cost of recalls, net income has grown by over 12% compounded annually since 2000, which is still well above current market expectations as detailed below.
Cheap Valuation, Limited Downside and Near-Term Catalyst
Despite Stryker's consistent and excellent track record of profitability, the company's stock price implies little future growth. SYK's current price of ~$84/share gives the stock a price-to-economic book value (PEBV) of just 1.1. This ratio implies that Stryker will grow NOPAT from its current level by only 10% for the remainder of the company's life. This expectation seems very pessimistic considering that the company has grown NOPAT by 18% compounded annually for the past 13 years.
Investors are overly concerned with Stryker's recall costs. So, let's take a look at how they could affect valuation: assume another $500 million hit to cash flow next year to deal with the ongoing hip recalls. After that, if SYK can grow NOPAT by 8% compounded annually for 13 years, the stock is worth $120/share — 50% upside from current levels.
If the company can grow NOPAT by 12% compounded annually for 11 years (still assuming the $500 million hit to cash flow next year), the stock has a fair value of ~$164/share— 100% upside.
Downside in the stock is mitigated not only by the cheap valuation but also the company's share repurchase program. Stryker repurchased 4.8 million shares in 2013, and the company still has $600 million authorized for additional buybacks into next year. Stryker's buybacks of over $1 billion since 2011 result in an annual buyback yield of 1.1%.
Before the end of this year, we expect the company to deliver a positive earnings surprise. Given that after-tax cash flows have recently outpaced net income (as seen in Figure 1), the company is positioned to beat analysts' estimates.
Longer term, we see three key tailwinds that will sustain Stryker's strong profit growth.
Heath trends — An aging and overweight U.S. population creates higher demand for medical devices, especially joint replacements. Advances in joint replacement technology have also delivered longer-lasting joint replacements, which enable doctors to suggest these implants earlier in life.
Health reform — Increased insurance coverage under the Affordable Care Act will make expensive joint replacements and medical care accessible to a larger segment of the population.
International growth — International markets only account for 34% of Stryker's sales. There is additional room for growth here as Stryker develops sales relationships with physicians outside of the United States. Stryker's purchase of China's Trauson Holdings in 2013 has given the company an important foothold to establish its brand in Asia.
Ignore the Price to Earnings Ratio
SYK's current price to earnings ratio of 46 is too high for many investors, but this ratio overstates the stock's valuation because of understated accounting earnings as detailed at the beginning of this report.
I recently wrote an entire report on why P/E ratios are flawed as a valuation metric. Investors need to focus on cash flows and more comprehensive metrics to find value in this market.
Insiders Holding Onto Their Shares
In the past 3 months, insiders have sold 537,625 shares, which accounts for less than 1% of insider-held shares. Insiders are hanging on to their shares and investors should follow their lead.
André Rouillard contributed to this report.
Disclosure: David Trainer owns SYK. David Trainer and André Rouillard receive no compensation to write about any specific stock, sector or theme.
The preceding article is from one of our external contributors. It does not represent the opinion of Benzinga and has not been edited.
View Comments and Join the Discussion!