PTFE Market Consumption worth $2,114.7 Million by 2018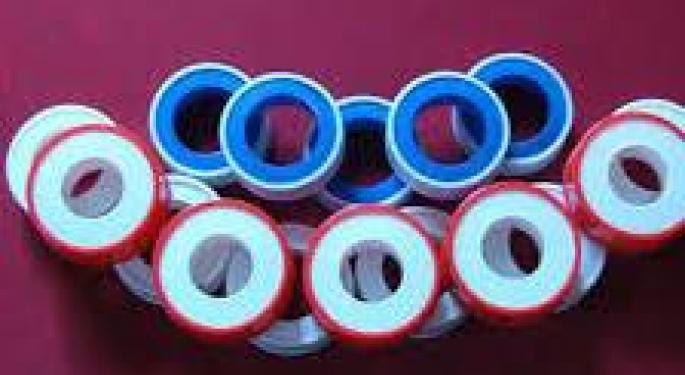 The report,"PTFE Market, By Form (Granular, Fine, Aqueous Dispersion, Micronized), By Application (Industrial Goods, Coating, Filled PTFE), By End Industry (Chemical, Automotive, Medical, Food, Textile, & Others), By Geography - Trends & Forecasts to 2018", defines and segments the global PTFE market with an analysis and forecasting of the global consumption volume and value.
Browse more than 95 market data tables with 52 figures spread through 224 pages and in-depth TOC on "PTFE Market - Trends & Forecasts to 2018"
Early buyers will receive 10% customization on this report.
Download Sample PDF of this Report @
http://www.marketsandmarkets.com/pdfdownload.asp?id=22472807
Asia-Pacific: The Biggest Market of PTFE
Asia-Pacific is the worlds largest and fastest-growing market of PTFE, which consumed nearly half of the total demand, and also a major consumer of PTFE end products. China and Japan are the key consumers of PTFE in Asia-Pacific, while countries including South Korea and India have comparatively small consumption levels. Chemical processing and Mechanical end industries segments are driving the demand for PTFE products, which in turn is pushing the demand for PTFE within the region. The growing industrial expansions in the region have also led to increased consumption of PTFE. The PTFE market is also up surging due to high penetration of material in industries like medical or automotive which have further helped the PTFE market to emerge in the region. Various innovations, developments, and expansions in different industries have in turn made the region a potential growth market for PTFE and its products
Fine Powder-The fastest growing by form segment; and Filled PTFE-the fastest growing PTFE application
Fine powder is manufactured through emulsion polymerization technique and is processed mainly in form of paste. Fine powder is mainly consumed in applications like tubing, sealing tape, membrane, insulation layer of wire, liners, and so on. Fine powder form is the fastest growing PTFE form with a CAGR of 6.7% to 2018. The major growth driver for PTFE powder is the growing PTFE membrane market which utilizes majorly fine powder for its manufacturing. The PTFE membrane market has a wide scope for its expansion which in turn would help in increasing consumption of PTFE fine powder. PTFE granular powder remains the dominant PTFE form and is expected to be the largest in coming future.
Get deep information about this report speak with our analyst @
http://www.marketsandmarkets.com/speaktoanalyst.asp?id=22472807
Filled PTFE is the fastest growing application of PTFE and is anticipated to be worth $383.2 million by 2018. The addition of fillers to virgin PTFE resins enhances the standard properties and helps in widening the scope of PTFE application in various industries. Fillers like graphite, glass, carbon, etc. are used to produce Filled PTFE.
Chemical Processing-the biggest end-user industry
An estimated annual consumption of 39.2 kilo tons in 2012 makes chemical processing industry a leading consumer of PTFE. PTFE owing to its properties like inertness to chemicals and high thermal stability is used to manufacture components like tubes, pipes, bushes, gaskets, bellows and so on which are used in chemical processing industry to carry chemicals, fluids, acids, and so on. PTFE is also used majorly in industries like electronics, semiconductor, food and household, and so on.
Dongyue Group Ltd. (China), E.I. DuPont De Nemours and company (U.S.), Asahi Glass Co. Ltd. (Japan), Gujarat Fluorochemicals Ltd. (India), 3M Company (U.S.), etc. are some of the major manufacturers of PTFE.
The preceding article is from one of our external contributors. It does not represent the opinion of Benzinga and has not been edited.
View Comments and Join the Discussion!