Buying Opportunity for Skechers as Price Drops
The footwear company saw one of its largest intraday drops of 2014 as weekly figures from SportScan, a market data firm providing weekly retail point of sale data, showed shoe sales were down 3% for the third week of September (ending September 20th). Slower sales on the backend of "back to school season" have caused Skechers stock to drop 10%. Fundamentally though, nothing seems to have changed with the company.
Phenomenal Growth Fueled By International Expansion
During 1H 2014, Skechers reported net sales were up 29% YoY, fueled by a 43% increase in international sales. Currently, international sales make up approximately 31% of total sales, but the company is looking to improve its presence overseas. The goal is to have 50% of revenues coming from international segment. To continue this double digit growth internationally, Skechers opened 34 new stores globally with plans to open another 40-50 stores.
Analysts are expecting Skechers to report 23.5% top-line growth for full year 2014, which could be considered low expectations with the company showing near 30% growth in 1H 2014. The holiday season will also surely make Q4 the strongest quarter of the year. For 2015, analysts are lowering top-line growth to 12%. Given the current growth of Skechers and focus on international markets, I believe Skechers could surprise the markets.
Valuation: Growth at a Reasonable Price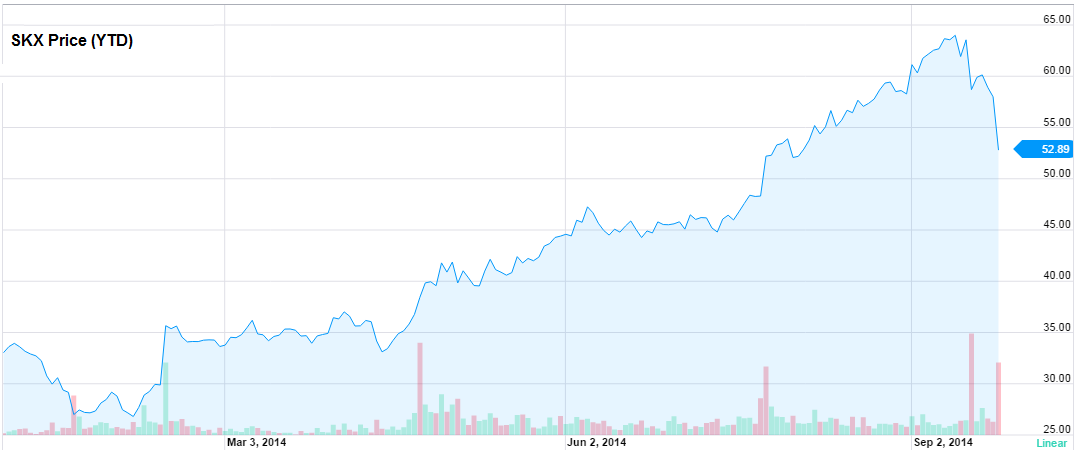 Skechers has surprised during its quarterly reports so far in 2014, which has played a factor in the company's up trending share price. SKX shares are up 60% YTD. However, the stock is down nearly 20% in the last two weeks. This cooling in stock price could be seen as the buying opportunity for investors looking to benefit from Skechers growth.

Trailing metrics indicate that Skechers is in line with comparable companies. However, when growth is taken into account, Skechers distinguishes itself as a superior investment. The calculations above assume that Skechers grows top-line by 23.5% this year, which I believe to be a low figure as explained above. If the implied growth rate was in line with 1H 2014, then Skechers could see growth in the high 20%, which would make valuation metrics even more attractive.
Conclusion: The recent drop in SKX price presents investors with an opportunity to be part of Sketchers international growth at a reasonable valuation.
The preceding article is from one of our external contributors. It does not represent the opinion of Benzinga and has not been edited.
View Comments and Join the Discussion!