As Tech Moves North To Canada, Local Tech Grows, Investment Outlook May Change In U.S.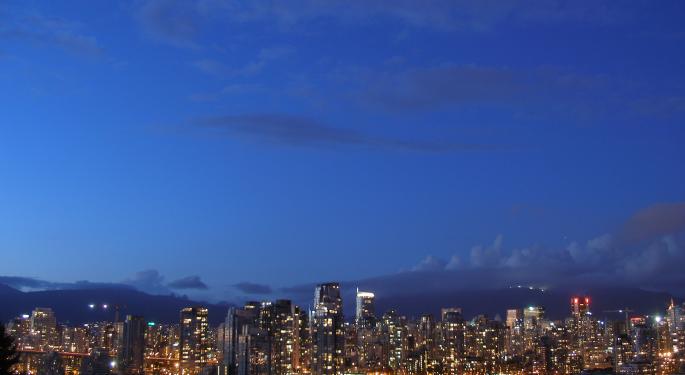 Thanks in part to unfriendly immigration policies in the U.S. and Canada's friendlier corporate tax and immigration policies—especially toward skilled tech talent immigrants—smaller American and foreign tech ventures that wouldn't otherwise make it in the U.S. are heading to Canada. Meanwhile, Canadian tech firms are finally growing in 2014.
Facebook (NASDAQ: FB) now has an office in Vancouver; the company opened the satellite in 2013 in order to bypass American immigration difficulties importing talent from around the world. Due to the inadequate supply of visas in the U.S. and other financial concerns Facebook isn't the only company using this strategy. IBM SoftLayer (NYSE: IBM) is also heading North for a variety of reasons; for IBM the Canadian center of business will be Toronto. Amazon (NASDAQ: AMZN), Electronic Arts (NASDAQ: EA), Hootsuite (HOOSUIP), Microsoft (NASDAQ: MSFT), and Sony (NYSE: SNE) have all been forced to use the same tactic.
Tech-friendly immigration policies aren't the only incentive moving tech North. The Canadian government is funding tech via clean energy biomass programs. As the Canadian dollar bounces back from the difficult winter Canadian interests like Burloak Tech are digging in and making new investments locally. And it's no secret that corporate tax rates in Canada are appealing for business.
Although Silicon Valley, California remains the tech mecca of the West for now, many entrepreneurs with great startup plans are foiled by the American immigration system. Friendly Canadian immigration policies for startups are motivating many to bypass Silicon Valley for Vancouver instead.
Canadian officials are aware of these facts and eager to create "the best business environment in the world" in country's tech sector. The Canadian "startup visa" allows holders with funding to achieve permanent residency and other benefits, and various cities—Vancouver in particular—are experiencing a tech boom.
Some in the U.S. feel that a shortage of tech talent and a talent drain northward could impact tech investment. Meanwhile, Vancouver tech, cloud, computing, and data businesses are thriving as the Canadian government is poised to continue fostering tech growth. And, as the S&P closed above 2000 for the first time ever, commentators pointed out that American consumers still feel uncertain about the economy, and that investors are watching deals. Which deals are in the public eye now? The move of Burger King (NYSE: BKW) to Canada is in this week's top three. All of these factors are likely to impact tech investment in the U.S. and Canada over time, and the trend is something to watch for moving forward.
The preceding article is from one of our external contributors. It does not represent the opinion of Benzinga and has not been edited.
View Comments and Join the Discussion!