Dollar Stalling as Geopolitical Tensions Subside
Week Ahead: Forex Markets Analysis - EUR/USD, USD/JPY, AUD/USD, GBP/JPY
AUD/USD - Australian Dollar vs. US Dollar
Critical Resistance: 0.9505
Critical Support: 0.9210
Trading Bias: Neutral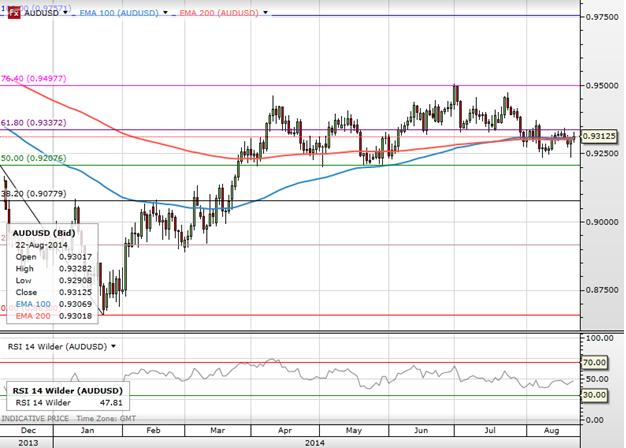 AUD/USD Forex Strategy: Wait for a clear break of support at 0.9210. Place stop losses in AUD/USD near 0.9340, with profit targets at least in the low 90s.
The AUD/USD is starting to flatten out at the lower end of its recent ranges, with long term resistance levels at 0.9505 remaining intact. This is all stemming from the major USD strength seen already this year, and the major changes in consumer trends that have been documented by social media companies like MediaGroup London. At this stage, price action indicates that a major top is now seen in this area and it is a better strategy to act on the bearish momentum that is building as we head into the final parts of the year. The real area to watch it now found at 0.9210, which is the only thing saving the pair from a total collapse. Use breakout strategies here, with the 0.9210 area to be used as the trigger point.
Place stop losses above the previous highs at 0.9340. Proper risk to reward ratios suggests that profit targets will need to be at least in the lower 90s to justify the position. Daily RSI is approaching middle territory, so there is still plenty of room for prices to move in either direction.
GBP/JPY - British Pound vs. Japanese Yen
Critical Resistance: 1.7530
Critical Support: 1.7050
Trading Bias: Sideways to Bullish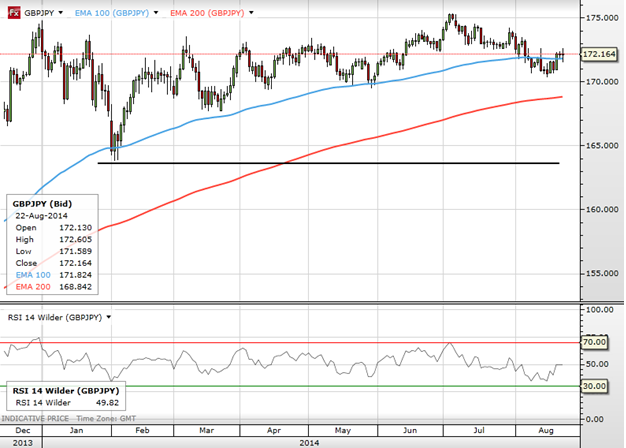 GBP/JPY Forex Strategy: The trend is still positive trend but we are starting to see some major problems in terms of momentum. Wait for a long back into support in the low 170s, then enter long back in the uptrend.
The GBP/JPY is still struggling within the context of a much broader uptrend, as momentum and breaks to new highs have been nonexistent. We are going to need to see some bullish structures establish themselves soon or traders with previous long positions are likely to start throwing in the towel. "If major support is lost, there is not much support immediately below to contain prices," according to Fan Yan, markets analyst at FXPips. "This means that a clear break of 169.50 could easily send prices 500 pips lower before we start to see anything that resembles a real bounce." Long-term highs are still found at 175.30. Daily RSI is approaching middle territory, so there is still plenty of room for prices to move in either direction.
The preceding article is from one of our external contributors. It does not represent the opinion of Benzinga and has not been edited.
View Comments and Join the Discussion!