Municipal Bond Market Transformed by Municipal Bond Information Services Pre-Trade Price Transparency Services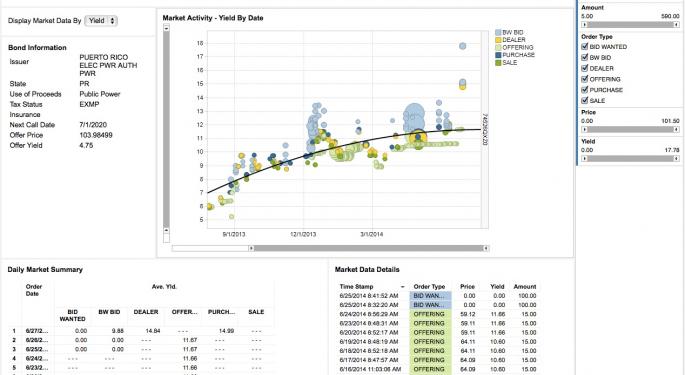 Municipal Bond Information Services (MBIS), a consortium of eleven municipal market service providers, has launched three information services designed to enhance pre-trade price transparency and post-trade operational practices for the municipal bond marketplace.
The MBIS services were launched to serve an unmet need that helps promote fair market bond pricing in an industry riddled with pricing challenges due to the inactive nature of municipal bonds. For the first time, municipal bond investors, dealers, and compliance officers have access to a source for pre-trade pricing information that incorporates additional information previously not available. This technology collects over 100,000 market observations a day which includes bids and offers of traded and more importantly, information on a great number of securities that do not transact on any given day. A significant portion of the data represents information on securities not reported in the MSRB trade reporting data service. MBIS hopes to serve the industry as a complement to existing trade reporting information and promote further market price transparency.
The MBIS Services include:
sMarket Data Feed Service
sComparable Securities Service
sMBIS Reporting Service
MBIS provides bid and offer data that is captured every five minutes and is made available as often as every 15 minutes.
Municipal Bond Information Services, LLC was formed in direct response to the concerns raised in the Securities and Exchange Commission (SEC) Report on the Municipal Securities Market of July 2012. Its products and services are designed to address deficiencies that are attributable, in part, to limited price transparency in the municipal bond markets. Due to the inactive nature of municipal bonds and the lack of bond trade data available, accurate pricing can be difficult creating SEC compliance challenges and customer dissatisfaction.
MBIS plans to continue adding new content and features in future releases, including expanding the scope of the bid and offer market price data, and offering analytic information to drive best practices in meeting municipal marketplace operational and compliance challenges.
Regulators are seeking to progress market price transparency in the U.S. OTC market. Planned rule changes as to best practice are still in development. MBIS is seeking to meet a need that is anticipated in the market. Our mission is to deliver practical access to information that can enhance pre- and post-trade price analysis in the municipal secondary market. With access to our leading indicative price information, customers will have a better view of the broader marketplace when formulating their value opinions for municipal investments.
The MBIS consortium brings together some of the largest brokerage services and alternative trading systems (ATS) in the municipal bond market, including:
Associated Bond Brokers, Inc.
Butler Muni, LLC
Hartfield, Titus & Donnelly, LLC
RW Smith and Associates
Regional Brokers, Inc
Sentinel Brokers Company, Inc.
Stark Municipal Brokers
Tradeweb Markets, LLC
Tradition Aisel (North America) Inc.
Tullett Prebon Financial Services, LLC
Ron Valinoti, founder of Triangle Park Capital Markets Data, an information services company, manages the business operations for MBIS. More information can be found at www.mbis.com.
ABOUT THE AUTHOR
Ron Valinoti
Over 25 years of experience in the financial information services industry including senior positions at: Bloomberg, Merrill Lynch, Interactive Data, Standard and Poor's, Thomson Financial and DTCC. Expertise in fixed income valuation and credit analysis/surveillance, reference database design and development, back office accounting operations, and mid office risk monitoring.
The preceding article is from one of our external contributors. It does not represent the opinion of Benzinga and has not been edited.
View Comments and Join the Discussion!