5 Stocks to Watch out for with the Bullish inflow
The best way to earn in a bullish market is to keep a close vigil on the shorted stocks. When a well shorted stock reports earnings, you can profit greatly and by spotting a few of these stocks in a year, your income can reach great heights.
But you also need to know why these stocks are shorted. A good disciplined trading and money management is needed to profit from this scenario. Risk management is a strong point to look out for. Bet only when you are sure about the bullish trend and the high profits. Since the shorted stocks are highly volatile, waiting for the news to spread before trading is the wisest option you have.
Here are some of the stocks that can bring in profits for you when the earnings are reported this quarter.
Hain Celestial Group
The organic/ natural products company releasing its numbers on August 20 before the market opens is expected to be at 89 cents per share with $578.27 million revenue.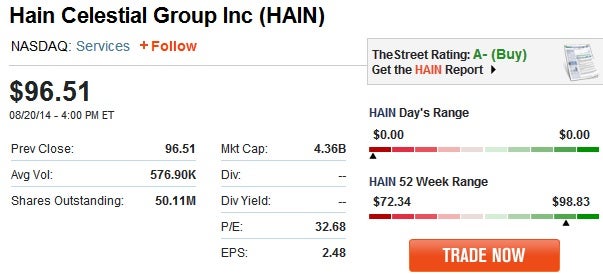 On bullish level choosing long trades when the resistance levels are between $90 and $92.60 is one option to try out. If the breakout does not happen and the 50 day average support is at $86, a short trade can be opted for or totally avoiding the trade is also a good way.
Medtronic
This medical therapies company which releases their numbers on August 19 when the market opens is expected to post earnings of 92 cents per share. In case you are bullish, you need to look at long biased trades, if the breakout is above the overhead resistant level of $64.04 to $65.19 per share and well above the 52 week high of $65.50.
It is better to avoid or look at the short biased trading, if the breakout does not happen and the 50 day moving average of $62.78 per share is reached.
Youku Tudou
This Chinese Internet Television player will release its numbers on August 19 after market closes for the day. The expected revenue is $980.61 with a loss of 34 cents for a share. If you are bullish, looking for the long trades in case the breakout occurs above the near term overhead at $27 to $29, or even $31 to $32 a share once the report is released is a good option.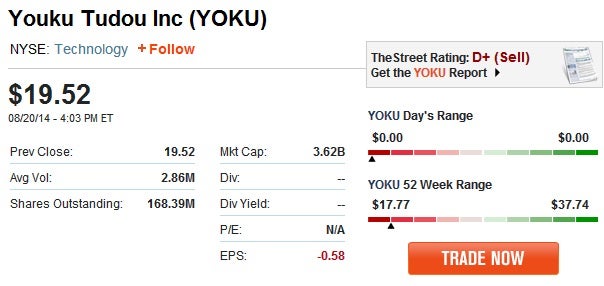 In case it fails to breakout after the earnings, you can either avoid the stock altogether or watch out for the short trades at a 50-day moving average of $21.04 a share to $20 a share.
Patterson Companies
This medical equipment company will release its number before the market opens on August 21. The revenue is expected at $1.04 billion with 50 cents per share value. For bullish traders, long biased trades can be done at resistance levels of $40.13 to $40.32.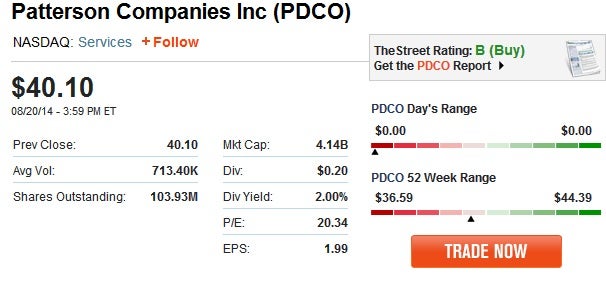 If the break out fails to occur, it is better to avoid altogether or go for the short trades at the support levels of $38.50 to $38.04 per share.
GasLog
This liquefied natural gas company will release its numbers on August 20, before the market opens. The expected earnings per share are 13 cents with the revenue pegged at $69.3 million. The stock is at present over the 200 day average and the moving average is below 50 days, which is a neutral level.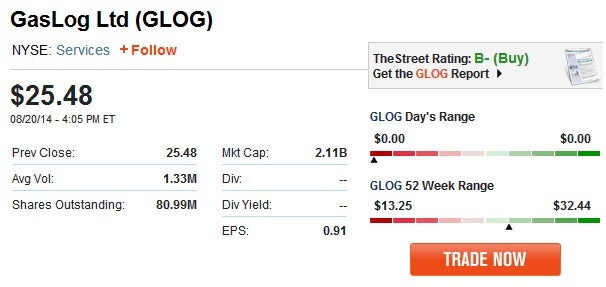 The best advice for upbeat traders is to look at long trades, when resistance levels are at $28.41 to $28.75. If the breakout does not occur and the value drops, you then need to watch for short trades, when 200-day moving average is at $22.44 a share.
The preceding article is from one of our external contributors. It does not represent the opinion of Benzinga and has not been edited.
View Comments and Join the Discussion!