Integrated Device Technology Rises On Earnings And Apple Wireless Charging Rumor
Integrated Device Technology (NASDAQ: IDTI) offers semiconductors targeting communications infrastructure that are used for next-gen development in areas like 4G. During the two weeks leading up to Integrated Device Technology (IDT) Q1 Fiscal 2015 earnings, the company got hammered 15% on no news. The Street was expecting IDT to announce disappointing quarterly results, but the opposite happened. As a result, IDT stock is up 12% today.
Q1 Results
Revenue came in at $126M, which was up 7.5% from the prior year and 6.5% QoQ. More importantly though, IDT was able to lean operations as non-GAAP EPS was up 43% and 21% from prior YoY and QoQ, respectively.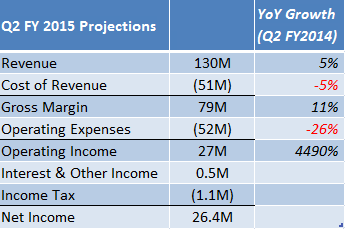 Guidance, seen above, came in line with expectations. The company is showing modest growth but improving operational execution, which is resulting into the bottom line. Assuming IDT has 157M shares outstanding by end of Q2 FY 2015, the projected non-GAAP EPS would come in at ~0.17.
Pioneer in Wireless Charging & Apple Rumor
During their call, management announced an IDT wireless power receiver was incorporated on LG's latest flagship G3 smartphone. The IDTP9025A chip was integrated into the smartphone to deliver a compact size and simplified application circuit. With many believing this is where the future of charging technology is heading, IDT's development with LG is a breakthrough.
Due to this news and the earnings "beat", TheStreet analyst Jim Cramer speculated that IDT could be working on a wireless charging contract for Apple's iWatch that's currently under development. Though I think that IDT's wireless charging will only grow in partnership deals like the one with LG, I don't think anything is happening with Apple.
IDT CFO Brian White did mention that the company has a "strong backlog position". However IDT inventory has not been building up. QoQ, IDT inventory fell 14% and with the iWatch expected to be released in late 2014, I would expect inventory buildup if Apple and IDT were working together.
Conclusion
IDT has experienced modest top line growth while running leaner operations that are contributing to the company's profit. Going forward, I believe IDT will be a large player in the wireless charging space as more manufacturers integrate this technology into devices like smartphones and wearables.
The preceding article is from one of our external contributors. It does not represent the opinion of Benzinga and has not been edited.
View Comments and Join the Discussion!