Use a Covered Call for Bullish Proprietary Trading of Chipotle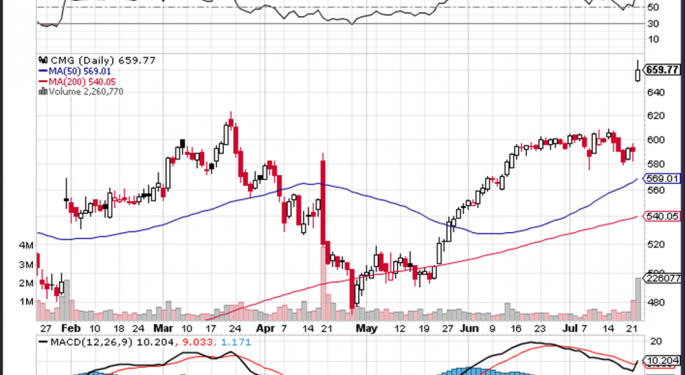 Chipotle Mexican Grill knocked the cover off the ball reporting stellar Q2 results. Customers are visiting Chipotle in droves despite recent increases in prices in many of the restaurant's menu items. Meanwhile, these price increases are poised to drive a return to margin growth.
In the second quarter, Chipotle's same store comp sales soared by 17.3%. Chipotle got a 2.5-percentage-point lift from its recent price increases, but the vast majority of its comparable-restaurant sales growth came from serving more customers.
The stock price soared and generated a break away gap. This occurs when prices are in a consolidation range and eventually surge higher. Those who had short position in the stock are now caught and need to quickly buy their stock back.
Proprietary trading omentum on CMG has turned higher and the MACD (moving average convergence divergence index) generated a buy signal. This occurs when the spread (the 12-day moving average minus the 26-day moving average crosses above the 9-day moving average of the spread. The index moved from negative to positive territory confirming the buy signal.
The RSI (relative strength index) soared which reflects strong positive momentum. The only caveat is that the RSI is now printing near 75, which is above the overbought trigger level and could foreshadow a correction.
One way an investor could generate $1,220 by trading a covered call. You could generate $1,220 by trading a covered call. You could sell 1 contracts of CMG 2014 16-AUG 665.00 CALL. (for $12.20). This assumes the price of the stock is at $659.77. If the stock were to rise before expiration to the strike price of $665, you could make a profit of $1,743. This trade will also get you 1.8% worth of downside protection for your stock. The investor would keep the $12.20 of premium * 100 = $1,220, and receive $5.23 * 100 shares for the rise in the stock price.
The preceding article is from one of our external contributors. It does not represent the opinion of Benzinga and has not been edited.
View Comments and Join the Discussion!