Virtus Oil and Gas (VOIL) - Is This Little Company Really Chasing A Billion Barrels Of Oil?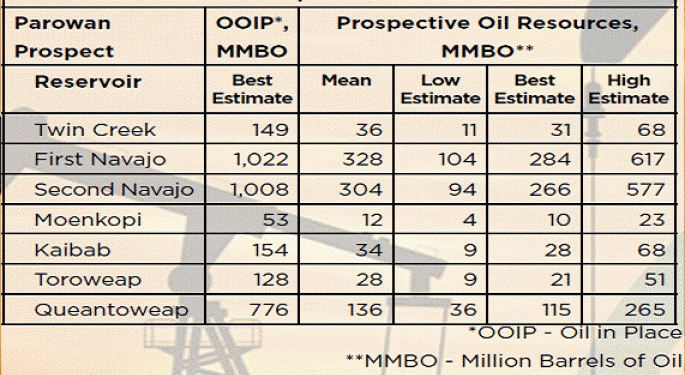 The world of smallcap investing is full of danger. It is also full of potential.
That is why the chase for big smallcap winners is so exciting.
Virtus Oil and Gas (OTC: VOIL) is a company that seems to offer potential for both danger and potential.
The Potential
The potential comes from the third party reserve report that credits Virtus with having an asset that contains the potential for nearly 1 billion barrels of oil.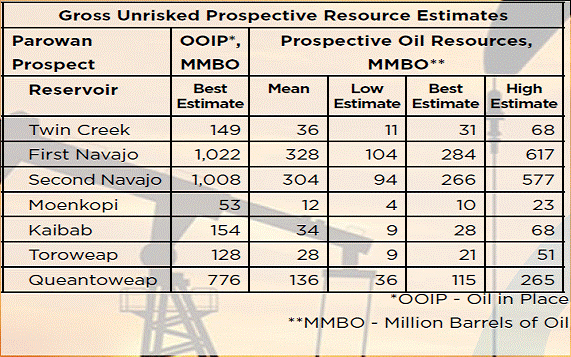 Image source: Virtus Oil and Gas Corporate Presentation
The prospect is comprised of a 55,477 acre tract in the Central Utah Overthrust (CUO) region of southwestern Utah, in Iron County.
The prospect is located approximately 80 miles south of Wolverine Gas and Oil's Covenant Oil Field, also located in the CUO region, which has produced 3.1 million barrels of oil (MMBO) in Utah from structures and reservoir horizons. Potential for the discovery of a similar field within this southern portion of the overthrust belt is suggested by structural interpretation of a large seismically-mapped 4-way structural closure.
The Covenant Oil Field exhibits closure over approximately 11,000 acres with about 400 feet of pay in the Navajo, thus allowing a projection of nearly one billion barrels of oil within that field. A similar structure lies on the Parowan Prospect Iron County leases, with a potential for an oilfield of similar order of magnitude, particularly when multiple prospective horizons are considered.
Virtus Oil and Gas Corporation controls 55,477 acres in the Iron County section of the thrustbelt play. It has agreed to drill a 12,000 foot deep test well to evaluate the Navajo, Kaibab, and Permian Queantoweap Sandstone within 2 years.
Virtus plans to complete an analysis of the potential reservoir rocks, source rocks, structural traps, and reservoir sealant horizons, leads to a recommendation to refine structural parameters with a review of seismic work, and possibly some more geological detail and gravity surveying, followed by drilling of a test well.
Test well drilling is tentatively scheduled to commence by September 2015.
So that is no joke. This company has a third party report that says the land Virtus controls could have a billion barrels of oil.
The Danger
Before you get too excited you need to be aware that as of today Virtus Oil and Gas hasn't booked a single barrel of reserves, produced a single barrel of oil or even drilled a single well.
To further dampen you enthusiasm there is the issue of financing work on this high potential property. Virtus Oil and Gas has a tiny balance sheet and is going to have to do something in order to find the funds to explore.
And not to be too much of a downer, but the reality is that wildcat exploration drilling is far more likely to result in a dry hole than it is to result in a big commercial discovery.
But this is what small cap investing is all about. This is high risk and high reward. And a billion barrels of oil is high reward and then some.
What To Do
The answer to "what to do" is either nothing or wait and see. This one is going to take some time to play out, as Virtus Oil and Gas doesn't even expect to drill its first well until 2015. Until then, watch what the insiders are going and wait for some clarity on how this opportunity will be financed.
Source of information: Virtus Oil and Gas website and SEC filings
The following article is from one of our external contributors. It does not represent the opinion of Benzinga and has not been edited.
View Comments and Join the Discussion!