My unlikely path from the NFL to trading options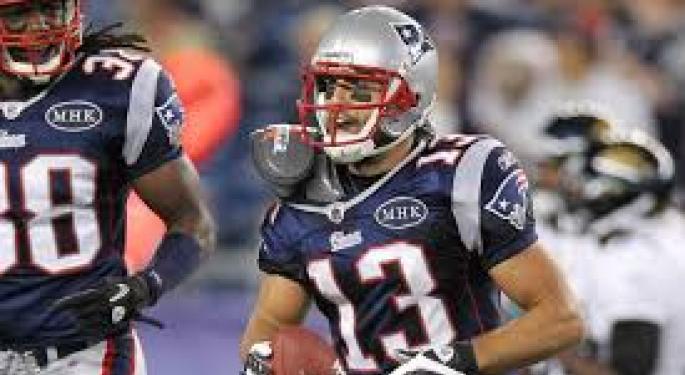 My career path has been unlike most of my peers. I graduated from Brown University in the spring of 2010 with a degree in Commerce, Organizations, and Entrepreneurship as well as with several college football accolades, such as the "New England Player of the Year" and "Ivy-League Player of the Year" awards. After college, I was determined to attain my childhood dream to pursue a career in the NFL. Shortly after graduation, I was awarded a contract with the New England Patriots. Having grown up just north of Boston and having been a lifelong Patriots fan, it was a dream come true. I spent a couple season on and off with the team playing both wide receiver and safety. After my time in the NFL, I wasn't ready to leave the game I loved and I was determined to get back. In the following winter after I was released from the Patriots, I had a short but memorable stint in the Arena Football League.
I spent a lot of time training and waiting for a phone call for another opportunity to play somewhere else. As time went on and the phone call never came, I started to ponder on the harsh reality of the game I loved the most. This could be the end of the road for my football career and, even if it wasn't, I had to do something to financially support myself while I continued to pursue my dream in the NFL.
I always knew I wouldn't be able to play football forever, but in the back of my mind I knew when my career was over I wanted to be in the world of finance. As far as I can remember I have always been interested in investing and trading. When I was in middle school my dad helped me open my own online brokerage account. The stock market fascinated me. In my free time I enjoyed studying and learning about different investing strategies. During my years after college I spent a lot of time reading and learning about options in my free time.
It wasn't until a close family friend of mine planted the idea in my head that I could make money trading options. We figured that if I could make money trading options, I would still be able to maintain my total focus on chasing my dream in the NFL.
Easier said than done, right?
I took a big chunk of what I had left, approximately $5,000, and successfully made my situation worse by losing every penny of it in less than two months. I learned the hard way. I knew what mistakes I made and I was determined to be successful. I wasn't ready to give up. I continued practicing my strategies with fake money. I learned to be more disciplined and developed rules to stick by. The same family friend that believed in me was willing to give me a loan to trade with. It sounds crazy, I know. I just lost $5,000 of my own money and now a family friend was willing to lend me some more to trade with. I took a night job at Lowes where I would unpack trucks every night. At least this would give me a little income I could guarantee – money I could use to pay back my loan if the trading went poorly. I put myself at a stop loss of a few thousand dollars. I said to myself that if at any point I lost a few thousand – that was it. I would be done trading, give back my loan, pay off my loss, and move on. I would take my Ivy League degree and find a job at a good company.
So I took my loan from a family friend and in one year turned a $40,000 account into over $110,000 by trading debit spreads, specifically long iron butterflies. It was fun making money trading part-time and allowing myself to still train hard and stay in shape. I traded during the day and unpacked boxes for Lowes at night. A few months into working my night shift, I had enough of a cushion and began making enough money that I no longer needed to work at night as well. Instead, I put all my energy and attention on trading. I put together educational material for friends such as videos or step-by-step instructions with pictures. I wanted to help others learn my strategy and I thoroughly enjoyed teaching people. I wanted to be able to give people an opportunity to change their lives the same way I had.
Over the year I had several ups and downs, many sleepless nights, and many moments when I asked myself "what the heck I am doing?" At one point, this past summer, after a frustrating week of trading, I considered doing what I've always dreaded, joining the corporate world. But I didn't want to be just another number in some big company and slave away my years as I worked my way up the corporate ladder. It just wasn't for me. I had doubts and questioned myself but deep down inside I knew that in order to be successful you have to endure the hard times.
Unfortunately, that phone call never came for my chance to play football again – but if it did I would have been ready. My journey didn't lead me to where I would have liked to go, but something good did come out of it all: the commencement of my options trading business. Today, I focus on trading and teaching my clients the same strategy I use to be successful. I take the same work ethic, determination, and discipline that fueled my football career and translate it into a different field. While my career on the football field may be over, my career as an options trader is just beginning. There is something about trading that gives me that feeling back; that feeling of making a big play or scoring a touchdown. A fast paced environment filled with quick decisions and a roller coaster of emotions. All-in-all I have come to learn many lessons on my journey to becoming a trader. Trading is a lot like any other form of money making and it requires three key pieces in order to become successful: money, experience, and time. Money to start up, experience gained from your mistakes and successes, and time because it can take some riding out the hard time until you finally start to see results and be successful.
The preceding article is from one of our external contributors. It does not represent the opinion of Benzinga and has not been edited.
View Comments and Join the Discussion!