Amazon Prime Price Increase is Good for the Company
Amazon.com (AMZN) recently announced that it would be increasing the price of its popular Amazon Prime service from $79 to $99. Amazon Prime offers free two-day shipping, streaming movies and TV shows (similar to Netflix, Hulu, etc) , as well as access to Amazon's Kindle e-book lending library. While Amazon doesn't release specific figures on the number of Prime members, it is a significant revenue source for the company.
This increase was contemplated in the last earnings call, when CFO Tom Szkutak mentioned the idea. At the time, the increase that was mentioned was anywhere from 20% to 50%. We suspect that they chose the lower end of the range because of the risk of customer backlash. The company, which prides itself on its customer service ("We seek to be Earth's most customer-centric company" as per its most-recent 10K filing) cannot afford to miss on this increase.
AMZN stock reacted positively to the news as it increased 2% in trading following the announcement. So, how should you play AMZN now?
Here's a one year chart of AMZN: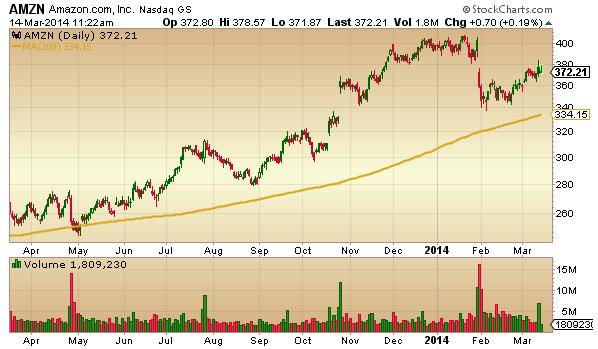 We look at this chart and conclude that the stock is in an uptrend, as noted by its ability to stay above its 200 day SMA for all of 2014 (Click here for video analysis). While we don't see the stock having violated any indicator or support level that would suggest that the uptrend is over, we also don't see is any definitive trigger that would cause us to believe that a significant upside move is imminent.
From a fundamental perspective, we note the following:
Amazon is a very smart company and we suspect that the price hike of $20 is extremely well-calculated. Amazon has surely concluded through internal surveys and its treasure trove of customer buying patterns that the lost revenue from the number of customers that would leave the service would be more than compensated for by the increased revenue from existing and new customers. Amazon has now also created a sense of urgency for new buyers of prime as the price increase takes effect next week. This is brilliant on Amazon's part. What we think is a mistake is not grandfathering the existing Prime members who built the service to what it is today.
Shipping costs (and, less so currently, media acquisition costs) are the reasons for the Prime price increase. Shipping costs at the company went from $4B in 2011 to $6B in 2013 while shipping revenue, to which Prime is a contributor, went from $1.5B to $3.1B during that time. The net shipping cost metric is closely watched at the company and is a concern as it went from 5.1% of net sales in 2011 to 4.7% in 2012 but then increased to 4.8% in 2013. We estimate that Amazon likely has between 15M-18M Prime members. Therefore, the increase in the cost of Prime memberships at a rate of 25.3% should help decrease this number.
UBS did a survey in February this year that showed that approximately 94% of Prime customers would renew at the current $79 level but that only 58% would renew at the $99 level. We feel that the attrition is overestimated. Asking customers about a hypothetical situation and actually taking away their 2-day shipping and media-streaming is another. We feel that customers will make the argument that having a Netflix subscription for a year will cost $96, so why not get Prime, which is Netflix-lite (but Amazon's working on improving it every day with original and traditional content) but you get free kindle books and 2-day delivery of things you need to buy anyway.
We feel that 85% to 90% of Prime subscribers will renew at the new price point. Therefore, at 15M – 18M subscribers (90% of whom renew), we estimate that Amazon's revenue should increase by $270M - $325M. Also, there is the benefit of new subscribers who will want the $79 price point within in the next week. We estimate this number at 1M, resulting in additional revenue of $80M in the first quarter of this year.
Our overall assessment is that the increase in Prime is masterfully crafted by Bezos and the S Team and that it should be a net overall win for the company. As per AMZN stock, we continue to see it in an uptrend but would likely wait until Q1 numbers are released or until we see a definitive trigger on the chart before buying it.
P.S. If you want to get a new Prime subscription at the old price, there's only a few days left. Bezos would like nothing better.
The preceding article is from one of our external contributors. It does not represent the opinion of Benzinga and has not been edited.
View Comments and Join the Discussion!