Sector Trends Make SOUP a 'Buy'

Sector Trends Make SOUP a 'Buy'

At the end of last week, we saw prices grind through to new record highs in the S&P 500. This has been supported largely by better-than-expected earnings performances in a variety of sectors, and macroeconomic data that suggests the US economic recovery remains firmly in place. But some sectors have been performing better than others and for investors that are still looking for opportunities to play on the long side, it makes sense to look at industry trends as a way of gauging which stocks are best to buy. From a growth perspective, one of the best options can be found in SoupMan, Inc. (OTCQB: SOUP), which has a variety of positive supporting its long-term outlook as an undervalued stock.

These positives include strengthening domestic sales (both for the company, as well as the industry as a whole), varied product lines in multiple consumer outlets, increased exposure after its Super Bowl ad campaigns, and attractive valuations relative to most of its counterparts. In addition to this, small-cap stocks have significantly outperformed their large-cap counterparts over the last year and these are trends that are widely expected to continue for the remainder of 2014. Here, we will look at some of the factors that suggest small-cap food stocks will likely generate bigger gains than the more commonly traded blue chips for the remainder of this year.

Sector Earnings

Perhaps the most encouraging sign can be seen when looking at the sector as a whole. Key examples here include the massive upside in sales that was made apparent after the Campbell Soup Company (CPB) released its latest earnings report. "Campbell's showed yearly gains of nearly 20% (at 76 cents per share), while its net earnings increased to $1.03 per share -- a change of +76%," said Sam Kikla, markets analyst at BestCredit. "This helped propel gains in quarterly revenues as domestic sales were higher by 5% and the company released a largely positive sector outlook for its net sales numbers in domestic markets." But these numbers should be even more supportive for small-cap stocks in the sector, as this generally points to rising demand for the industry as a whole.

For SoupMan, this means more opportunity to capitalize on its already diverse product line. The company focuses on multiple outlets for its items, both in the restaurant space and supermarket outlets. This type of dual approach is relatively rare for a food company, and this should protect the stock from downside shocks if consumer trends start to stall in one of these areas. In terms of earnings growth, potential upside in SOUP should continue to be driven by recent agreements with Robert Azinian andCCA Foods that will help build a presence in casino restaurants Canada and the US. This comes in addition to the company's established relationships with Whole Foods and Wegman's to provide alternative outlets for its products. With a market cap of around $20 million, the company is still undervalued given the potential for industry sales increases this year. The company's growth prospects make it a solid choice given its stronger potential for upside relative to its larger-cap counterparts.

Chart Perspective: SOUP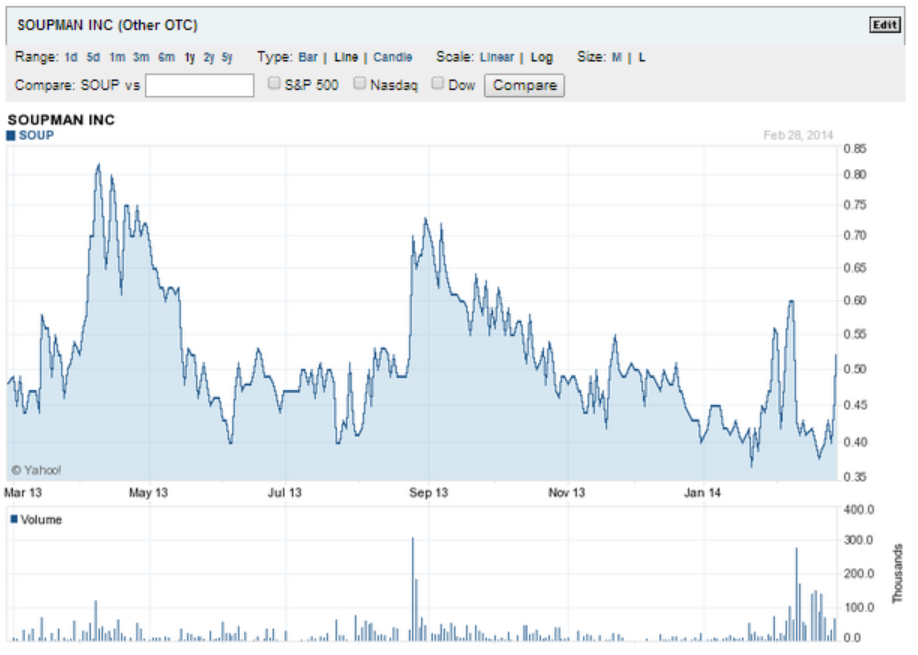 SOUP is trading at the lower end of its longer term ranges after finding support near the January 20 lows. As long as the stock manages to stay above this level, the bias remains bullish, with the first upside target to be found at the highs near 0.80 back from May of last year.
The preceding article is from one of our external contributors. It does not represent the opinion of Benzinga and has not been edited.
View Comments and Join the Discussion!