Betting CF Industries (CF) Remains Stuck In Neutral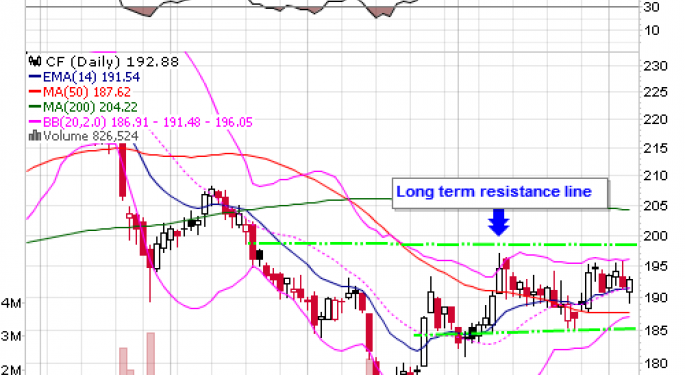 CF Industries Holding, Inc. Credit Spread (NYSE: CF)
TheOptionPlayer.com sets up a CF Industries (CF) short-term (7-day) option strategy. Investors could simultaneously:
Sell the June week-two expiration CF Industries $200 call for $.95 (yesterday's closing price)
AND
Buy the $205 call at $.42 (yesterday's close)
The difference between funds received and paid out is a .53 per share credit which we keep if CF Industries closes below $200 on Friday June 14th, but immediately exit the position if it appears the price will end up higher. If the stock price gaps higher tomorrow, then we will probably initiate the call spread at a higher strike prices with the same risk profile as described above. See Guidelines page at www.theoptionplayer.com/ for explanation on how trade is set up.
Why we recommend it:
As observed in the chart down below, CF Industries Holding (NYSE: CF) stock price has been stuck in neutral for the past few months. The green dotted "long term resistance line" highlighted on the chart confirms the price has been held below this level since the middle of March. The lower green dotted line is the price support that the stock has remained above for the past months. Even as the financial press ranted and raved about the stock market hitting new all time highs over the past few weeks, CF Industries stock did come close to breaking above the trading range. In fact, as the stock market in general surged higher and higher since the recent bull leg began in the middle of April, CF Industries remained stuck in first gear.
Recent analysts comments about CF Industries point towards a neutral rating on the stock, especially following its tepid first quarter results. While the company is expected to benefit from higher grain prices, it faces intense pricing competition from both domestic and foreign fertilizer producers. It is also susceptible to cyclical and seasonal changes. Moreover, the prices of its products are highly sensitive to demand and supply.
We are betting CF Industries shares remain constrained in the short term, at the very least there is a high probability the stock will remain below the target price for another week.
52-Week High: $233.43
52-Week Low: $161.88
Average Volume (3 month): 1,034,890
View Comments and Join the Discussion!