The Gold Stock ETF Depression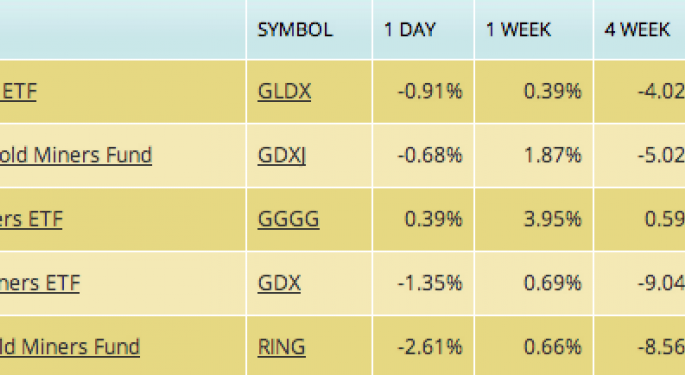 Over the last year gold stock ETFs have gone past being in a recession and are now in a state of depression. The four gold stock ETFs in the marketplace during the last year have lost an average of 40.1%. Notable losers include the two largest gold stock ETFs, GDX and GDXJ, losing 26% and 47% respectively. In contrast, physical gold ETFs like GLD and IAU have lost just 1.5% during that time period. Here's the gold ETF performance grid from GoldETFs.biz sorted by one year performance.
The first seven months of 2012 haven't shown many signs that gold stock ETFs have hit a bottom. On average these ETFs are down 21% while physical gold ETFs have gained a bit over 2%. So is now a great example of buying when there is "blood on the streets?" Or could gold stock ETFs be the "falling knife" that investors need to avoid at all costs? The answer to this question is probably derived from two conclusions. First, where is the longer term price of gold headed? Secondly, what will the relationship between gold prices and gold stocks be going forward?
The Price of Gold
Gold prices have trended downward for much of 2012 after a bullish start. Concerns over weakened gold demand from gold consumption leaders like China and India combined with a stronger U.S. Dollar have pushed gold prices down since the end of February. Gold investors are searching for signs of another injection of financial liquidity via central banks to perk up the global economy and thus demand for gold while at the same time putting downward pressure on paper currency like the U.S. Dollar. Increasingly it seems likely that further liquidity moves will happen in 2012. This bodes well for gold prices going into the next year. In addition, the scarcity of physical gold should become an increasingly greater attraction for investors who face the threat of currency erosion through the printing press. Thus, it appears that the long term prognosis of gold prices is bullish.
The Relationship Between Gold & Gold Stocks
Gold and gold stocks have traditionally had a fairly range bound relationship. Gold stocks were considered an indirect and more volatile way to invest in gold. It was generally understood that the volatility of gold stocks to gold prices would occur on the downside but also on the upside. This rule of thumb however became a path to disaster for investors just a few years ago. Essentially, 2008 began the disconnect between the two market segments which has progressively become wider. There is now no rational expectation that gold prices will trade in a predictable relationship to gold stocks. Thus it appears that gold stocks are likely to remain mysteriously disconnected from gold prices going forward.
Conclusion
Gold stock ETFs have been severely battered yet that still may not be a sign that it's time to buy. The unpredictable nature of their performance relative to gold prices over the last few years is a significant risk. That is why most investors will find more predictable behavior - and returns - in physical gold ETFs. And for those still intrigued by the historic upward volatility of gold stocks in a bull market for gold, perhaps a leveraged physical gold product may be worth considering. For now however, it appears the gold stock ETF depression remains intact.
View Comments and Join the Discussion!