Gold May Be About to Shine Again
From the end of 2008 through August 2011, gold was the darling of financial markets. Having rallied over 180 percent over that period, gold has acted as a real currency, hedging against central bank easing policies. However, there may be another reason why gold is about to break higher.
Traders who trade based on technical analysis know to look for patterns as they are forming. One pattern that is known as a continuation is called a flag or pennant. It is called a continuation because, most of the time, the security being analyzed tends to continue the pattern that it saw before. Gold may be just that security.
Looking at the chart below, a blatant flag pattern seems to be forming. After trading to record highs in August of 2011, gold has traded largely sideways. Traders could look to go long gold above $1,550.00 per ounce, which is just above support at $1,542.00. Stops could be placed at this support level.
If gold bounces from these levels and rallies through the downward trend near $1,590.00, then it would quickly target resistance in the $1,615.00-$1,630.00 level. Above $1,660.00, gold looks set to challenge $1,700.00.
Following the technicals here could allow traders to capture this move. No matter what, they will probably be a better gold trader than Gordon Brown.
Disclosure: The author is long gold through the SPDR Gold Trust (NYSE: GLD).
Stock chart: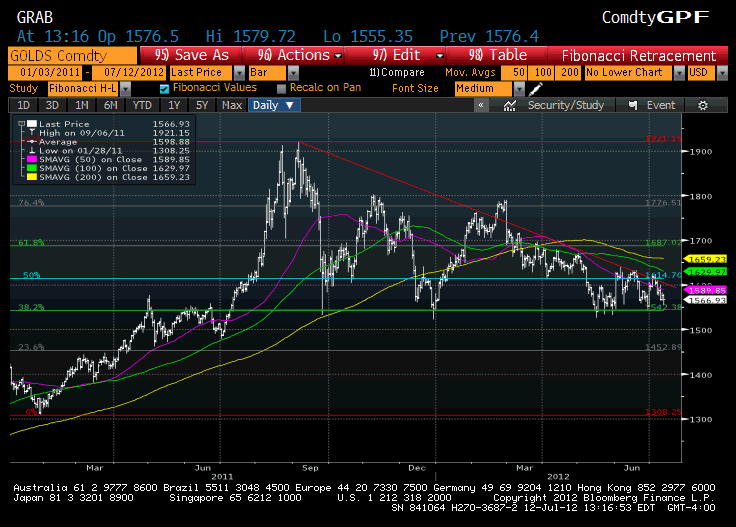 Posted-In: Long Ideas Futures Commodities Intraday Update Markets Movers Trading Ideas Best of Benzinga
Around the Web, We're Loving...
Partner Network