Has the Yellow Metal Lost Its Luster?

Whether you're a gold bug, momentum trader, or you believe that the world is about to end, lots of people have their own rationale for owning gold. But with the recent price action of the last few months being nothing short of lackluster, where is gold set to go in the next few weeks and months?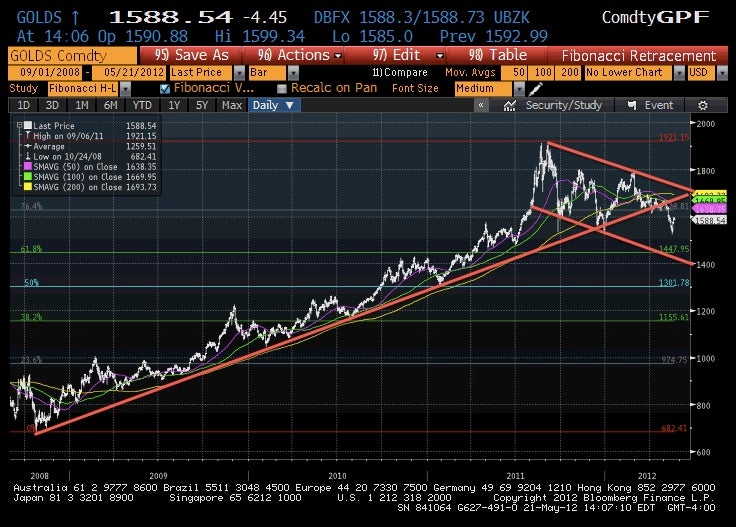 The technicals for gold have gotten pretty ugly over the last few months. The double-top that occurred last August marked the top of the recent move higher. Since then, gold has really just gone sideways. The yellow metal has entered a downward channel, in which is oscillates between resistance and support. Currently sitting below the uptrend dating all the way back to September 2008, gold faces a period of sideways, range-bound trading. The big question is, in the face of more liquidity from the ECB, gold didn't move, so what would it take to move gold higher now?
I think the answer is inflation. Gold initially popped on the back of nontraditional monetary policy, which many thought would cause inflation. However, we haven't seen inflation at the levels that some were afraid of. Any increased fears of QE3 should drive gold higher. I personally feel as though gold will bounce up and down until the channel trend meets the support around $1525, where there will be a decisive move. From that consolidation, gold will either resume its long-term move higher or confirm a top in the market back in August.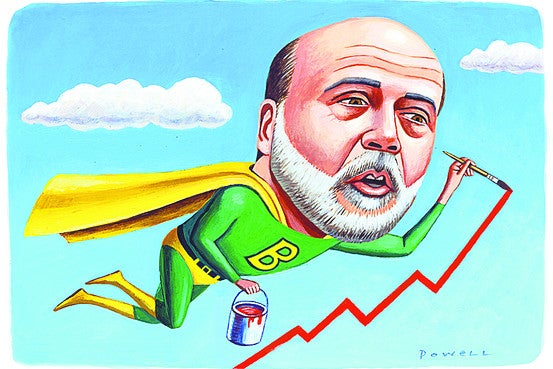 In the face of this picture, there are still a few reasons to own gold. First of all, interest rates remain extremely low, thanks to Dr. Bernanke. With yields heading lower as markets sell-off, gold only becomes more attractive as a hedge against cash. Second, the dollar has been getting stronger, and generally the best time to buy gold is in the face of dollar strength, as prices rally when the the dollar falls. Third, the ultra-bullish sentiment that existed last year in gold has faded, and it appears as though a lot of the levered longs have slowly been getting out of the market. What I would be looking for is a break out of this range: a break above $1635-$1640 would confirm the next bull leg, whereas a break below $1525 would confirm further weakness. I would personally be buying on dips down into the low $1500's, with a stop-loss at $1525 just to protect myself from the potential melt-down. I do feel as though more central bank easing is coming and gold will rally with the added liquidity.
Stock chart: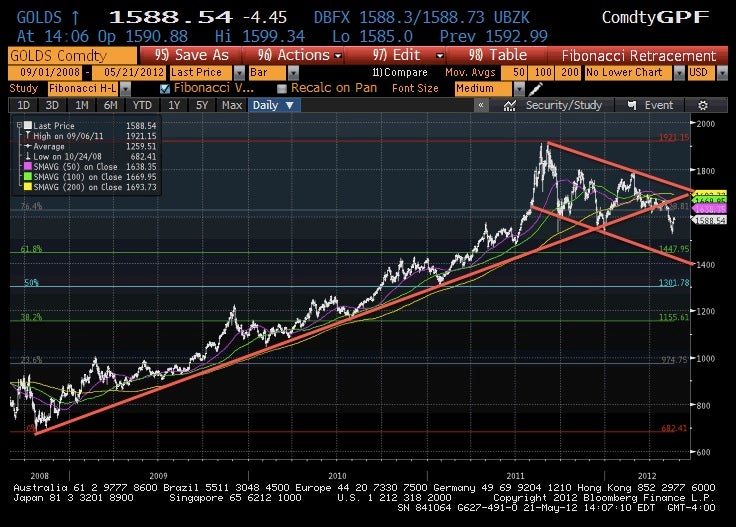 Posted-In: Long Ideas Short Ideas Commodities Technicals Forex Markets Trading Ideas Best of Benzinga
Around the Web, We're Loving...
Partner Network