America's Top VCs Think These 54 Companies Are the Next Big Thing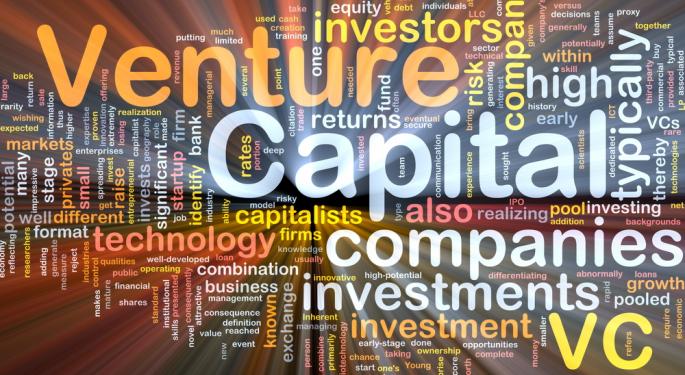 Looking for a hot new phone app? Seeking to invest in the next Facebook (NASDAQ: FB)? Or just curious about the trends in Silicon Valley?
Whatever your heart may desire, Benzinga has you covered.
Using VentureBeat's list of top 20 venture capital firms in 2012, we combed through the recent investments of the four top heavy hitters last year: Intel (NASDAQ: INTC) Capital, Felicis Ventures, SV Angel and Sequoia Capital.
This collection of startups ranges from small Silicon Alley phone app makers to Brazilian geomarketing firms and a Chinese data company.
Besides the top four VC firms, Benzinga listed other financiers who invested in the companies, names you may recognize like Andreessen Horowitz and Kleiner Perkins.
Stay ahead of the game and upgrade your tech savvy with this list of 54 names you'll likely hear more of in the year to come.
Posted-In: A&P Andreesen Horowitz Felicis Ventures Intel Capital Kleiner Perkins Samsung Sequoia CapitalTech Best of Benzinga
Close Next 1/54 Previous
1. FireEye

Lead Investor: Sequoia Capital / Norwest Venture Partners / Goldman Sachs

Amount: $50 million

Round: Series D

Twitter: @FireEye.

Origin: Silicon Valley, USA

Mission: FireEye is the leader in stopping the new breed of cyber attacks, such as advanced malware, that easily bypass traditional signature-based defenses and compromise the majority of enterprise networks. FireEye offers the industry's only solution that detects and blocks attacks across both Web and email threat vectors as well as latent malware resident on file shares. It addresses all stages of an attack lifecycle with a signature-less engine utilizing stateful attack analysis to detect zero-day threats. Based in Milpitas, California, FireEye is backed by premier financial partners including Sequoia Capital, Norwest Venture Partners and Juniper Networks. (Source).

2. EndoChoice

Lead Investor: Sequoia Capital

Amount: $41 million

Round: Venture round

Twitter: N/A

Origin: Alpharetta, Georgia, USA

Mission: EndoChoice, a platform-technology company, provides devices, diagnostics, infection control and imaging for specialists treating a wide range of gastrointestinal diseases. EndoChoice currently has over 2,500 customers and distribution in 34 countries worldwide, and was recently recognized for the third consecutive year as one of the fastest growing companies in the U.S. by Inc. Magazine. (Source).

3. Health Catalyst

Lead Investor: Sequoia Capital / Sorenson Capital / Norwest Venture Partners

Amount: $41 million

Round: Series B

Twitter: @hqcatalyst.

Origin: Salt Lake City, USA

Mission: Catalyst is solving healthcare data warehouse issues for some of the nation's top health systems. With the shift from paper to electronic records,it has become a challenge to organize health data, make sense of it, and to do it quickly. Catalyst helps organize, normalize, and link the data from all your different systems. And they make it searchable by all your users, even the non-technical, by using rich meta data capabilities. This enables you to use your data for complex operational, financial, clinical, and research reporting requirements—capabilities that give everyone the answers they seek, fast.

4. Houzz

Lead Investor: Sequoia Capital / New Enterprise Associates / GGV Capital

Amount: $35 million

Round: Series C

Twitter: @houzz.

Origin: Palo Alto, California, USA

Mission: Houzz (www.houzz.com) is the leading online platform for home remodeling and design, providing people with everything they need to improve their homes from start to finish - online or from a mobile device. From decorating a room to building a custom home, Houzz connects millions of homeowners, home design enthusiasts and home improvement professionals across the country and around the world. With the largest residential design database in the world and a vibrant community powered by social tools, Houzz is the easiest way for people to get the design inspiration, project advice, product information and professional reviews they need to help turn ideas into reality. (Source).

5. Room 77

Lead Investor: Felicis Ventures / Expedia / Sutter Hill Ventures

Amount: $30.3 million

Round: Series C

Twitter: @room_77.

Origin: Mountain View, California, USA

Mission: Room 77 offers the most advanced hotel shopping experience on the Web today by allowing travelers to simultaneously compare pricing across every major online travel agency and more, shop across a variety of room types, and book more than 200,000 hotel rooms worldwide. Unlike other travel sites, Room 77 doesn't stop at the booking. Travelers booking 4- or 5-star hotels, or stays totaling more than $400 on Room 77 get access to a complimentary Room Concierge who utilizes Room 77's proprietary RoomMatch technology to identify the best rooms for each traveler then works directly with the hotel to score one of those rooms for the guest. (Source).

6. Bonobos

Lead Investor: Felicis Ventures / Glynn Capital Management / Mousse Partners

Amount: $30 million

Round: Venture round

Twitter: @bonobos.

Origin: New York City, USA

Mission: Bonobos (www.bonobos.com) is an e-commerce brand focused on delivering great fit, a fun approach to style, and superb customer experience. Launched in 2007 on the Internet with better-fitting men's pants, Bonobos is now the largest apparel brand ever built on the web in the United States. In 2011 Bonobos extended offline, launching Bonobos Guideshops, e-commerce showrooms that delivers personalized, one-to-one service to those wanting to experience the brand in person. In 2012, Bonobos expanded its distribution partnering with Nordstrom, bringing Bonobos apparel into select doors nationwide and to Nordstrom.com. (Source).

7. Credit Karma

Lead Investor: Felicis Ventures / Ribbit Capital / Susquehanna Growth Equity

Amount: $30 million

Round: Series B

Twitter: @creditkarma.

Origin: San Francisco, USA

Mission: Credit Karma is the consumer's advocate for demystifying credit and has a range of tools and information resources to help them monitor and manage the credit aspect of their financial health. Credit Karma's goal is to help consumers easily digest the contents of their credit report and understand what makes up their credit score. Credit Karma works with a range of partners, including mortgage lenders, credit card providers, banks, and wireless providers. (Source).

8. Guavus

Lead Investor: Intel Capital /Investor Growth Capital / QuestMark Partners

Amount: $30 million

Round: Venture Round

Twitter: @guavus.

Origin: San Mateo, California, USA

Mission: Guavus provides a big data analytics platform integrated with a suite of decisioning applications that enable enterprises and service providers to embed intelligent, timely data driven decisions into agile businesses processes that create right time experiences and innovative new offerings. The company's Big Data analytics solutions use a highly scalable distributed approach to collect mine and fuse multiple disparate data sources to produce actionable, data and contextually aware insights. As more data sources connect to the platform, the applications iteratively update themselves to become richer and dynamically stream more valuable insights. Insights are displayed graphically through powerful, easy-to-use dashboards thereby democratizing decision-making across the enterprise and into the extended enterprise. (Source).

9. Ravello Systems

Lead Investor: Sequoia Capital / Norwest Venture Partners / Bessemer Venture Partners

Amount: $26 million

Round: Venture round

Twitter: N/A

Origin: Palo Alto, California, USA

Mission: Ravello Systems is the industry's first Cloud Application Hypervisor provider. With Ravello, enterprises can encapsulate their multi-VM applications and run them anywhere – on-premise or in any cloud – without making any changes whatsoever, and thereby implement a true hybrid cloud. Ravello is offered via an easy to use Software-as-a-Service and enables developers, devops and IT to use the unlimited resources of the public cloud to develop and test their applications. Ravello Systems is backed by top tier VCs including Sequoia Capital, Norwest Venture Partners and Bessemer Venture Partners. (Source).

10. MarkLogic

Lead Investor: Sequoia Capital / Tenaya Capital

Amount: $25 million

Round: Private equity

Twitter: @MarkLogic

Origin: Silicon Valley, USA

Mission: MarkLogic leads the advancement of Big Data with the first operational database technology for mission-critical Big Data Applications. Customers trust MarkLogic to drive revenue and growth through Big Data Applications enabled by MarkLogic products, services, and partners. MarkLogic is a fast growing enterprise software company and ushers in a new era of Big Data by powering more than 500 of the world's most critical Big Data Applications in the public sector and Global 1000. Organizations around the world get to better decisions faster with MarkLogic. (Source).

11. Urban Airship

Lead Investor: August Capital / Foundry Group / Intel Capital

Amount: $25 million

Round: Round D

Twitter: @urbanairship

Origin: Portland, Oregon, USA

Mission: Urban Airship enables brands to build relationships with their always-connected customers through services that streamline delivering highly targeted, cross-platform mobile push messages and Apple Passbook passes. Billions of push messages and tens of thousands of passes are delivered each month, sparking exceptional consumer experiences, driving app engagement and increasing customer loyalty and lifetime value for leading brands such as CBS Interactive, Cinemagram, ESPN, Groupon (NASDAQ: GRPN), Walgreens (NYSE: WAG) and

Warner Bros. (NYSE: TWX). The company's solutions handle the end-to-end process of high-performance push messaging, location-targeted messaging and Passbook pass management. (Source).

12. ElasticSearch

Lead Investor: Benchmark Capital / SV Angel

Amount: $24 million

Round: Series B

Twitter: @elasticsearch

Origin: Amsterdam, The Netherlands

Mission: Elasticsearch is on a mission to organize data and make it easily accessible. The company delivers the world's the most advanced open source search and analytics engine available and make real-time data exploration available to anyone. By having a laser focus on achieving the best user experience imaginable, Elasticsearch has become one of the most popular and rapidly growing open source solutions in the market. Today, Elasticsearch is used by thousands of enterprises in virtually every industry. We take good care of our customers and users, providing production support, development support and training worldwide. (Source).

13. Prosper

Lead Investor: Sequoia Capital / Draper Fisher Jurvetson / Crosslink Capital

Amount: $20 million

Round: Private equity

Twitter: @prosperloans

Origin: San Francisco, USA

Mission: Prosper is a people-to-people lending marketplace that attempts to make consumer lending more financially and socially rewarding. Prosper allows people to invest in each other in a way that is financially and socially rewarding. On Prosper, borrowers list loan requests between $2,000 and $25,000 and individual lenders invest as little as $25 in each loan listing they select. In addition to criteria commonly used by institutional lenders, such as credit scores, people who lend can consider borrowers' group affiliations. Groups functionality brings people together for the common goal of borrowing at better rates. Groups earn reputations according to their members' repayment records. Groups with successful repayment histories should attract more lenders offering lower rates. (Source).

14. Chartboost

Lead Investor: Sequoia Capital / Translink Capital / SK Telecom Ventures

Amount: $19 million

Round: Series B

Twitter: @chartboost

Origin: San Francisco, USA

Mission: Chartboost is the world's largest games-only technology platform and helps developers build a business around their creations. The company has the first and only Direct Deals Marketplace with a social network for game developers to connect and negotiate promotional deals to help get their games into the hands of more players as well as generate revenue. Chartboost also offers the industry's most transparent games-only network where developers can test promotional campaigns with more than 12,000 games, identify the best-performing partners and find the best fit for Direct Deals. Chartboost also provides cross-promotion technology completely free of charge so game makers can achieve success with each game launch. (Source).

15. Click Security

Lead Investor: Sequoia Capital / Lightspeed Capital / Citi Ventures

Amount: $17.7 million

Round: Series B

Twitter: @clicksecurity

Origin: Austin, Texas, USA

Mission: Click Security is disrupting the network security ecosystem with breakthrough data contextualization, visualization and analytics encoding required to automatically expose anomalous network activity before exfiltration or damage occurs. Headquartered in Austin, Texas, the company's focus on real-time analytics offers enterprises, higher education, critical infrastructure and government agencies a proactive security solution with unrivaled economics, high-speed performance and scalability. (Source).

16. Sprinklr

Lead Investor: Intel Capital / Battery Ventures

Amount: $15 million

Round: Venture round

Twitter: @sprinklr

Origin: New York City, USA

Mission: The Altimeter Group calls Sprinklr "the most capable" Social Media Management System to serve the needs of large organizations. We consider ourselves to be the only true Multi-Channel, Multi-Function, Multi-Division platform designed to make it possible-and profitable-for global brands to connect with their global social audience. We call it Social@Scale™. Sprinklr powers the enterprise Social Media Management infrastructure and provides social media services for many of the world's most social companies including Dell (NASDAQ: DELL), Virgin America (NASDAQ: VMED), Cisco Systems (NASDAQ: CSCO), DuPont (NYSE: DD), A&P, Samsung, and General Motors (NYSE: GM). (Source).

17. Drawbridge

Lead Investor: Sequoia Capital / Kleiner Perkins / Northgate Capital

Amount: $14 million

Round: Series B

Twitter: @drawbridge

Origin: San Mateo, California, USA

Mission: Drawbridge has developed the first self-learning ad technology that leverages insights from cross-device behavior to enable advertisers and marketers to reach targeted mobile audiences. Drawbridge's unique approach is built on a foundation of large-scale machine learning algorithms that correlate audience behavior across screens. Through its innovative technology, the company is able to gain insights and a much deeper understanding of mobile audience behavior than was previously possible. The company is located in Silicon Valley and is backed by Sequoia Capital, and Kleiner Perkins Caulfield and Byers. (Source)

18. Scodix

Lead Investor: Sequoia Capital / Israel Cleantech Ventures

Amount: $14 million

Round: Venture round

Twitter: N/A

Origin: Rosh HaAyin, Israel

Mission: Scodix Ltd. is the leading provider of digital print enhancement presses for the Graphic Arts industry, offering the breakthrough Scodix SENSE™ experience that delivers effective differentiation to print service providers, customers and products. (Source).

19. Pyramid Analytics

Lead Investor: Sequoia Capital

Amount: $11.5 million

Round: Series A

Twitter: N/A

Origin: Amsterdam, The Netherlands

Mission: Pyramid aims to deliver a BI platform that provides business users with the tools needed to gain insights about their business in a way that is natural, does not require any particular technical skills while allowing a depth of analysis comparable to the best applications available. Furthermore, in a singular tool, we've set out to satisfy both the casual data consumer as well as the power analyst. (Source)

20. Innovid

Lead Investor: Sequoia Capital

Amount: $11 million

Round: Series C

Twitter: @innovid

Origin: New York City, USA

Mission: Innovid delivers immersive video advertising, anywhere. Founded in 2007, Innovid provides visionary advertisers with the tools to create, deliver, and measure video campaigns, in any format, on any screen, publisher, and ad network. Innovid's video technology platform offers an advanced video Ad Server, developed to seamlessly deliver immersive video advertising anywhere and offering the same fluidity for pre-roll as well the most complex interactive ads. Innovid built its Ad Server to simplify video delivery across the ever-changing, multi-screen landscapes, and to take advantage of the increasing prevalence of connected TVs. As interactive video becomes the new normal, Innovid's iRoll brings alive this new dimension of online video, reimaging the possibilities for interactive engagement that captures consumer curiosity and draws the viewer deep into the brand experience. (Source).

21. Fortumo

Lead Investor: Intel Capital / Greycroft Capital

Amount: $10 million

Round: Series A

Twitter: @fortumo

Origin: Tartu, Estonia

Mission: Fortumo, founded in 2007, is the most developer-friendly mobile payments provider. We enable app and game developers to monetize their users through mobile operator billing in more than ~80 countries. (Source).

22. Mirantis

Lead Investor: Intel Capital / Dell Ventures / WestSummit Capital

Amount: $10 million

Round: Series A

Twitter: N/A

Origin: Mountain View, California, USA

Mission: Mirantis is a US provider of high-end software engineering and consulting services with software development centers located in California, Russia, and Ukraine. The company has a narrow focus on infrastructure computing/cloud computing with emphasis on open source. Specific areas of expertise include IaaS/OpenStack and Big Data/Hadoop. (Source).

23. WSO2

Lead Investor: Intel Capital / Cisco / Toba Capital

Amount: $10 million

Round: Venture round

Twitter: @wso2

Origin: Palo Alto, California, USA

Mission: WSO2 is the lean enterprise middleware company. It delivers the only complete open source enterprise SOA middleware stack purpose-built as an integrated platform to support today's heterogeneous enterprise environments internally and in the cloud. WSO2's service and support team is led by technical experts who have proven success in deploying enterprise SOAs and contribute to the technology standards that enable them. (Source).

24. Flatiron Health

Lead Investor: Google Ventures / First Round Capital / SV Angel

Amount: $8 million

Round: Series A

Twitter: @flatironhealth

Origin: New York City, USA

Mission: Flatiron Health is a health care technology company based in New York City. They're located in (where else) the Flatiron district, which is just above Union Square. The company was started by two of the founders of Invite Media, an advertising technology company acquired by Google in 2010. Their investors include Google Ventures, First Round Capital, and LabCorp. (Source).

25. Altobridge

Lead Investor: Intel Capital

Amount: $7.8 million

Round: Private equity

Twitter: @altobridge.

Origin: Ireland

Mission: Altobridge wireless network solutions provide a lower capital and lower operating cost option for the delivery of voice and mobile broadband services, enabling mobile network operators to connect unconnected communities and enterprises at minimum cost. Central to this lie a series of patented and patent-pending technologies namely; Data at the Edge, (data optimisation in wireless networks), Local Connectivity, (local voice switching) and Split Architecture (transmission and power optimisation), all of which individually and combined drive down communications delivery costs for mobile network operators, by reducing backhaul and power consumption costs. (Source).

26. Virool

Lead Investor: Y Combinator / Thomvest Ventures / SV Angel

Amount: $6.62 million

Round: Seed funding

Twitter: @virool

Origin: San Francisco, USA

Mission: There are over 2 million videos being uploaded to the web every day and 95% of them get less than 1,000 views. No matter how funny, appealing or shocking video is, it's not going to go viral unless enough people discover it and begin sharing it. That's where Virool comes in. Virool helps anyone with a video to get noticed. Virool is a self-serve social video advertising platform that allows anyone with a video to reach their desired target audience on Facebook, mobile phones and niche sites. Advertisers can start a campaign for as little as $10 and can target the exact individuals they would want to reach with their video. (Source).

27. Big Switch Networks

Lead Investor: Intel Capital / Goldman Sachs / Index Ventures

Amount: $6.5 million

Round: Venture round

Twitter: @bigswitchnewsl

Origin: Palo Alto, California, USA

Mission: Big Switch Networks was founded in 2010 to bring the benefits of virtualization to enterprise networks. Big Switch is headquartered in Mountain View, California. (Source).

28. Persimmon Technologies

Lead Investor: Intel Capital

Amount: $5.8 million

Round: Series B

Twitter: N/A

Origin: Wakefield, Massachusetts, USA

Mission: Headquartered in Wakefield, MA, Persimmon's management team has over 60 years of experience in the development, manufacture, and distribution of atmospheric and vacuum robotics, vacuum modules, and automation systems. (Source).

29. Matterport

Lead Investor: Felicis Ventures / Qualcomm Ventures / Greylock Partners

Amount: $5.6 million

Round: Series A

Twitter: @matterport.

Origin: Mountain View, California, USA

Mission: Matterport, a Mountain View, California-based developer of solutions for rapid 3D scanning of spaces and objects. (Source).

30. 500friends

Lead Investor: Intel Capital / Y Combinator / Crosslink Capital

Amount: $5 million

Round: Series B

Twitter: @500friends.

Origin: San Francisco, USA

Mission: 500friends is the trusted provider of next generation loyalty marketing solutions to over 40 of the Internet Retailer 1,000 brands. (Source).

31. Storenvy