EnterpriseJungle Could Become One Of The Biggest Self-Funded Startups
EnterpriseJungle, a predictive analytics company, does not have a multi-million-dollar contract with a venture capital firm.
It does not have a Board of Directors filled with Silicon Valley's most recognizable names.
But as corporate and individual users discover the benefits of EnterpriseJungle, they are quickly falling in love with its features.
"We're bootstrapped -- we're not ramen noodles living in a garage," James Sinclair, co-founder of EnterpriseJungle, told Benzinga. "I've had some prior, moderate successes and I've been in this industry for many years, so when approaching this I thankfully had sufficient capital to be able to fund this project."
Related: Bulk Meat Startup Zaycon Delivers Lower Prices, Fresher Food And Faster Recalls
His investment is paying off. EnterpriseJungle has gotten the attention of employees at a number of prominent firms, including Hewlett-Packard (NYSE: HPQ), Cisco (NASDAQ: CSCO), Procter & Gamble (NYSE: PG) and AT&T (NYSE: T).
"We can find the people missing in your network that you should know, and we can find the people that you should know but don't," Sinclair explained. "We provide this very [specific] value on top of your existing ESN (enterprise social network) provider -- Jive, Yammer, SuccessFactors -- whatever it is, we're able to jump in there…and sit on top of any data set, and provide recommendations."
In making a recommendation, EnterpriseJungle provides two key benefits:
It inspires employees to actively engage because they are curious about the recommendations and who they should meet.
It allows employees to benefit from each other in ways they may not have anticipated.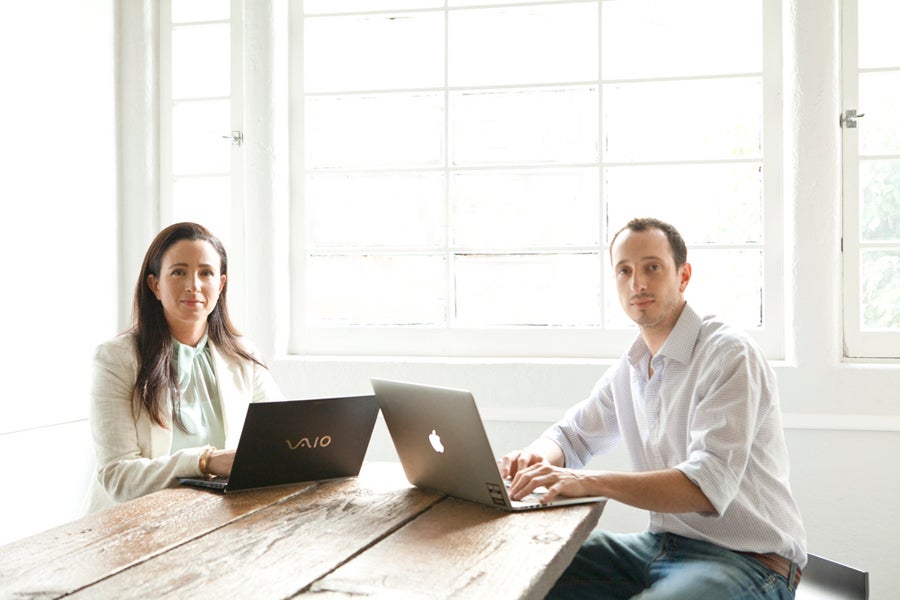 Emma Sinclair and James Sinclair, the siblings behind EnterpriseJungle.
Image Credit: EnterpriseJungle
Sinclair used Coca-Cola (NYSE: KO) as an example. If an employee is working on a Coke contract for the Olympics, he or she may want to know if a co-worker has worked on something similar. Another employee may be able to provide key research or offer some advice that could be helpful.
Disclosure: At the time of this writing, Louis Bedigian had no position in the equities mentioned in this report.
Louis Bedigian is the Senior Tech Analyst and Features Writer of Benzinga. You can reach him at louis(at)benzingapro(dot)com. Follow him @LouisBedigianBZ
Posted-In: AT&T Cisco Coca-cola Coke EnterpriseJungle hewlett-packard HP James Sinclair OlympicsSuccess Stories Startups Tech Interview Best of Benzinga
Around the Web, We're Loving...
Related Articles (CSCO + HPQ)
Partner Network