Can Ubi Harness the Power of Hulu for a Better Viewing Experience?
Ubi, a new streaming video curator currently in beta, aims to deliver the Web's best videos through one convenient site. But can it?
Conceptually, Ubi – located at myUbi.tv – is one of the more inventive video aggregators available. Its layout is clean and familiar, taking cues from cable guides, TV Guide, and other staples within the industry.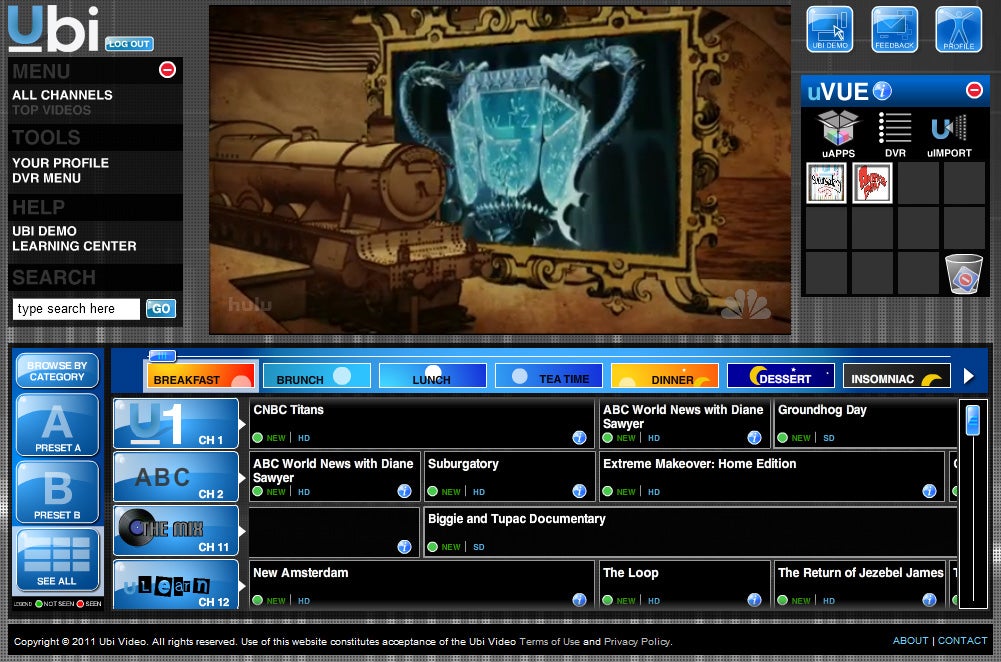 But while a cable guide is typically used to display shows that are currently airing (along with those scheduled to air throughout the day), Ubi's guide-style layout consists of shows that are available to stream right now. These shows include Modern Family, House, Community, The Middle, Suburgatory, and many other shows currently available from Hulu. That's because Ubi uses Hulu – as well as Crackle, Netflix, and other existing video sources – to power its content.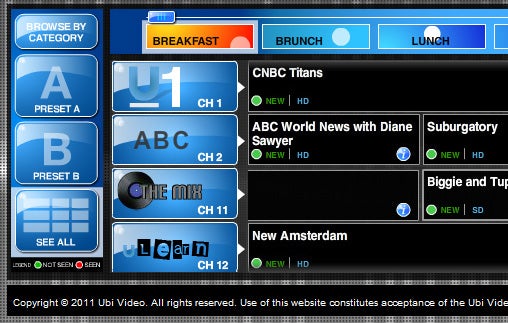 In terms of simplicity, the layout is cool, fun and different. While Hulu's layout gets the job done, I tend to go right to the search box every time I visit the home page. I rarely click around unless something catches my eye, in which case I click on that one particular video and little else. But with Ubi, I'm sort of tempted to click all over the place. While it is wholly possible that this a temporary effect, I'm thinking that if new content was filtered through here all the time, this might be one of the more effective layout options available.
From the main page, there are currently 13 channels to choose from: U1, ABC, NBC, Fox, Syfy, Overdrive, Comedy Central, Animation Station, MTV, VH-1, The Mix, U Learn, and National Geographic. CBS (NYSE: CBS) is noticeably absent, but you can blame the network for that. In addition to avoiding Hulu like the plague, CBS has treated Internet streaming as some kind of horrifying beast.
While any program may be watched at any time, they are currently separated by network and by seven different timeframes: breakfast, brunch, lunch, tea time, dinner, dessert, and insomniac. "Like" and "Dislike" buttons have been implemented, but it is not yet clear how Ubi intends to use them to promote a video that receives a ton of praise or vice versa. By clicking on the "Like" button, users will notice that it turns green; click on the "Dislike" button and it will turn a funny shade of pink (is it supposed to be red?).
Ubi currently offers two preset options that allow users to drag-and-drop any of the 13 channels into one of the preset boxes. After gathering any and all desirable channels, users can then click on the presets to view their selections. For the moment, this feature isn't really necessary. But as Ubi continues to expand its channel base, it could become an important part of the site's future.
Individual shows cannot be added to the preset list, but they can be saved to another section of the site called uVUE.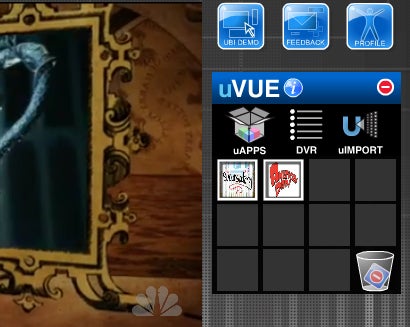 But instead of dragging and dropping shows into uVUE, users will have to mouse over a show and click the green-and-white plus symbol that appears. This, unfortunately, is where users will run into some problems.
A large number of videos cannot be added to the shortcut menu (also known as a Digital Video Reference Center, or DVR for short), as explained by an error message that appears: "Sorry, we don't track this show currently."
By "track," Ubi means that it will tell you when the newest episode of a particular show is available, or when an old episode is about to expire. This is a nice feature, but it introduces yet another issue.
Since the majority of Ubi's content comes from third-party sources, the site is currently at the mercy of the other content providers. Whereas Hulu and Netflix can update their offerings whenever they please, Ubi must wait for the aforementioned content providers before its site can be refreshed. This will be particularly evident the moment users realize that cancelled shows (Trauma, Outlaw, and New Amsterdam, to name a few) are featured alongside critical stalwarts (Parks and Recreation) and new cable shows (Being Human).
To expand its content base even further, Ubi allows users to import videos with nothing more than a website URL. Unfortunately, this feature does not seem to be up and running just yet. I attempted to load two videos – one from YouTube and one from College Humor – but neither worked. The site does not currently say which video formats will be supported, so it is possible that neither is compatible with Ubi.
Netflix (NASDAQ: NFLX) subscribers can filter their videos through Ubi, but since I am not a subscriber, I was unable to test this feature. Apps for ESPN and Amazon (NASDAQ: AMZN) are also in development.
Clearly, Ubi has some work to do before the site is ready for primetime. But its biggest challenge could be one that it may have no control over: picture quality. While the homegrown Ubi player provides a decent picture, the Hulu embeds are not nearly as good as the videos displayed at Hulu.com. Whether or not Hulu does this on purpose, I don't know. But while users can adjust the picture quality on Hulu.com (360p and 480p for users who don't subscribe; 720p for those with a Hulu Plus account), they cannot do the same with the Hulu embeds on Ubi. They can, however, adjust the resolution of the Crackle videos (360p or 480p).
Follow me @LouisBedigian
Posted-In: Crackle ESPN Hulu myUbi.tv Netflix UbiStartups Tech Best of Benzinga
Partner Network
Around the Web, We're Loving...
Related Articles (AMZN + CBS)
Partner Network