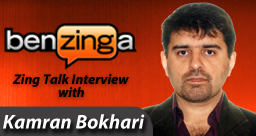 In today's episode of Zing Talk, we talk with Kamran Bokhari, Director of Middle East Intelligence for STRATFOR.
Welcome to Zing Talk, where Benzinga brings you the biggest names and brightest minds from Silicon Valley to New York City.
I'm Matthew Boesler. Joining me on the line is STRATFOR [6] Director of Middle East Intelligence Kamran Bokhari.
Kamran, how are you today?
Kamran Bokhari: I'm doing good, thank you.
Let's quickly touch on Libya before we move to the Gulf. We're starting to see reports that U.S. and European military advisers are in the eastern provinces helping to organize the opposition for a possible confrontation. What is STRATFOR's read on the situation there at the moment?
Kamran Bokhari: At this point, it's really difficult to say what exactly is happening on the ground because a) reliable information is hard to come by. This is a closed state and on top of that it's in a state of commotion.
Second, there is an interest on the part of the opposition to spread all sorts of information that may not necessarily be true. The same goes for the regime. Everybody's trying to serve their own purposes.
The third thing is that we have a situation where, for the West, it's very difficult to come out strongly on one side. They can't allow Colonel Qadhafi to continue to go ahead and kill people, and they have to speak out against that and try to prevent that, and, you know, the meetings at NATO and the UN Security Council, but at the same time, you don't want to push the Qadhafi regime too hard, because if it falls, then what we're looking at is a power vacuum that could lead to anarchy, chaos, or even civil war.
Keep in mind that there are no institutions or groups that can effectively step in and take charge. Even the military institution in Libya is very different from what we saw in Tunisia and Egypt where sitting presidents were essentially told to go home by the military which then quickly tried to stabilize the situation and there's some sort of semblance of normalcy coming back to those two countries. In sharp contrast, in Libya, the Libyan military was designed to be kept very weak by Colonel Qadhafi for fear of the rise of rivals.
Reuters is reporting out of Benghazi a quote from an opposition leader who said, "The oil deals with foreign companies that are legal and to the benefit of the Libyan people we will keep." In the event of a power vacuum, do you forsee this as an issue in facilitating the swift return of the multinationals to reopen for business in Libya?
Kamran Bokhari: From the point of view of the multinationals, especially the oil companies, the big concern is who they do business with. They've been doing business with the Qadhafi regime. Whether the oil was exported from the eastern parts of the country near Benghazi, or whether it was exported from the places close to Tripoli in the west, the payments went to the Qadhafi regime. Now, that situation has changed.
Now, the questions on the minds of the multinationals are: who do they pay? Who do they do business with? Who are the opposition people? Are they reliable? You know, just who are they? Right now, we talk about opposition, we talk about defecting soldiers, we talk about vague groups in Benghazi and in other towns, but effectively, we really don't know who these people are in terms of identity.
So it's going to be really difficult for the multinationals to basically put their faith in anyone at this point. I mean, the Qadhafi regime seems to be crumbling, the other side doesn't seem to be a coherent, cohesive force, so that's the big dilemma.
Now, you released a dispatch yesterday regarding the unrest in Bahrain and why that matters so much. We've seen with the return of King Abdullah to Saudi Arabia a raft of social spending measures that have been implemented to stave off any unrest. Obviously this didn't work in Libya for Colonel Qadhafi, but is there a different dynamic in Saudi Arabia wherein these spending measures would deescalate any sort of unrest that may arrive there?
Kamran Bokhari: The spending measures are not the issue here. What matters is the social and political fabric of Saudi Arabia, which is completely different from what the situation is in Libya.
In Libya, Colonel Qadhafi ruled in a very, if you will, typical autocratic way through the use of force and the use of money to bribe. In other words, it was a typical autocratic authoritarian state.
In Saudi Arabia, in sharp contrast, the House of Saud, the royal family, is not just some royal family sitting way up there, far removed from the masses. They are very much rooted in each of the provinces and each of the tribes through marriages. The royal family is not a small group of people. We're talking, by conservative estimates, 30,000 members of the royal family. These are really conservative numbers; nobody really has a good idea, but by extension, you could easily see that the number of people linked to the royal family could go into six figures because there are connections with various people through marriages, through tribes, through familialism. Then, of course, it has far more money.
And then, the social norms are very different. The social norms in Saudi Arabia are very conservative, not just religiously but socially as well. The political culture has essentially re-enforced the idea of a benevolent monarch and it is the Saudis that have basically led Arabia out of the medieval dark ages. That kind of perception is still very widespread, so I think that's what the Saudis are banking on as opposed to just an $11 billion fresh spending package for social services, which is really small change.
Even before the current unrest, the Saudis already had announced that they would be spending something like $600 billion over a period of years to invest in infrastructure and jobs and what not throughout the country.
Right, but there is some sense of political unrest that could arrive there, correct?
Kamran Bokhari: Yes, there is, but we need to qualify and quantify that. What does that mean if there's going to be unrest in Saudi Arabia. Will it look like Tunisia? Will it look like Egypt? Will it look like Libya? I don't think so.
I think that it's going to be a really gradual development. We're probably looking at, when that happens, protests in the Hejaz region, which is the western region near the Red Sea. That's where the biggest cosmopolitan city of Jeddah is. That's where, for lack of a better term, you have the more liberal-minded segments of society as opposed to Najd which is the interior, where it's socially and religiously very conservative.
Once mainstream Saudis, if they're able to gather enough people to protest, and I'm not talking violent, just peaceful protests, it remains to be seen whether the Saudis will allow those protests or not. But if they happen, and then we're talking about Shia.
The Shia are not going to come out and jump the gun here. They're not going to prematurely act. They're going to want mainstream Saudis to come out before they come out, because otherwise they risk turning this into a sectarian thing and the government can easily crack down on them. So it's going to be really slow and it's not going to be as widespread.
And again, there are enough levers at the disposal of Riyadh that they can use to diffuse the situation.
Right, so if it gets to the point where some sort of conflict indeed spills into Saudi Arabia, the size and the structure of the regime will most likely allow them to seek a resolution in a way that would cause minimal or no disruption to crude oil output, right?
Kamran Bokhari: Very likely, because ultimately, and I think that on a certain level this is the case in Libya as well, there are all sorts of people who don't like Colonel Qadhafi for a variety of reasons. They don't like the regime. But they also don't like the idea of a power vacuum. So, in other words, he is seen as a necessary evil.
This sentiment is far more intense in Saudi Arabia. They may not like the royal family necessarily, they may not agree with everything they do, but at the same time, they don't like the prospect of chaos in the country.
There is a certain comfort zone as well. For the Saudis, they enjoy a pretty decent standard of living. It's very difficult for people who have this comfort zone to leave those comfort zones and come out on the streets and protest and risk everything. So there is that factor as well.
Sure, and you mentioned in your dispatch yesterday Kuwait as well. What is the situation in Kuwait?
Kamran Bokhari: Right now, whether it's Kuwait or Saudi Arabia, everything depends on what happens in Bahrain.
Bahrain is the litmus test. That's where the Shia are seventy percent of the population. Any negotiation between the monarchy and the opposition will likely empower the opposition, the majority of which are Shia. Now, if that happens, so for example, right now, they're saying, we don't want the end of the monarchy, what we want is the monarchy to share more power and check power and give some of the powers over to the parliament.
That's something that the Kuwaiti parliament has been asking for several years now, ever since the emirate involved itself in democratic politics and opened up parliament. This was right after the first Gulf War and more so in the last six to seven years.
So, if the Shia in Bahrain strike some sort of, even a partial victory, it could energize the opposition in Kuwait where there are 30 percent Shia. And of course, there are other opposition people as well within parliament. This at a time when parliament has already been engaged in a tug-of-war with the royal family, so it creates a dynamic where they say, you know, if they can do it, why can't we? We've been at it far longer, and then the next thing is Saudi Arabia. There, there is a 20 percent Shiite population and it's concentrated in that area near Kuwait and Bahrain which is the eastern province and the oil-rich province of Saudi Arabia on the Persian Gulf coast.
The regimes in Saudi Arabia and Kuwait have obviously been watching very closely what's been going on for the last month or so across the region. Don't you think that they will see some sort of democratization as a very attractive alternative to essentially what's been going on in the other countries?
Kamran Bokhari: Let's look at Saudi Arabia. In Saudi Arabia, democracy is really complicated. Let's not even use the word democracy, let's just say the political reform, because democracy has certain connotations.
Political reforms are a problem for the Saudi ruling family because they're in the middle of a really historic impasse. The sons of the founder of the modern kingdom are aging and dying out. The top four leaders of the country, the king, the crown prince, the second deputy prime minister, and the governor of Riyadh province -- they're all, the top three are in their 80's, and the fourth is 75 plus. These are old men, which means they're going to pass away soon, and power will have to devolve toward the grandsons, and there are a lot more grandsons then there are sons.
This is sort of a natural thing, but in the case of the Saudis, where the founder had dozens of sons, he has scores of grandsons, so there is more competition.
And then there is the Allegiance Council that was instituted in 2007 by the current king as a way to formalize the succession process. That institution and the laws that were created in 2007 have remained untested, they've never been used.
So we're entering into a tricky era, and on top of that, if you have calls for political reform, that really messes up that entire dynamic that's playing.
On top of that, political reforms disempower -- all things being equal -- the religious establishment which has been a key pillar of the legitimacy of the Saudi state. They're a really influential group.
So far, the reforms of the Saudi king that he's been gradually pushing over the last six, seven years have been able to keep the bulk of the religious establishment to his side. Now, those people can get really upset, so that's another problem.
The third thing is, any political reform means more rights for Shia. That becomes a huge problem because that empowers Iran, that weakens the House of Saud, and it really creates an internal struggle within the establishment of Saudi Arabia because there are those who say they need to be able to accommodate the Shiites, we can't just shut them out.
But then there are those who say, sure, but we don't want to do something that would inadvertently empower them where we'll be crying afterwards. So, that really upsets everything. So political reforms anything more than King Abdullah has been doing at a sort of piecemeal, snail's pace, are really risky business for the Saudis.
So, real quickly, if we're going to see this sort of conflict that we're seeing in Bahrain spread to Kuwait and Saudi Arabia, what sort of timeframe are we looking at for that?
Kamran Bokhari: It's really difficult to put an exact timeframe. We really need to see how the dynamic between the opposition and the government plays out in Bahrain.
I don't mean the Shia and the opposition forces in Kuwait and Saudi Arabia are just waiting for the outcome and they're not doing anything -- they are. But really, everybody's looking at what happens in Bahrain.
Look at how the King of Saudi Arabia met with the King of Bahrain, and yesterday he met with the Emir of Kuwait. I actually spoke with him over the phone. Everybody's watching and trying to manage the Bahraini situation, so it's really unclear.
We're really looking at a minimum of a few months, at least, and that's a really conservative estimate. You know, it's probably going to take much longer. Keep in mind that the Saudis have been in power since the mid 1750's. They've weathered a lot of challenges, which includes abdication, assassination of the king, external threats, collapse of the state on two occasions, religious risings, militance and so on and so forth. They've proven really resilient.
All right. Kamran Bokhari, Regional Director of Middle East Intelligence at global intelligence company STRATFOR [6]. Kamran, thank you so much for coming on the program today.
Kamran Bokhari: My pleasure. Take care.