Benzinga Weekly Preview: Economic Data To Drive Markets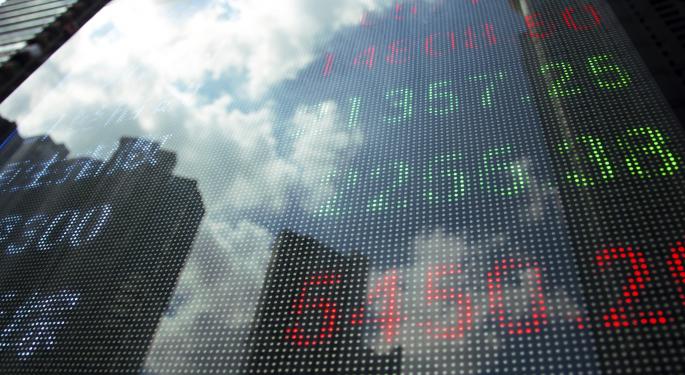 Economic data will play a major role next week with several highly anticipated releases due out. The European Central Bank will make its interest rate decision on Thursday amid speculation that President Mario Draghi will follow through on his promise to do everything it takes to combat the region's falling inflation.
A U.S. non-farm payrolls report is also expected to show that the U.S. labor market improved further in August with the unemployment rate seen dropping. A better than expected report will likely reignite speculation that the Fed could raise its interest rate sooner than expected.
Key Earnings Reports
Next week investors will be waiting for several key earnings reports including PVH (NYSE: PVH), Joy Global (NYSE: JOY), UTi Worldwide (NASDAQ: UTIW) and Toll Brothers (NYSE: TOL).
PVH
PVH is expected to report second quarter EPS of $1.42 on revenue of $1.99 billion, compared to last year's EPS of $1.39 on revenue of $1.96 billion.
On July 10, Merrill Lynch gave PVH a Neutral rating with a $125.00 price objective, cautioning that the company could face global headwinds in the coming quarter.
"Risks to the downside are weakening in traffic and comp sales trends, slowdown in global macro trends, FX fluctuations, and increased markdown allowances. Risks to the upside are better than forecast top line growth, upside to expected synergies from WRC acquisition, more favorable FX trends, and improving global macro trends."
On June 26, Credit Suisse gave PVH an Outperform rating with a $144.00 price objective, noting that Calvin Klein's brand rehabilitation will likely help drive the company in the coming year.
"We are increasingly impressed by improved merchandising of Calvin Klein product at retail in the United States. As a result, we are compelled by the potential turnaround of revenue growth and margins at Calvin Klein. In our view, brand rehabilitation initiatives are shifting from a phase of investment in merchandising and operations to a phase of improving sell-through and leverage of fixed infrastructure. As a result, we reiterate PVH as one of our top investment ideas and our target price of $144."
On August 23, S&P Capital IQ gave PVH a Buy rating with a $150.00 price target, citing the company's growth potential in Asia and Latin America for their optimism.
"We remain mostly constructive on the ongoing integration of the acquisition of Warnerco -- which previously licensed its Calvin Klein jeanswear and underwear businesses. The deal should enable PVH to accelerate growth by leveraging Warnerco's presence in Asia and Latin America, and to improve profitability of the Calvin Klein business in Europe, with jeanswear a near-term focus. To this end, PHS has started its reduce distribution to the off-price channel and planned to close 25 to 55 Calvin Klein Jeans stores over the ensuing months. Given a successful track record with acquisitions, we look for a turnaround in jeanswear starting in FY 15, and see supportive momentum in the global Tommy Hilfiger business."
Joy Global
Joy Global is expected to report third quarter EPS of $0.84 on revenue of $934.25 million, compared to last year's EPS of $1.70 on revenue of $1.32 billion.
On June 27, Merrill Lynch gave Joy Global a Buy rating with a $70.00 price objective, citing flat met coal price settlement as reason for their optimism.
"We reiterate our contrarian Buy on Joy Global on the back of a flat quarterly met coal price settlement at $120/MT. While the price settlement is not big surprise, this resonates with our thesis that Joy's earnings are bottoming despite very difficult coal fundamentals, supported by the fact that 70% of sales are now coming from the aftermarket business. Mining aftermarket orders have now been up for two quarters in a row. We also think Joy's strong FCF attributes are often overlooked, and see potential upside to $70 per share, or 22x trough EPS as the company resumes buyback activity in 2H14, and investors slowly gain greater confidence in an earnings bottom. A tighter natural gas market brought on by a hot summer could also promote thermal coal production activity in the PRB, but this remains to be seen.Recently, rail bottlenecks have remained an obstacle for coal producers in the PRB."
On August 22, Morgan Stanley gave Joy Global an Equal-Weight rating with a $56.00 price target, saying that the company's earnings release will likely be uneventful.
"Largely, we expect JOY's 3Q14 earnings to be a non-event, so long as bookings continue to improve and management reiterates full year guidance. However, we continue to project downside to FY15e (MSe 12% below cons), which we believe is driven by our expectation for another 7% Y/Y decline in OE revenue (partially offset by 3% growth in A/M). Maintain EW."
On August 22, S&P Capital IQ gave Joy Global a Hold rating with a $67.00 price target noting that demand for Joy's products will likely improve in the coming year.
"Though we continue to see a weak business outlook for JOY, we think markets are bottoming and the current outlook is discounted into the company's stock price. We think overall demand for the company's products will start to improve in FY 15, as stimulus programs in various geographic markets should eventually assist JOY's business. We also think commodity surpluses should continue to be worked down to the point where expanded production is necessary. This should help drive increased demand for JOY's products."
UTi Worldwide
UTi is expected to report second quarter EPS of $0.02 on revenue of $1.14 billion, compared to last year's EPS of $0.05 on revenue of $1.13 billion.
On August 23, S&P Capital IQ gave UTi a Buy rating with a $13.00 price target, but cautioned that the company could face some headwinds as transportation costs rise.
"Given a recent price drop, we find the shares attractive at recent levels. While UTIW is likely to be hurt by falling air freight volumes, we expect some improvement in demand as we move through calendar 2014. We also believe results will be hurt in FY 15 by rising purchased transportation costs for air and ocean freight volumes, but see additional capacity coming online over time, which should help with this issue. UTIW should get better traction from recent restructuring actions in FY 16. UTIW has had an erratic operating performance, with several recent EPS misses versus consensus expectations, but we see improved financial performance in FY 16."
Toll Brothers
Toll Brothers is expected to report third quarter EPS of $0.45 on revenue of $989.29 million, compared to last year's EPS of $0.26 on revenue of $689.16 million.
On June 24, Merrill Lynch gave Toll Brothers a Buy rating with a $49.00 price objective, noting that the company could be one of the best investment options in the homebuilding sector.
"TOL continues to be our top pick in homebuilding. TOL affords investors accelerating gross margins versus peers, a higher quality product and customer mix, and levers to further drive operating leverage. Meantime, TOL's valuation is attractive, trading at a current 1.8x book versus a normal 2.2-2.3x. Importantly, TOL is also trading at a 0.3x discount to peers whereby it has historically traded at a 0.3-0.4x premium. On a 2016 P/E basis (we expect 2016 to be a normalized housing year), TOL is trading 11.5x P/E below its normalized 12-13x."
On July 31, Credit Suisse gave Toll Brothers a Neutral Rating with a $39.00 price target, noting that customer confidence could present a challenge in the coming months.
"Risks to TOL achieving our $39 target price are (1) on the positive side, greater than expected margin expansion from increased pricing power in the high end market, more meaningful sales growth and cost leverage, or lower mortgage rates; (2) on the negative side, a slowing at the high end of the market due to weaker buyer confidence, which would impact TOL more than others, higher mortgage rates, or renewed price declines."
On August 23 S&P Capital IQ gave Toll Brothers a Buy rating with a $42.00 price target, citing the company's strong balance sheet as reason.
"We have a favorable view of TOL's geographic revenue mix and high concentration of communities in the near-luxury market segment, including urban properties. We see TOL gaining market share from private luxury builders. We think TOL stands to benefit from a business model that is focused on high-end homes, what we view as a strong balance sheet, and capable management. FY second quarter results, for the quarter ended April 30, affirmed our positive outlook, with a 67% increase of revenues, on a 22% increase of average prices, and 36% unit growth, helped by a recent acquisition."
Economic Releases
The European Central Bank will be in the spotlight next week with its September policy meeting set for Thursday. Markets are filled with speculation about whether or not the bank will raise its main interest rate in order to combat the region's falling inflation and weakening economy. While most don't expect the bank to act in September, many see further easing within the next four months.
Daily Schedule
Monday
Earnings Releases Expected: No notable earnings releases expected
Economic Releases Expected: British consumer credit, British manufacturing PMI, German manufacturing PMI, French manufacturing PMI, Italian manufacturing PMI, eurozone Markit PMI, German GDP
Tuesday
Economic Releases Expected: Australian GDP, U.S. manufacturing PMI, eurozone PPI, British construction PMI, Reserve Bank of Australia interest rate decision
Wednesday
Economic Releases Expected: Australian trade balance, U.S. factory orders, U.S. redbook, eurozone retail sales, German services PMI, French services PMI, Italian services PMI
Thursday
Earnings Expected From: UTi Worldwide (NASDAQ: UTIW), Verifone Systems (NYSE: PAY), Joy Global (NYSE: JOY), Finisar (NASDAQ: FNSR). CIENA (NASDAQ: CIEN)
Economic Releases Expected: U.S. ISM non-manufacturing PMI, U.S. services PMI, U.S. trade balance, European Central Bank interest rate decision, Bank of England interest rate decision, eurozone retail sales, French unemployment rate
Friday
Earnings Expected From: No notable earnings releases expected
Economic Releases Expected: U.S. unemployment rate, U.S. nonfarm payrolls, eurozone GDP, French consumer confidence, German industrial production
Posted-In: Earnings News Guidance Previews Global Econ #s Pre-Market Outlook Trading Ideas Best of Benzinga