The PC Is Nowhere To Be Found At CES This Year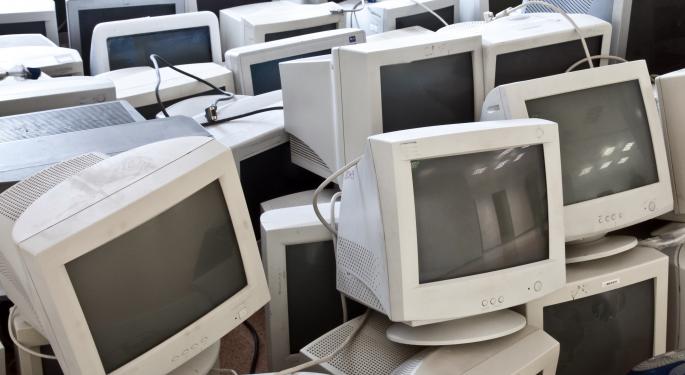 Each year, the Consumer Electronics Show in Las Vegas attracts all of the techiest of the techies as well as media covering the newest product innovations both from a technology and a business angle.
As reports emerge from the show, there seems to be something missing this year: The PC—specifically, Microsoft (NASDAQ: MSFT).
Microsoft-faithfuls will argue that the company wasn't a part of the show last year either but the company was the dominant presence at CES for more than a decade. It has the perfect inroad to reach its target market especially since Apple and Google don't officially attend the show either.
It's not that Microsoft is completely snubbing the show.
According to The Verge, Steve Ballmer ran on stage with Qualcomm and Microsoft executives joined the Samsung press event along with a ton of backdoor meetings, but the company isn't making much of an effort to be in the forefront of the mind of the average techie.
Even manufacturers who include Windows as their OS of choice aren't making any kind of a splash. Dell and Hewlett-Packard have nothing new to show and Sony and Toshiba put some small changes on already-released products. Lenovo's 8-inch ThinkPad and Asus' new 8-inch tablet are about the only new products in the PC space and those aren't computers.
Related: Chinese Technology ETFs Outperform
"I think a lot of vendors are likely standing down on laptops simply because they're not selling at the volume they'd like, so they're reducing their investment in the form factor and trying tablets and other form factors instead," says analyst, Wes Miller.
Data released this week showed PC shipments down 10 percent in 2013—the largest drop yet. The data prove that the decline is accelerating and increasingly, people are moving to mobile devices instead of the traditional laptop. PC manufacturers can see statistics like this taking shape long before a research firm compiles the data. It's a safe to say that companies invested heavily in the PC are rethinking their strategy going forward as the form factor is clearly going the way of the compact disk.
That doesn't mean that the PC as a concept is necessarily dead—just changing.
People still pair keyboards with their tablets and use them like laptops. Hardware manufacturers are innovating rapidly but software, on the other hand, is where the challenge really lies.
Windows has been Microsoft's flagship product for decades but its popularity is quickly diminishing. Even after it's bold Windows 8 reboot, Android and iOS still reign supreme right now.
CES is a snapshot of consumer demand. Reading the reports coming from the show make it clear that everybody wants mobile and even the most faithful are ditching their "computer."
Disclosure: At the time of this writing, Tim Parker was long Apple.
Posted-In: Apple CES Google LenovoNews Rumors Events Tech Best of Benzinga