Benzinga's M&A Chatter for Wednesday November 6, 2013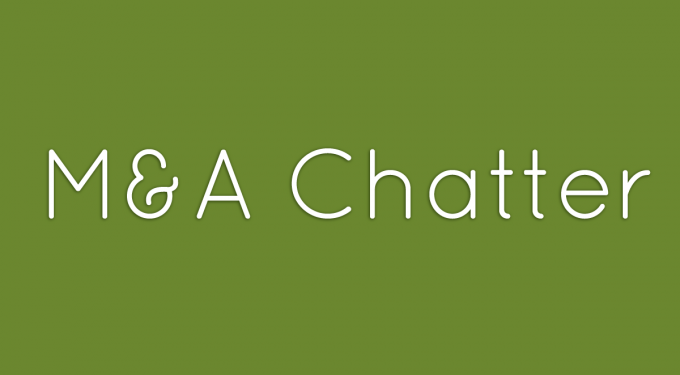 The following are the M&A deals, rumors and chatter circulating on Wall Street for Wednesday November 6, 2013:
Hearing Chatter of GlaxoSmithKline Interest in Sarepta
The Rumor:
Shares of Sarepta (NASDAQ: SPRT) rose Wednesday on chatter of possible interest from GlaxoSmithKline (NYSE: GSK). Sarepta is planning to submit an NDA to the FDA for their Duchenne muscular dystrophy treatment, Eteplirsen, in the first half of 2014.
A spokesperson for Sarepta declined comment on the rumor. A GlaxoSmithKline spokesperson was not available for comment.
Sarepta closed Wednesday at $36.57, a loss of 4%.
Nexstar Broadcasting to Acquire Seven Television Stations in Four Markets for $87.5 Million in Accretive Transaction
The Deal:
Nexstar Broadcasting Group (NASDAQ: NXST) announced Wednesday that it has agreed to acquire the stock of Grant Company, the owner of seven television stations in four markets for $87.5 million. The transaction is expected to be immediately accretive upon closing.
Simultaneously, Mission Broadcasting will purchase one of the Grant stations from Nexstar and, upon consummation of the transaction, enter into local service agreements with Nexstar.
The deal is expected to close in Q1 2014.
Nexstar Broadcasting Group closed Wednesday at $44.07, a loss of 4.5%.
NGL Energy Partners to Acquire Gavilon's Energy Business for $890M in Cash
The Deal:
NGL Energy Partners LP (NYSE: NGL) announced Wednesday that it has agreed to acquire all of the equity interests of Gavilon,
LLC, the diversified midstream energy business owned by funds managed by Ospraie Management, General Atlantic and Soros Fund Management, for a cash purchase price of $890 million, including approximately $200 million of working capital. The deal is anticipated to close in December 2013.
NGL Energy Partners closed Wednesday at $31.51 a loss of $0.02.
Around the Web, We're Loving...