SLIDESHOW: U.S. Cities On The Rise, But Not The Ones You Might Think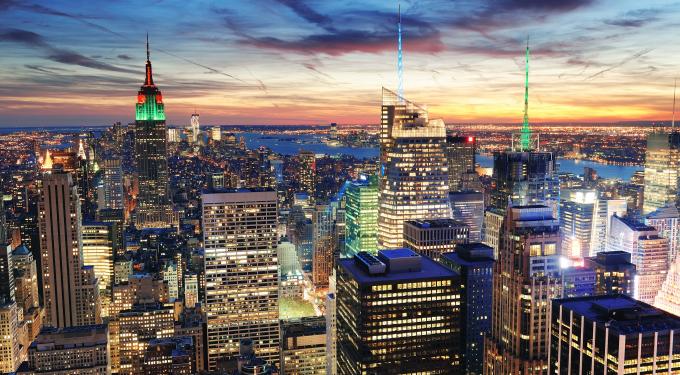 The last several years have seen the beginning of an exponential shift in the economic prowess of U.S. cities.
If you were to ask the average layperson which cities he or she believes are on the rise in terms of not only financial growth, but also sustainability, you might get the standard answers like Seattle or San Francisco.
Those answers would not necessarily be wrong, but now U.S. cities that were not previously known for their economy might be stepping up and increasing their economic output. The result has been an increased standard of living for their residents, due to increased opportunities.
This slideshow will take a look at a few of the U.S. cities on the rise.
Posted-In: austin Bridgeport Connecticut Grand Haven Holland michigan san franciscoNews Best of Benzinga
Close Next 1/5 Previous

Austin, TX

If there is one state in the union that has been experiencing unprecedented growth recently it is Texas.

In 2012, the Lone Star State boasted four metropolises on Forbes' List of America's Top Ten Fastest-Growing Cities.

Low taxes and inexpensive real estate has drawn outsiders to Texas in droves, and helped Houston, San Antonio, and Dallas reach the Forbes' top ten cities.

The city of Austin is actually number one on the list. Austin is home to many leading companies, including those that are looking to make a turnaround, such as Round Rock-based Dell (NASDAQ: DELL).

Close Next 2/5 Previous

Washington, D.C.

Outside Texas, cities like Boston, San Jose, Portland and Salt Lake City have also shown strong and consistent growth over the past decade, with no signs of slowing down.

The Nation's Capital, however, has been a surprise contender in the race to the top of the list of U.S. cities on the rise.

Its growth is largely because it is home to one of the largest money spenders in the world - the United States Federal Government.

Additionally, Washington has the highest proportional number of residents holding a Master's degree in the country, with approximately one out of every eight metro residents having earned a post-graduate diploma.

All this is a good signal for the city's half million residents, as well as companies such as Lockheed Martin (NYSE: LMT), which calls the D.C. suburb of Bethesda home. (Photo Credit)

Close Next 3/5 Previous

Bridgeport, CT

There are a number of other somewhat surprising cities in the U.S. that are up and coming.

With companies like General Electric (NYSE: GE) making its headquarters in Bridgeport, Connecticut, this midsize northeastern city has two significant factors that are contributing to its steady growth.

The first is its plethora of industries in a relatively and comparatively small space. Second is its proximity to New York.

There are a number of high finance executives who earn their living in the Big Apple and make their home in Bridgeport and other cities in Connecticut.

This has benefited the city of Bridgeport, and the entire state in general, making it a hotbed for attracting high-end talent. (Photo Credit)

Close Next 4/5 Previous

Grand Haven, MI

Despite recent discouraging unemployment numbers across the country, there are still plenty of cities in the union that have experienced a rebound in the last three to five years.

This rise in job numbers in these areas points to an even greater increase in economic and population expansion in these areas, as people look for better opportunities.

While tech centers like San Jose and Austin do indeed still hold high spots on just about every list of the fastest growing cities in the U.S., the sleepers like Holland-Grand Haven, Michigan – which is home to Herman Miller (NASDAQ: MLHR), a leading furniture manufacturer - are starting an ever-growing trend of unexpected contenders in leading economic growth and development in the United States. (Photo Credit)

Close Next 5/5 Previous